The James Connection
I'm very grateful to my wife Sonia for supplying a galley proof (please click here to see a copy) for p 941 of the 1995 edition of Debrett's Peerage & Baronetage which has helped to fill-in some vital details in this table.
Also, when Googling for additional details, I've noticed that www.thepeerage.com keeps popping up, and it has provided a bonanza of useful information, though in an almost totally unpredictable sort of way.
A great deal of information (most of it to be taken cum grano salis) can be found in Edward James' memoirs (dictated to tape, then edited by George Melly – whose own autobiography was memorably entitled Rum, Bum and Concertina)
Swans Reflecting Elephants: My Early Years, Edward James, Weidenfeld and Nicholson, 1982

(It got excoriating reviews in The Times and The Daily Telegraph, but it's still a fascinating social document, well worth browsing.)
The Edward James Foundation, ed Peter Sarginson, The Edward James Foundation, 1992
Please note in this table that familiar names are used rather than given forenames, where appropriate. These may be diminutives, alternative names (ekenames or nicknames) or simply subsidiary forenames, and I've tried to indicate these various possibilities in italicised parentheses.
For example
William Dodge James is listed as William James.

His eldest daughter Helen Millicent is listed as Millicent(2) James, and his third daughter Alexandra Maud Venetia is listed as Xandra.
Offspring are listed in chronological order of birth irrespective of sex.
#
Individual
Spouse / Partner
Family
‑5
Nathaniel Emmes James
(2 or 22 Jul 1772 –
14 Jun or 16 Jul 1844)
Betsey Ingersoll
(10 Apr 1782 –
17 Feb 1849)
(m 22 Oct 1799)
Daniel James
(17 Apr 1801 –
27 Nov 1876)

Mason James
(16 Dec 1802 –
1892)

Willis James
(b 9 May 1804)

John James
(b 13 Jul 1806)

Nathaniel E James
(20 Mar 1808 –
1866)

Eliza James
(b 12 Mar 1810)

Franklin James
(2 Dec 1812 –
3 Jun 1813)

Henry James
(21 Jul 1821 –
27 Jul 1897)

Caroline James
(b 25 Jul 1814)

Mary Ann James
(20 May 1816 –
13 Jan 1866)

Harriet James
(29 Jul 1818 –
11 Jun 1880)

Jane Trowbridge James
(18 Apr 1823 –
9 Aug 1852)

Martha James
(13 Oct 1826 –
29 Mar 1846)
‑4
Daniel James1, 2
(17 Apr 1801 –
27 Nov 1876)
Elizabeth Woodbridge Phelps
(2 Aug 1807 –
21 Jun 1847)
(m 24 Mar 1829)
Anson Green Phelps James
(1829 –
1842)

Daniel Willis (W) James
(15 Apr 1832 –
13 Sep 1907)

Portrait

Elizabeth Eggleston James
(1833 –
1868)

Olivia Phelps James
(1837 –
1935)

Henry Stokes James
(1839, died at 3 months)
Sophia Hall Hitchcock
(21 Nov 1818 –
10 Feb 1870)
(m 19 Feb 1849)
Frank Linsly James1, 2
(21 Apr 1851 –
21 Apr 1890)

John Arthur James1, 2
(24 Feb 1853 –
30 Apr 1917)

William (Willie) Dodge James
(7 Dec 1854 –
22 Mar 1912)
Ruth Lancaster Dickinson
(1824 –
1907)
(m 1871)
sp
‑3
Daniel Willis James
Ellen S Curtiss
Arthur Curtiss James
(1 Jun 1867 –
4 Jun 1941)
‑3
John Arthur James
(24 Feb 1853 –
30 Apr 1917)
Mary Venetia Cavendish-Bentinck 1, 2
(4 Jun 1861 –
2 May 1948)
(m 7 Dec 1885)

Portrait
‑3
Willie James

Portraits
Evelyn Forbes ('Mrs Willie James')
(1868 –
13 May 1929)
(m 1889)

Portraits

daughter of Sir Charles John Forbes
4th Baronet
Millicent(2)

Alexandra (Xandra)

Silvia

Audrey

Edward
‑3
Mrs Willie James
Lt Col

John Chaytor Brinton

1, 2 CVO DSO
(5 Apr 1867 –
6 Apr 1951)
(m 30 Aug 1913)
Pamela Cathleen Brinton
(18 Sep 1914 –
1973)
‑2
Millicent James

Portrait
Maj.

Henry Ralph Mowbray Howard

1, 2 (Howard-Sneyd)
(m 8 Jun 1911)
Diana

Pamela

Audrey

Rosemary (Tom)

Joan
‑2
Xandra James

Portrait
Lt Col Arthur Edward Flynn Fawcus DSO MC
(1886 –
10 Aug 1936)
(m 23 May 1918)
Venetia(2) Fawcus
‑2
Silvia James
Sir John Menzies Wilson 3rd Baronet
(12 Feb 1885 –
22 Oct 1968)
(m 5 Jan 1921)
Daphne Margaret Wilson
‑2
Audrey James
Muir Dudley Coats
(15 Sep 1897 –
7 Aug 1927)
(m 25 Mar 1922)

son of Sir Stuart Auchinloss Coats
2nd Baronet
Peter Coats
(16 –
20 Feb 1923)
Marshal Field III
(28 Sep 1893 –
8 Nov 1956)
(m 18 Aug 1930)
sp
two sons adopted at unknown date(s) during this period

William James
(b ca 1929)

Jeremy James
(5 Jan 1936 –
2014)
Hon. Peter Pleydell-Bouverie
(b 19 Oct 1909)
(m 25 Nov 1938)

son of Jacob P-B
6th Earl of Radnor
sp
‑2
Edward James

Portraits
Tilly Losch

Portraits
sp
‑2
Pamela Brinton
John Elwes
sp
Noel Forde
son

daughter

son
‑1
Diana Howard
Marcus Beresford
Patricia (Tricia)

Katherine (Kabby)

Christopher
‑1
Pamela Howard
Ian Karslake
Sarah

David

Elizabeth
‑1
Audrey Howard
Ronald Kaulback
Sonia

Susan (Susie)

Bryan

Peter
‑1
Tom Howard
Guy Anderson (kia)
Michael Lilly
Nigel
‑1
Joan Howard
Hubert Sturges
Jane(2)

William
‑1
Venetia Fawcus
Michael Worthington
Euan
‑1
Daphne Wilson
Thomas Macdonald
Ian

Neil

Alastair
| | |
| --- | --- |
| 1: | Please click here for some most interesting and authoritative information sent by Ted Robbens (and gratefully utilised in this table) about the resolute and entrepreneurial patriarch Daniel James. It also corrects certain widespread misconceptions as to the sources of the James family wealth. |
| 2: | en.wikipedia.org/wiki/Daniel_James_(businessman) |
Please skip the following notes if you are totally uninterested in prurient scandal-mongering. No, I thought not...
Edward James firmly believed that his maternal grandmother Helen Forbes (née Moncrieffe, the wife of Sir Charles Forbes) had stooped to folly with the future Edward VII and that his mother Evelyn Forbes (Mrs Willie James) was the daughter of Edward VII rather than of Sir Charles.
Other contemporary social observers thought that the stooping to folly was on the part of Mrs Willie James herself some decades later, and that Edward James' father was Edward VII rather than William James himself.

Indeed Hilaire Belloc went so far as to put some verse into the public domain about what the rich and privileged got up to after hours during house-parties at places such as West Dean. Such corridor creeping was a stock feature of smart set house parties.

There will be bridge and booze 'till after three
And, after that, a lot of them will grope
Along the corridors in robes de nuit
Pyjamas, or some other kind of dope.
A sturdy matron will be sent to cope
With Lord —, who isn't quite the thing,
And give his wife the leisure to elope ...
And Mrs James will entertain the King.

For a fascinating and authorative account of the lifestyles of the rich and titled (the Marlborough House set) in those days, see the link

www.oxforddnb.com/templates/theme.jsp?articleid=53154&back=&backToResults

(or click here for a local copy)

Edward James also firmly believed that his mother Mrs Willie had stooped to folly with Sir Edward Grey (the English Foreign secretary who would later remark that the lamps were going out all over Europe), and that his sister Audrey was the result. He based his belief on the shape of her nose!
The Rude Forefather(s)
Obviously there is a limit to how far backwards or sideways one can extend a family tree, and the zone of our personal interest is anyway probably demarcated by great grandparents and second cousins – sometimes rather less!
But even at greater removes there can be isolated individuals who command our interest and/or admiration. And the remove may also lie in an almost unimaginable difference in wealth and privilege. I came from an impecunious background in which one would spend half an hour searching for a lost sixpence, whereas Edward James inherited a million pounds (50 million in today's terms) on reaching 21 and his father William James had left 20 million pounds (almost 2 billion in today's terms) back in 1912.
William James was a thoroughly good and decent man, revered by all who knew him. Even Edward doesn't have a bad word to say about him in the memoirs referenced above. He and his brothers were repatriates from America, where their grandfather and father (Daniel) had made a simply mind-boggling amount of money, firstly in copper-mining and thereafter in timber, railroads etc etc etc.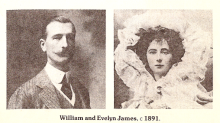 Click here for an account of his family background and marriage in 1889. The propinquity of his father-in-law's estate to Balmoral does provide circumstantial support to later allegations by his son Edward! In 1891 William purchased West Dean House in Sussex and had it substantially remodelled a year or two later, and the irresistible combination of his family wealth and his wife's beauty soon made it a focal point of the social season.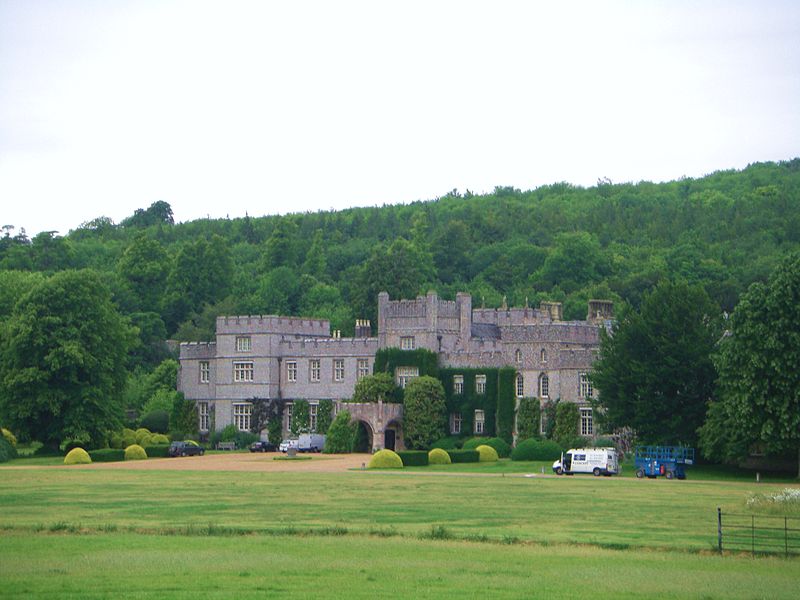 Click here for a survey of the West Dean interior in those early days. Many years later, in 1964, Edward endowed it to the Edward James Foundation, a charitable trust, and it became a college in 1971, since when it has become renowned for the quality and variety of its residential courses in the creative arts.
There is little to suggest that William took much part in the social whirl, and much preferred to make better use of his time. As Edward recalled, loc cit: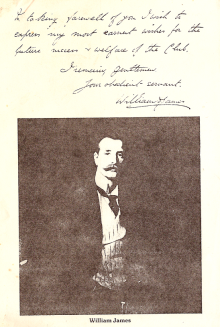 My father was a remarkable man. His philanthropy wasn't just for the look of the thing, he did it because he wanted to help the human race. He gave himself to all the people on his estate. They were deeply devoted to him and he is still remembered throughout Sussex as being a most wonderful landlord and a father to the people of the estate.
He was a very busy man. He was still the chairman of many companies, and he was building the hospital wing in Chichester and was involved in the Edward VII Sanatorium ... and he always found time to read to me for an hour in the morning and an hour before I went to bed.
Touching tributes are still on record for William's generosity in providing a social clubhouse in 1885 for the people of Woolton, a village near Liverpool, where his father had settled on coming to England in about 1830, and where William had been born in 1854. A copy of his farewell note to the people of Woolton makes a fitting adieu to William himself. He died prematurely, of cancer.
His grave is located in the 'James family' corner of West Dean churchyard (I do have an excellent photograph somewhere), but there is also a very fine gun-metal grey effigy of him in the South chapel of West Dean church.
Memorial to Millicent James and her sisters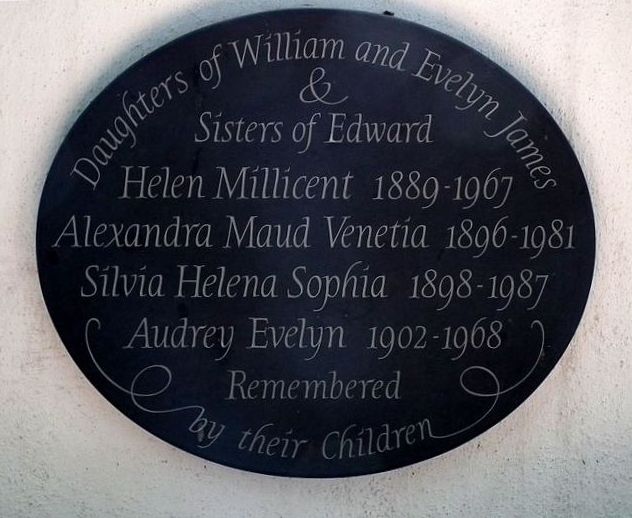 A service of dedication of this plaque to Willie and Evelyn James' daughters was held some years ago at St Andrew's Church, West Dean, attended (inter alia) by my wife Sonia and numerous cousins.