John Chaytor Brinton
(5 Apr 1867 – 6 Apr 1951)
Evelyn James, however, though she had been renowned for her dash, her improvisatory acting skills and her enchanting nez retroussée, become noticeably corpulent, and her features coarsened, by the end of the first decade of the 1900's. Alice Keppel was now almost certainly Edward VII's closest mistress, and with the death of both the king in 1911 and her husband Willie James in 1912, Mrs James was in serious danger of social isolation – then as even now, a widow had virtually no real status in high society.
Fortuitously, as it may seem, along came Lt Col John Chaytor Brinton, bringing with him (from our point of view) a whole raft of unanswered, indeed unanswerable, questions in his wake, the first being why did he marry her?
'Money' is often the answer to such a conundrum, but he came from a very wealthy background – New Money admittedly, his father John having been an immensely successful manufacturer of carpets, as witness Moor Hall, the family seat in Lower Mitton, now an anonymous part of Stourport.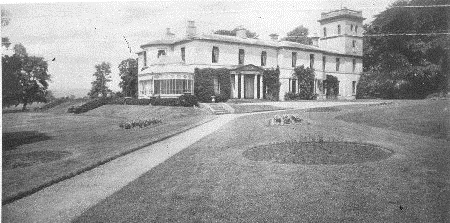 Moor Hall
The 1871 census recorded John Brinton Sr, his second wife Mary, 3 children and an establishment of 10 indoor servants (house-keeper, lady's maid, 2 house-maids, 1 cook, 1 parlour-maid, 1 under-nurse, 1 nurse, 1 kitchen-maid and 1 page).
John Jr was however only the third son, and when his father died in 1914 he may well have found himself in straitened circumstances, and marriage to a relatively wealthy widow was an age-old solution to such a predicament. (But Evelyn herself was no longer so well-off as he might have hoped, as the James family fortunes had been hard-hit by death duties.)
But what was their social connection? You may well ask.
We already know that Edward VII was variously reputed to have been Evelyn James (née Forbes)'s father, or (surely not and) her son Edward's father. And Edward himself was sure that Evelyn and Brinton had been lovers for years before her husband's death, though it doesn't seem to have occurred to him that Brinton might have been his father. But that suggestion has quite recently arrived from another quarter:
www.spectator.co.uk/2012/08/bertie-a-life-of-edward-vii-by-jane-ridley/
Bertie: A Life of Edward VII, by Jane Ridley, Chatto & Windus, 2012, p 427 footnote
Nine months before Edward's birth (16 Aug 1907), the King had stayed at West Dean for a house party (19 – 24 Nov 1906), and the gossips did their arithmetic, Edward James was probably not his father's biological son and he did show a physical likeness to Bertie. However, another of the guests in Nov 1906 was John [Chaytor] Brinton, the man who later became [Evelyn's] second husband, and he seems a more likely candidate for paternity.
There are several objections to both these rather scandalous suspicions. Edward had by then succumbed to erectile dysfunction, John Chaytor Brinton had (according to Edward James) homosexual inclinations – though Edward frequently made such wild allegations – and perhaps the shape of Edward's nose was inconsistent either way.
Edward himself, as recounted above, felt that the shape of his sister Audrey's nose could be blamed on Sir Edward Grey, but what can such physiognomy tell us about his own paternity? Edward's nose was seriously aquiline, especially as he became older (as per at least one sister, Xandra James), and the Full Beaky persists to this day (as per my brother-in-law Bryan Kaulback, in contrast with his twin Peter who inherited the Full Roman from their father Ron – though he always jested that Bryan's father was the Bishop of Cork! And I think it's always been regarded as a James characteristic, going back at least to Daniel.
As far as one can see from photographs, there was a (not exceptionally) slightly gambrel tilt in Edward's nose about a third of the way down, much the same as Brinton's nose or indeed Willie James' nose! So the simplest interpretation is that perhaps Willie James was Edward's father after all.
On the other hand, Evelyn had borne four daughters to Willie James, and if one were to discount any regal connection, perhaps the undeniable maleness (though not perhaps rampant masculinity) of Edward James could be attributed to Brinton's supply of the vital Y chromosome? And according to Edward,A Evelyn suffered a stillbirth, a year or so after her remarriage; he implies that it was a boy.
But the popular record suggests the arrival, after a year or so of Evelyn's remarriage to Brinton, of a daughter Pamela Cathleen Brinton (as per the tabular entry above).
However, it's interesting that her entry in www.thepeerage.com presents her as the offspring of Brinton but not of Evelyn.
And there's a not totally dismissible claim that she was actually fathered by John's eldest brother, the art-historian (and barrister) Selwyn John Curwen Brinton (22 Oct 1859 – Nov 1940).
According to a recent [May 2016] contact from a Brinton family connection, Pamela was during her lifetime (and possibly in her own eyes) regarded as the daughter of an Italian father, surnamed Agolini, and a Polish mother, surnamed Gawlowska, who had been adopted in her early teens by John and his second wife Olive Mary Webb (née Eisdell), whom he married in 1927 after divorce – or annulment, so it is bizarrely suggested – from Evelyn.
But according to this same source, perhaps the Italian was fictitious, her real father being Brinton, and she was actually informally adopted soon after birth by John and Evelyn, she turning a blind eye to the extra-marital liaison involved, especially as he might have been the real father of Edward during her first marriage!
Quite extraordinarily, it wasn't until the Adoption of Children Act of 1926 that such procedures became properly formalised, and official adoption certificates didn't come into being until 1927. And the situation didn't become fully documented until some years after Evelyn's death in 1929.
There are rumours that Brinton indulged in a third marriage at the end of the following decade, but that would be beyond my personal remit.
Footnotes:
| | |
| --- | --- |
| A | Edward James, Swans Reflecting Elephants: My Early Years, Weidenfeld & Nicholson, London 1982, p29 |