Jeremy James
(5 Jan 1936 – 2014)
He was the elder of the two adopted sons of Audrey Evelyn James, who married (thirdly) Peter Pleydell-Bouverie on 25 Nov 1938, having divorced her previous husband in Mar 1934.
Jeremy was born 5 Jan 1936, married Jun 1963 (to Mary F Philpotts at St James' Piccadilly), and died in 2014. They had two children. My wife Sonia is pretty sure that he was adopted following that third marriage of Audrey, although his surname didn't become Pleydell-Bouverie. Maybe more research is required. Sonia and Mary were for a while secretaries in the same office, and Sonia was invited to Mary and Jeremy's wedding, whence this splendid photograph.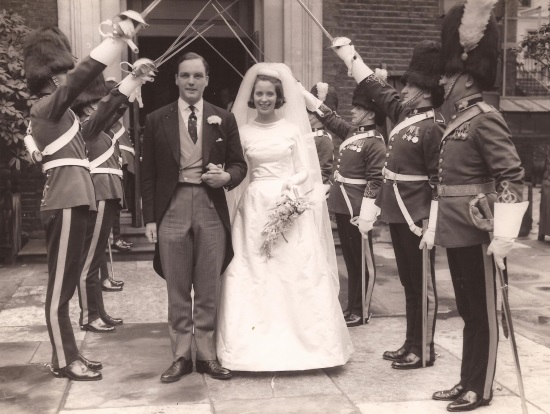 Together with his older brother William, Jeremy had been evacuated to Canada in 1940 to protect them from what was seen at the time as an imminent invasion of Britain by the Germans. The Battle of Britain had begun exactly a week before (10 Jul 1940) and bombing by the Luftwaffe was already a very real cause of civilian deaths.
They travelled unaccompanied from Liverpool to Montreal on the Canadian Pacific vessel Duchess of Bedford, at constant hazard from German U-boats, which (contrary to the rules of war) were in the habit of torpedoing passenger ships. I don't know when William and Jeremy were brought back to Britain, and indeed I can't find anything else at all about William.
But Jeremy's life certainly seems to have run more smoothly than most –indeed the first I knew of him was from a rather peremptory email sent by a woman who had recently bought a Rolls-Royce 'Silver Cloud' that had previously belonged to him and further back to Great Aunt Audrey James herself – presumably not dissimilar to the one shown below – and wanted to know more about him, presumably to boast about.