The Hutchins Family and Ardnagashel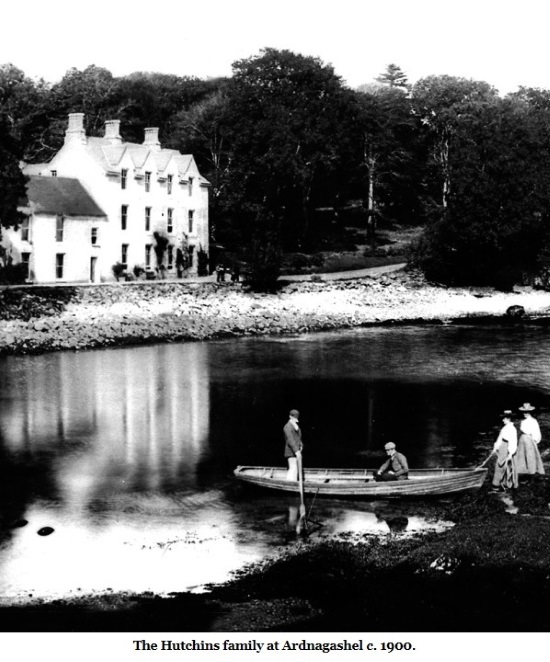 Introduction
The genealogy of the Hutchins family prior to Thomas Hutchins (1735 – 1787) at first sight seems very sparsely documented, but we know from Sir Cosmo Haskard's account published in Voices from the Great Houses: Cork and Kerry, Jane O'Hea O'Keeffe; Mercia Press, 2013 that a Richard Hutchins arrived in Ireland at some point between 1641 and 1653, during the Irish Confederate Wars1, 2, 3, and served under the 1st Earl of Orrery.
Thereafter he settled at Blackrock, a very short distance down the coast from Bantry, and at some point during the reign of William III (ie 1694 – 1702) he was given the position of Poll Tax Commisioner for the area. By this time he would have been in his mid-seventies, not an age (even today) associated with such a demanding occupation.
Sir Cosmo also refers to Thomas Hutchins, wife of Elinor, as being Richard Hutchins' great-grandson, and so we have two intervening generations to account for. Sidelining the (important but geeky) quest for source-material, their details, together with those of succeeding generations, are tabulated in the Generation Table below, following a brief survey of the various locations of interment used by the family.
Generation Data Sets
Rather a pawky metaphor, but with a certain point. Back in the 1960's and 70's when IBM ruled supreme, a GDS meant data that got a new identity at each update, so that an audit trail of datasets was established automatically. Well, isn't that just what a well-maintained graveyard provides? A temporal sequence of identifiably related individuals embodying essential personal information. Perhaps it's far-fetched, but now that interment is old hat, how will future generations connect with us? Maybe it is simply our conceit that they would want to do so.
Hoots toots. In the present context, I have been extremely fortunate to have got off to a flying start with Eliane Zimmerman's scrupulously-researched webpages
There are in fact three graveyards to be considered, and in the Generation Table below I've tried to indicate which of them is the location for each individual entry.
The Killeen (*), in the Ardnagashel West estate
The first identifiable person to have been buried here was Samuel Hutchins (29 Sep 1786 – 18 Jun 1862)* and the most recent was Mary Patricia (Hutchins) Greacen (25 Apr 1911 – 1985)*
Until recent times, and certainly when the Kaulbacks owned that estate, the Killeen was well-kept, but with many subsequent changes of ownership it has now degenerated into a desperate condition. Fortunately, the weatherworn inscriptions were transcribed in Aug 2001 (thanks to Richard and Madeline Hutchins, Arethusa Greacen and Elizabeth Jones), as revised in Dec 2006 (thanks to Markus Baeuchle and Tony Millward).
The following photographs from some years ago show the Killeen still in a reasonable state of preservation:
But what exactly does the word 'Killeen' actually mean? Is it a proper noun or a common one? In fact it's an anglicised version of the Irish Gaelic Cillin, meaning a graveyard, generally located at the boundary of an estate, property or community, reserved for unbaptised children, strangers to the area, or unrepentant murderers!
In the present context, as the Hutchins family was of the Church of Ireland persuasion, a minority within the generally Catholic community, their family burial ground was most probably called a Killeen simply to denote that marginal religious status.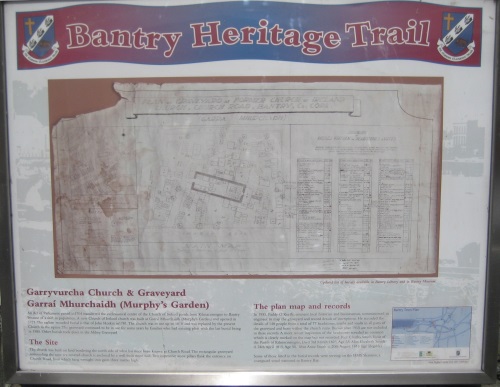 There is an engraved plaque at the Ardnagashel killeen, saying that Ellen Hutchins (17 Mar 1785 – 9 Feb 1815) is buried in Bantry Old Graveyard, and according to further details in the Garryvurcha Index at the Bantry Library, she is buried in an unmarked grave near the south wall of the (ruined) church here.
There are two other graves of family interest here: one of Capt Arthur Robert Camac Newburgh of the Life Guards, died 29 Oct 1875 aged 77, and the other of Thomas Newburgh, his son, died 9 Apr 1885 aged 27.
The Abbey Cemetery (
***

) overlooking Bantry Harbour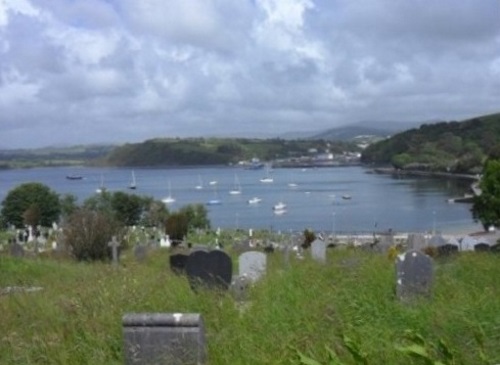 The great majority of graves here are of the Catholics of Bantry, of course, but there is a modest area, possibly unofficially designated, for the dwindling English – or maybe simply Protestant – minority in the community. It is set quite high up and has a superb view of the harbour.
There are several more recent Hutchins here, as indicated below, plus various recent members of the Bantry House family (Leigh-Whites and Shelswell-Whites), and the Bryce family, as will be detailed elsewhere in the Bantry Connection.
Also of course, various émigré stalwarts such as Patrick Haddon, Arthur Tisdall, Bert Woolley, William Bridges-Adams and his wife (plus son and daughter-in-law), Edgar and Millie Battle, and others unfamiliar to me.
Richard Hutchins' Descendants
I'm very grateful to Eliane Zimmermann for the use of the Hutchins photographs at various places in the table below.
Please note that those members of the family buried in the Killeen, Garryvurcha or Abbey are distinguished by one, two or three asterisks respectively after their DOD.
Also please note the archaic spellings of Cametringane, Ballylickey and possibly one or two other place-names.
#
Individual
Spouse / Partner
Family
0
Richard Hutchins
(d 1701)

of Blackrock, Bantry

quite possibly a brother or cousin of Sir George Hutchins

served under Earl of Orrery in 1666 during reign of Charles II (1660-1685)

appointed as poll-tax commissioner in 1698 during reign of William III (1694-1702)
Barbara Burridge
(d 1716)

Theophilus Hutchins





Benjamin Hutchins



3 daughters, second being Hannah, who married Thomas Hutchins of Effin
1
Theophilus Hutchins

of Kametringane, Berehaven
Margaret Hutchinson

sister of Hugh Hutchinson

Thomas Hutchins


of Ballylickey
(d 1754)

Emanuel Hutchins
of Kametringane
(dsp 1778)

John Hutchins
of Gurteen Roe
1
Benjamin Hutchins

of Berehaven
Elizabeth Raddy

daughter of Col Thomas Raddy of Quanning
issue
2
Thomas Hutchins
(d 1754)

of Ballylicky House, tenant of Lord Kenmare whose shooting lodge it was or had been
Katherine Elizabeth Harman
(1709 –
1804)
(m 1726/8)

daughter of Beversham Harman of Laharen and Margaret Palmer

grand-daughter of Rev Thomas Palmer and Jane Mary Aldworth, parents of Margaret

Thomas Hutchins


(1735 –
14 Feb 1787)
3
Thomas Hutchins JP
(1735 –
4 Feb 1787)

of Ballylicky House
Elinor Hutchins
(1743 –
22 Mar 1814)
(m 14 Mar 1759)

only child of Arthur Hutchins of Thomastown, co Kilkenny, and Cregane Castle, Co Limerick, third cousin of her husband Thomas.

died in Bandon, of consumption, having been evicted (with her daughter Ellen) in 1813 from Ballylicky House by her son Emanuel.

Ellen moved to Ardnagashel House in May 1814, after death of her mother, and died less than a year later,

within a few months of her paralysed brother Thomas whom she had faithfully tended.
Katherine Hutchins
(1765 –
Jun 1789)



Emanuel Hutchins


(Feb 1769 –
22 Nov 1839 Damascus)



Arthur Hutchins


(Aug 1770 –
17 Aug 1838)



Thomas Massy Hutchins


(1778 –
18 Jul 1815)



Ellen Hutchins

1, 2, 3
(17 Mar 1785 B'lickey –
10 Feb 1815 A'gashel)



Samuel Hutchins


(29 Sep 1786 –
18 Jun 1862)*

plus 15 deceased siblings
4
Emanuel Hutchins
(Feb 1769 –
22 Nov 1839 Damascus)

of Cregane Castle, where he ran a stud farm

whilst up at Trinity College Dublin, friend of Theobald Wolfe Tone (abortive French invasion fleet 1796, statue & anchor in Bantry main square)
sp
4
Arthur Hutchins
(Aug 1770 –
17 Aug 1838)

originally a lessee of Ballylicky House from the Earl of Kenmare,

built

Ardnagashel House

1, 2, whither he removed ca 1800.
Matilda O'Donel
(ca 1776 –
24 Oct 1827)
(m 15 Mar 1802)

daughter of John O'Donel and niece of Sir Nial O'Donel
Thomas Hutchins
(29 Dec 1802 –
19 Oct 1875)
of Roughty



Arthur Hutchins JP


(Sep 1805 –
22 Jan 1889)
of Ballylicky

Richard Hutchins
(1 Apr 1815 –
7 Dec 1887)

Margarette Anne Hutchins
(1804 –
29 Aug 1869)
of Barnstaple

Matilda Hutchins
(d 21 Feb 1856)

Ellen Hutchins
(1809 –
6 Apr 1890)
of Barnstaple

Katherine Hutchins
(d 19 Jul 1840)

Mary Hutchins
(d 6 Apr 1854)
4
Thomas Massy Hutchins
(1778 –
18 Jul 1815)

paralysed by skating accident at school
sp
4
Samuel Hutchins JP
(29 Sep 1786 –
18 Jun 1862)*

of Ardnagashel & Cregane Castle

buried standing upright

(perhaps in readiness for the Last Trump, though some say all the killeen Hutchins were buried thus or perhaps just the patriarch of each generation).
Frances Camac Newburgh
(17 Jun 1795 –
16 Sep 1839)
(m 22 Sep 1822)

2nd daughter of Arthur Robert Camac Newburgh of Ballybaise, co Cavan
Emanuel Hutchins JP
(19 Jul 1823 –
9 Sep 1880)*
of Ardnagashel and Fortlands House

Samuel Hutchins
(3 Oct 1825 –
27 Jan 1828)

Frances Mary Elizabeth Hutchins
(16 Feb 1828 –
15 Oct 1902)*

Louisa Eleanor (Ellen) (Hutchins) Nightingale
(b 1829 –
1922)
(m 1859)

Alicia Maria Hutchins
(ca 1832 –
18 Nov 1915)*



Samuel Newburgh Hutchins


(16 Apr 1834 –
22 Apr 1915)*

Robert Arthur Hutchins
(5 Feb –
24 Apr 1837)

Lt Col Francis Arthur Hutchins JP
(b 11 Feb 1839)
Mary Burrowes
(Nov 1814 –
24 Jan 1849)
(m 28 May 1842)

daughter of Peter Burrowes,
Chief Commissioner of the Court for the Relief of Insolvent Debtors
Peter Burrowes Hutchins
(5 Mar 1843 –
4 Aug 1901)

Elliot Burrowes Hutchins
(2 Apr 1845 –
1 Jul 1905)

Mary Burrowes Hutchins
(11 Jan 1849 –
25 Feb 1855)
5
Samuel Newburgh Hutchins 1
(16 Apr 1834 –
22 Apr 1915)*

of Ardnagashel House

Barrister & JP
Marianne Isabella Harrison
(ca 1850 –
9 Nov 1939)*
(m 31 Jul 1873)

eldest daughter of Henry Harrison JP of Harrison Castle, co Cork
Mary (Hutchins) Brown
(ca 1875 –
1935)



Frances Newburgh (Hutchins) Hyde-Smith


(ca 1876 –
1939)



Capt Richard Hutchins JP


(27 Jul 1877 –
15 May 1915 Cork Military Hospital)*

Alicia (Lily) Isabella (Hutchins) Haskard
(4 Jan 1879 –
4 Feb 1960)***

Lt Col Samuel (Ley) Hutchins
(30 Aug 1877 –
11 Feb 1961)

Emanuel Hutchins MRCVS
(12 Jan 1882 –
8 Nov 1927)*

Margaret (Peg or Peggy) Ellen Hutchins
(1884 –
4 Aug or

Dec 1939)*



Madeline Hutchins
(3 –
24 Nov 1885)*

Aline Katherine Hutchins
(ca 1886 –
16 Apr 1909)*

Capt Francis (Frank) Harold Hutchins
(17 Feb 1887 –
7 Jun 1962)*

Thomas Arthur Hutchins
(20 Jul 1888 –
14 May 1915,

KIA Gallipoli)*



Ellen (Dell) Madeline Hutchins
(9 Aug 1890 –
20 Aug 1986)***

Marian Geraldine (Gerry) Hutchins
(8 Apr 1894 –
7 Dec 1969)***
6
Frances Newburgh Hutchins
(ca 1876 –
1939)
Admiral Edmund Hyde Smith RN
(21 Jun 1865 –
13 Jul 1939)
(m 25 Nov 1899)

eldest son of Maj Gen E D Smith

Portraits
Frances Ernestine Hyde Smith
(29 Jun –
23 Jul 1900)*

twin to

Capt Richard Edmund Hyde Smith RN
(b 29 Jun 1900)*

Lt Samuel Newburgh Hyde Smith RN
(b 24 Sep 1903)

(see here for more recent generations)
6
Capt Richard Hutchins JP
(27 Jul 1876 –
15 May 1915 Cork Military Hospital)

Portrait
Isabel Alice Edith Peacock
(1886 –
1957)
(m 9 Jul 1910)

Portrait

Fearing arson (War of Irish Independence), she fled Ireland in 1921, leaving Ardnagashel house & estate (though returning in 1930's), which was eventually bought by Ron & Audrey Kaulback in 1946.
Mary Patricia Rachel (Hutchins) Greacen
(25 Apr 1911 –
1985)*

Margaret (Peggy) Isabel Olive Hutchins
(10 Nov 1913 –
1997)

Richard (Dick) Newburgh Hutchins
(28 Apr 1915 –
19 Jan 2013)
6
Alicia (Lily) Isabella Hutchins
(4 Jan 1881 –
4 Feb 1960)***
Brig Gen John McDougal Haskard CMG DSO
(27 Nov 1877 –
26 Aug 1967)
(m 27 Apr 1911)

of Tragariff House

Cosmo Dugal Patrick Thomas Haskard


(26 Nov 1916 –
21 Feb 2017)
7
Mary Patricia Hutchins
(25 Apr 1911 –
1985)

writer

Robert Henry Greacen

1, 2
(24 Oct 1920 –
13 Apr 2008)

poet
Arethusa Greacen
7
[Lt Col] Richard (Dick) Newburgh Hutchins1, 2
(29 Apr 1915 –
19 Jan 2013)*

Portraits
Isabel Vera Kuhlicke
(17 Jul 1922 –
18 Dec 2000)
(m Q2 1955, Bedford 4A 62)
Madeline Hutchins

Portrait

William (Bill) Hutchins
7

Sir Cosmo Dugal Patrick Thomas Haskard

1, 2, 3, 4


KCMG

1, 2 MBE
(26 Nov 1916 –
21 Feb 2017)

of Tragariff House

Portraits

Recollections

Interview

Obituaries
Phillada Stanley
(1931 –
7 Jul 2017)
(m 1957)

daughter of


Sir Robert Stanley

1, 2, 3 KBE CMG OBE
(12 May 1899 –
31 May 1981)***

and Ursula Lady Stanley
(née Cracknell)
(26 Feb 1896 –
20 May 1981)

Arrival in the Falklands

Penguin News p3

Julian Dominic Stanley Haskard


(b ca 1962)
8
Julian Dominic Stanley Haskard
(b ca 1962)
Michelle Halstead
(m 1986)
Cosmo Haskard

Piers Haskard

Hugo Haskard
In passing, we may note that by the beginning of the 19th century the Hutchins family owned prodigious quantities of land, quite apart from the estate at Ardnagashel. During the course of that century, however, they started to sell it off, as itemised below, though for what reasons one can only guess – click here for some very interesting background to estate ownership in Ireland during that era.
landedestates.nuigalway.ie/LandedEstates/jsp/estate-show.jsp?id=2382
Richard Hutchins of Blackrock, near Bantry, county Cork, was appointed a Poll Tax Commissioner by William III. In 1759 his great grandson, Thomas Hutchins, married Elinor, daughter of Arthur Hutchins of Cregane Castle, county Limerick, and they had 21 children. Their descendants were residing at Ardnagashel, near Bantry, by the beginning of the 19th century.
At the time of Griffith's Valuation their grandson Samuel Hutchins held townlands in the parishes of Caheragh, barony of West Carbery (West), Kilnamanagh, barony of Bear, Kilmocomoge, barony of Bantry, Rathgoggan, barony of Orrery and Kilmore, Ballyvourney, barony of West Muskerry, Grenagh, barony of Barretts and Ballyhay, barony of Fermoy.
In May 1857 lands held by Samuel Hutchins at Donemark and Dromedaniel (546 acres), barony of Bantry, county Cork and at Cregane (972 acres), barony of Coshma, county Limerick, were advertised for sale.
The Hutchins estate, amounting to 4,905 acres held in fee in the baronies of Barretts, West Muskerry, Orrery and Kilmore, Fermoy, West Carbery (East), was advertised for sale in June 1871.
Emmanuel Hutchins was the owner of over 7500 acres in county Cork and some property in county Westmeath in the 1870s.
In November 1887, Arthur and Elizabeth Hutchins offered property at Ballylickey, Bantry, county Cork and in Dublin city for sale in the Land Judges' Court. Two lots of this were sold to Mary Anne Murphy in June 1888.
The interest in other property owned by Arthur Hutchins was sold in July of that year. The purchasers included Samuel Hutchins of Charleville, a Mr. Hutchins of Dublin and H. Payne of Beechmount, Upton, county Cork.
In 1906 Emmanuel's brother Samuel Hutchins still owned over 500 acres of untenanted land in the parish of Kilnamangh, barony of Bear.
Members of the Hutchins family were still residing in the Bantry area in the mid 20th century.
The Rude Forefathers
This section heading has already been used in a good many other family or social Connections, and perhaps it needs to be defended, as "rude" has a variety of meanings (such as poets and cruciverbalists, both setters and solvers, rejoice in). The phrase itself, as any fule kno, was used in the famous Elegy in a Country Churchyard, but the implication, to modern ears, is puzzling. Shakespeare's "rude mechanicals" were surely rude in a rather different way, and the notorious Lenny Bruce, or Jimmy Carr, were or are rude in quite another respect. And if my GP tells me "Mr Waddle, I must admit that you're in the rudest of health, despite your age and bibulosity", I'm well pleased.
I think that Gray used this many-faceted word to imply that the forefathers in question had flourished in a simpler, perhaps almost Arcadian, or at least Augustan, age and indeed were rather lucky to have done so. And that's more or less what I mean too, though the Tudor and Jacobean eras were of course far from idyllic.
One distinguished individual with whom we can start the ball rolling, was Sir George Hutchins, the eminent lawyer, jurist and parliamentarian.
The earliest known origin of the Hutchins family was Saltash (on the River Tamar in S Cornwall), though there were collaterals in Barnstaple and Georgeham (on or near the River Taw in N Devon); both connections are outlined below.
The following details are reproduced from the 1862 edition of Sir Bernard Burke's Landed Gentry of Gt Britain & Ireland, and don't feature in John Burke's 1836 edition of the Commoners of Gt Britain & Ireland, or Sir Bernard Burke's 1912 edition of the Landed Gentry of Ireland.
#
Individual
Spouse / Partner
Family
William Hutchins
of Kentisbury,
near Saltash in SE Cornwall

"a gentleman of the Queen's most Honorable Chapel"

(possibly the Queen's Chapel of the Savoy)

Edmund Hutchins of Barnstaple in N Devon, father of Sir George Hutchins of Georgeham in N Devon, was one of this family
Joan Peverell

daughter of John Peverell and Katherine née Trethewy

William Hutchins


(d 5 Sep 1594)
of Salt Ashe

Alice Hutchins

Elizabeth Hutchins
Joan Menwynnick
(m 1536/46)
of St Germains

daughter of John Menwynnick

widow of Gilbert Becket
of Corthither

John Hutchins


of Hole and Exeter

Thomas Hutchins dsp
of Newtown Castle,
Sturmiston



Stephen Hutchins





William Hutchins

William Hutchins
(d 5 Sep 1594)
of Salt Ashe
Frances Denham
of Wortham

daughter of William Denham and Anne née Byfield
Dorothy Hutchins
(b 1554)
John Hutchins
of Hole & Exeter
(d ca 1582)
Rose Levezmore

Robert Hutchins

Stephen Hutchins
or William Hutchins

Thomas Hutchins


of Michelstown
(d 1638 / 1639)
Robert Hutchins

John Hutchins


of Berry

barrister
Thomas Hutchins
(d 1638 / 1639)
of Michelstown,
co Cork
Margaret Knoyle
of BallyGally
co Waterford

who remarried (1641)
Lt Thomas Maunsell
of McCollop Castle
co Waterford
Thomas Hutchins
(1624 –
27 Jun 1642,
McCollop Castle KIA)

William Hutchins



Walter Hutchins


of Dunlaheen

Margaret Hutchins
m William Walters
of Whiddy Island

Mary Hutchins

Elizabeth Hutchins
John Hutchins
of Berry

barrister
Anne Fortescue

daughter of Roger Fortescue (d 1629) of Buckland Filleigh in N Devon, and Mary Norleigh (d 1628) (daughter of Robert Norleigh of Inwardleigh)
Thomas Hutchins
(1624 –
27 Jun 1642,
McCollop Castle KIA)

entered Trinity College Dublin (17 May 1641)
Walter Hutchins
of Dunlaheen

Thomas Hutchins


of Effin

John Hutchins of Thomastown
(fl 1733)
Thomas Hutchins
of Effin
Hannah Hutchins

2nd daughter of Richard Hutchins of Blackrock
Arthur Hutchins
of Thomastown and Cregane Castle
(d 1765)
Arthur Hutchins
of Thomastown and Cregane Castle
(d 1765)
Mary
Elinor Hutchins
(Aug 1743 –
22 Mar 1814)

m Thomas Hutchins of Ballylickey

Barbara Hutchins
m1 Jeffery Owen
m2 John Hiffernan
Alice Norcot
(15 Feb 1749)
References
Mitchell, M.E., (ed.) (1999). Early Observations on the Flora of southwest Ireland. Selected letters of Ellen Hutchins and Dawson Turner 1807-1814. National Botanic Gardens, Glasnevin, Dublin. Occasional Papers, 12.
(A 1999 copy of this is held at the Bantry Public Library)