The Bantry Connection
During the thirty years from my first visit in Aug 1964 to meet my future parents-in-law Ron and Audrey Kaulback at Ardnagashel, near Bantry, until my mother-in-law Audrey's death in Aug 1994, by which time she was living at Rossdoon, in Glengarriff, I and my wife (plus in due course our children) visited every summer, and often at Christmas too. And there was always a ceaseless social whirl, so many people to see and be seen by, or simply to hear about. Great fun of course, but bewildering. I had little or no idea of how they all connected – there were Irish, and English, and Anglo-Irish so to speak, and there were a good many Dutch, plus a sprinkling of Germans. I never did get the hang of them all, but now is a good opportunity to retrospectively disentangle at least some of them.
Once familiar figures (and their wives), such as Willie Watts, Archie Chisholm, Patrick Haddon, Arthur Tisdall, Bert Woolley, Peter Goodeve-Docker (who had a terrific crush on Audrey), (William) Bridges-Adams, Salvin Bowlby, and many others, now long-gone back to England, or to the Abbey Cemetery overlooking Bantry Harbour, were all boon companions of Ron and Audrey, but not really part of the wider picture I'd like to sketch.
And for many years in those far-off days before intercontinental holidays started to eclipse the homelier delights of the British Isles, there were families who returned year after year from England or elsewhere in Ireland, such as the Woollcombes, the Hills, the Huddies and the Kenworthys. From America, a gigantic individual whom my wife and I called Quinbus Flestrin, and who regarded Ron as his father-confessor, turned up several years running. And so on and so on, but, again, not part of the longer historical perspective.
Cutting to the chase, we will take a closer look at the following well-known families connected with the Bantry and Glengarriff area.
Living History
Having read (and hopefully appreciated) the inevitably bald outline of the Hutchins and the White families provided in this website, you will assuredly be absolutely fascinated by the superb account provided in this recently-published book by Jane O'Keeffe, which takes in not only Ardnagashel and Bantry House, of course, but dozens of others besides.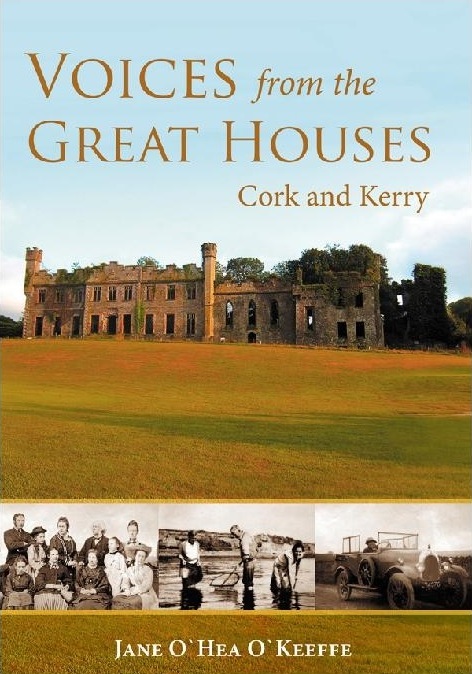 (published by Mercier Press, Apr 2013)
The book is in fact a hard-copy, so to speak, of the recorded narratives and reminiscences which were gathered from the present owners of these great houses in personal interviews with Jane and Maurice O'Keeffe, and which I would also bring to your attention, as per the following display.