The Balquhatstone Connection
of the First Line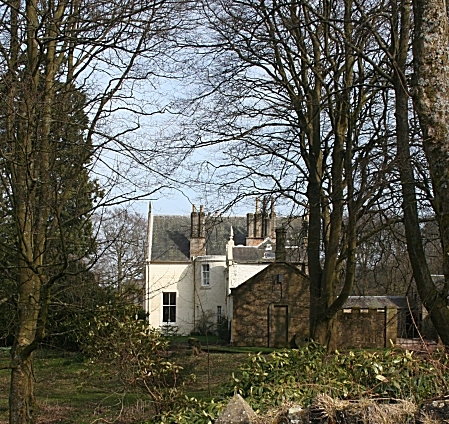 Balquhatstone House, Slammannan, Stirlingshire
© Photograph by Anne Burgess, whom I gratefully acknowledge
The last member of the original Waddell line to be born in this ancestral property, originally granted by King James IV of Scotland to one James Waddell in the early sixteenth century, was Peter Hately Waddell in 1816. The property was sold by his father James soon afterwards, and the family moved to Glasgow. The link and title to Balquhatstone (pronounced, I believe, as Balwhatstone1) was irrevocably severed2, 3, at least as far as Balquhatstone of the First Line was concerned. (The fortunes of Balquhatstone of the Second Line can be followed-up in the Balquhatstone Connection of the Second Line.)
Ideally, it should be possible to create a Generation Table from start to finish of this lineage, based on the hand-drawn family tree meticulously draughted by my late Uncle Alexander (Sandy) Waddell. For reasons already expressed, however, considerable doubts have arisen in my own mind, and in the minds of far more expert family genealogists than myself, as to the accuracy of this tree throughout the 17th century (1600-1700).
For the moment, therefore, I'm starting with James Waddell 6th Laird of the First Line (b 1695), taking in James Waddell 9th (and last) Laird of the First Line (b 1767), and then continuing down to James Waddell (b 1846), my great grandfather, with whom the Generation Table begins in the Waddell Connection.
I am very grateful to Anne Burgess for the precise dates given below for Peter Hately Waddell's family, and to Gavin Main Waddell (both via his book A History of the Waddells in Scotland, 2013 and indirectly via www.stirnet.com) in roughly equal measure for a good number of the precise dates given for earlier rows in this section of the table. By precise date I mean, of course, the day and month as well as the BMD year.
#
Individual
Spouse / Partner
Family
‑7
James Waddell
6th of Balquhatstone
(13 Jun 1695 –
1770)
Elizabeth Colt of Garturk
(1701 –
1780)
(m 15 Jul 1727)
Elizabeth Waddell
(b 2 Nov 1729)

Jean Waddell
(b 3 Aug 1731)

Lil(l)ias Waddell
(b 25 May 1732)

James Waddell
(1733 –
1773)

George Waddell
(18 Oct 1734 –
1813)

Mary Waddell
(b 15 Mar 1737)

Mary 2 Waddell
(b 23 Jul 1739)

Margaret Waddell
(1 Nov 1741)

Agnes Waddell
(b 15 Dec 1742)

William Waddell
(b 26 Apr 1744)

Agnes 2
(b 6 Jul 1746)
‑6
James Waddell
7th of Balquhatstone
(1733 –
1773)
Unmarried
‑6
George Waddell
8th of Balquhatstone
(18 Oct 1734 –
1813)
Margaret Scott
of Jawcraig
(b 1734)
(m Oct 1764)
Ellis
(b 4 Jan 1765)

James Waddell
(1 Sep 1767 –
26 Dec 1850)

Jean Waddell
(17 Sep 1769)

Lil(l)y
(b 10 Nov 1771)

Margaret
(b 2 Sep 1774)

Agnes
(b 2 Sep 1777)

George
(b 18 Feb 1780)
‑5
James Waddell
9th of Balquhatstone
(1 Sep 1767 –
26 Dec 1850)

Gravestone at Girvan

On 19 Dec 1818, he sold the house and estate to his 3½th cousin Geo Waddell of Ballochney.
Christian Cowborough
(1776 –
1806)
(m 6 Oct 1792)

her children arrived with clockwork regularity, 8 in 13 years, but nothing known about them subsequently

AHOTWOS p54 says she died 'soon after arrival of last child'
(See also)

George Waddell
(3 Sep 1793 –
1859)

Jean Waddell
(b 6 Feb 1795)

James Waddell
(b 14 Sep 1796)

Margaret Waddell
(b 28 Apr 1798)

Christian Waddell
(b 1 Mar 1800, Alloa)

Elizabeth Waddell
(b 24 Mar 1802)

William Waddell
(b 29 Jul 1804)

John Waddell
(b 5 Nov 1806)
Alice Hately
(b 1790)
(m 17 Jun 1815)

daughter of John Hately, Aberdeen cooper
(See also)



Peter Hately Waddell


(19 May 1816 –
3 May 1891)

Alice Hately Waddell
(b 21 May 1817 –
d<1904)

Jeffreys Hately Waddell
(b 23 Dec 1818 –
d<1875 or 1904)

Agnes Waddell
(d unm 1906)

Alexander Waddell
(d<1875 or 1904)

Robert Waddell
(d<1875 or 1904)
‑5
George Waddell
of Binniehill
(b 18 Feb 1780)
Agnes Cowborough
(m 26 Jun 1802)
George Waddell
(18 Sep 1803 –
1870)

James Waddell
(b 30 Jan 1806)
‑4
George Waddell
(3 or 23 Sep 1793 –
1859)

Surgeon in Falkirk,
and Univ of Glasqow, drowned in Forth & Clyde canal
Jean Aitken
(m 1818)
Elizabeth Gardner
(b ca 1791)
(m 1828)
Elizabeth Waddell
(b ca 1831)

Christina Waddell
(b ca 1833)

Jean Waddell
(b ca 1835)

John Waddell
(b ca 1837)
‑4
Peter Hately Waddell
(19 May 1816 –
3 May 1891)
Helen Halcro Wardlaw
(20 Mar 1812 –
25 Sep 1895)
(m 12 Aug 1845)
James Waddell
(26 Dec 1846 –
5 Jul 1907)

William Wardlaw Waddell
(25 Mar 1848 –
22 Mar 1903)

Janet Grindlay Waddell
(28 Apr 1850 –
4 Nov 1917)

Alice John Hately Waddell
(15 Feb 1852 –
22 Nov 1872)

Peter Hately Waddell
(15 Jun 1854 –
22 Nov 1922)

Walter Wardlaw Waddell
(4 Sep 1856 –
29 Mar 1882)
1:
As per Dictionary of Proverbs, Linda and Roger Flavell, Kyle Cathie Ltd, 2008, p 180, referring to a conspiratorial message from King James I of England & VI of Scotland to Sir Geo Moore, Lieutenant of the Tower of London, using the words "quhich" and "quhat" for "which" and "what".
2:
Well, that's what I thought until early December 2012. But a casual google then revealed that the current owners were in fact collateral descendants of 'Unlucky James', last of

Balquhatstone of the First Line

. Their line of descent therefore constituted

Balquhatstone of the Second Line

. But not for much longer, however, as it was at that time all up for sale, (apart from the 300 acres of farmland also gifted by the grateful monarch), as per the estate agent's website.

I can assure you that had I possessed the asking price in loose change I would have hastened to buy the whole place lock stock and barrel, relocate there and live out my declining years in the ancestral atmosphere of squally rain and occasional sunny spells.

Indeed, Slamannan itself has also a most interesting historical story to tell. There's also a slightly odd survey by the Glorious Gardens association about the house and its social links with Slamannan.

3:

And not in one other respect either. For whatever services the Waddells may have rendered the Scottish monarchy, they had also been granted a coat of arms, several versions of which I discovered during routine squirreling into the lower strata of the Web. There's a flourishing Internet trade in vanity armigerophilia, of course, but of the various possibilities this one seems the most likely. The lion's head and the motto are recognisable, as they featured on a signet my father came by in the 1950's, and the rest is heraldic fluff, really, these days. All the pomp of yesteryear is one with Nineveh and Tyre, they say, and of course, warming to their theme, the rank is but the guinea stamp, a man's a man for a' that.

But it is undeniably impressive. Perhaps the helmet signifies military prowess – ironic, really, as the Waddells have never since shown any martial tendencies whatsoever.

Click here to see a brief summary of heraldic terminology and a more detailed account of this coat of arms. To be absolutely honest, I'm not sure whether it goes with the original family (via the first-born son in each generation), or with the property (and therefore passed to the Second Line in 1818).
The Rude Forefathers
But what of the earlier members of Balquhatstone of the First Line? After all, they've been delineated in Uncle Sandy's family tree, and surely it's high time for them to be collated into an orderly Generation Table too?
It now becomes imperative to close the loop on the various troubling inconsistencies in Sandy's pioneering presentation, discussed earlier. At that stage, however, there were no other primary sources to consult, and no deus ex machina on whom one could rely to clear up confusions in this family narrative, beset by will-o'-the-wisps, shapeshifters, banshees and bogles.
As Ecclesiastes (reputed nom de plume of King Solomon) remarked with characteristic pith "... of making many books there is no end, and much study is a weariness of the flesh". He might easily have been talking about pedigrees, as most scrolls in those far-off days were simply a catalogue of begettings. And although we family chroniclers do not bemoan this, as we want to get things right, it does become very dispiriting and discouraging to feel that our begatitudes are but platitudes.
And so we are immensely appreciative of the research and scholarship of those – such as my distinguished Cousin Gavin, who has taken such care over a good many years to investigate, evaluate and transcribe the primary ancestral Waddell family records of every kind and description – from whom the rest of us can quote with confidence.
Thusly, with his most kind permission, I am going public on a restructuring of those three or four preceding generations, subjoined to a complete roll-call of the early patriarchs. Chapter and verse (there's Ecclesiastes again) are provided in Gavin's magnum opus, A History of the Waddells of Scotland, Gavin Main Waddell, published privately, 2013.
George 5th of Balquhatstone was offsprung from George Waddell 4th of Balquhatstone and his wife Margaret Syme.
William 1st of Easter Moffat was offsprung from George 5th of Balquhatstone and his (first) wife Elizabeth Arthur.
Christian Salmond was actually the (second) wife of George 5th of Balquhatstone.
James (b 1625), the eldest son of George 5th of Balquhatstone, was married to Helen Ewing.
His heir was James (b 1662), married to Lillias Watt and father of James 6th of Balquhatstone. There were no such persons as George and wife Robina Laing.
#
Individual
Spouse / Partner
Family
‑14
James Waddell
1st of Balquhatstone
(b 1470)
Unknown wife
George Waddell
(1500 –
1581)
‑13
George Waddell
2nd of Balquhatstone
(1500 –
1581)
Janet Russell
(b 1510)
James Waddell
(b 1532)

John Waddell
(b 1535)

Alexander Waddell
(b 1540)
‑12
James Waddell
3rd of Balquhatstone
(b 1532)
Unknown wife
(b 1550)
George Waddell
(ca 1570 –
1629)

James Waddell
‑11
George Waddell
4th of Balquhatstone
(ca 1570 –
1611 or 1629)
Margaret Syme
George Waddell
(1596 –
1701 sic)

Jonet Waddell
(b 1606)
‑10
George Waddell
5th of Balquhatstone
(1596 –
1701 sic)

Also said to have lived to 107 or 109.
Elizabeth Arthur
(d Feb 1657)
(m 1632)
James Waddell
(b 1625)

George Waddell
of Lochend
(1630 –
1726)

William Waddell
1st of Easter Moffat
(b 1635)

Alexander Waddell
of Rashiehill
(b 1638)

Robert Waddell
of Bridge-end
(b 1640)

Patrick Waddell
of Bogo
(b 1646)

Jean Waddell
(d 24 Nov 1678)
Christian Salmond
(m Jul 1661)
Patrick Waddell

Christian Waddell
(d 1663)
‑9
James Waddell
(b 1625)
(d before Jul 1693)
Helen Ewing
James Waddell
(1662 –
1707 or, much more probably, before 1700)
‑8
James Waddell
(b 1662)
(d before 1700)
Lillias Watt
(remarried in Dec 1700)
James Waddell
(13 Jun 1695 –
1770)
By far the greatest casualties of this restructuring of Uncle Sandy's pedigree are the evidently mythical Robina Laing and her equally imaginary spouse, from whose younger offspring all the collateral lineages were supposed to have descended, including Balquhatstone of the Second Line. We shall see in the Balquhatstone Connection of the Second Line how Gavin Waddell's researches now account for the origins of George Waddell 2nd of Balmuzier & Ballochney and 1st of Balquhatstone of the Second Line.
A Short Trot with a Cultured Mind
Though the mind is not mine but Wikipedia's.
Most people in England (myself included) have little or no understanding of our own political and legal system, and even less about how it affects Wales, Scotland and Ireland. It's all a typically British muddle. Let's see, very briefly, what Wikipedia can tell us without digging too deep or getting too complicated.
Wales should be easy enough. It never had a monarchy as such anyway, and in 1282 (the Plantagenet) King Edward I's military conquest brought Wales under the control of the English monarchy. But political union with England didn't come until the reign of (the Tudor) King Henry VIII.
en.wikipedia.org/wiki/Laws_in_Wales_Acts_1535_and_1542
The Laws in Wales Acts 1535 and 1542 were parliamentary measures by which Wales became a full and equal part of the Kingdom of England and the legal system of England was extended to Wales and the norms of English administration introduced. The intention was to create a single state and legal jurisdiction. The Acts were passed during the reign of King Henry VIII of England, who came from the Welsh Tudor dynasty.
Before these Acts, Wales was excluded from Parliamentary representation and divided between the Principality of Wales, and a large number of feudal statelets: the marcher lordships.
So Wales – though retaining its cultural identity – became part of the United Kingdom of England and Wales in full political union, thereby constituting what we nowadays call "Britain".
The subsequent addition of Scotland is often said to have created "Great Britain", which together with Ireland (or later just Northern Ireland) is said to constitute "the United Kingdom of Great Britain and (Northern) Ireland". But that's not exactly the way it happened historically – it all depends on what is meant by "kingdom".
Because at much the same time, in 1541, Henry VIII also became the monarch of Ireland too, apparently by the invitation of the Irish Parliament, though political union wasn't on the agenda: he was King of England (and implicitly Wales) and King of Ireland – two quite separate titles, often described as being in "personal union".
en.wikipedia.org/wiki/Monarchy_of_Ireland
A monarchical system of government existed in Ireland from ancient times (ante 900BC) until, for what became the Republic of Ireland, the mid-twentieth century. Northern Ireland, as part of the United Kingdom, remains under a monarchical system of government. The Gaelic kingdoms of Ireland ended with the Norman invasion of Ireland, when the kingdom became a fief of the Holy See under the Lordship of the King of England. This lasted until the Parliament of Ireland conferred the crown of Ireland upon King Henry VIII of England during the English Reformation. The monarch of England held the crowns of England and Ireland in a personal union.
The Union of the Crowns in 1603 expanded the personal union to include Scotland. The personal union between England and Scotland became a political union with the enactments of the Acts of Union 1707, which created the Kingdom of Great Britain.
The crowns of Great Britain and Ireland remained in personal union until it was ended by the Acts of Union 1800, which united Ireland and Great Britain into the United Kingdom of Great Britain and Ireland from January 1801 until December 1922.
After that date, most of Ireland left the United Kingdom to become the independent Irish Free State; the remaining part, Northern Ireland, elected to remain in the United Kingdom. Both the Free State and the United Kingdom, which changed its name to the United Kingdom of Great Britain and Northern Ireland in 1927, had the same person as monarch: George V. In the two years after George V's death, the Free State changed its name to Ireland and removed all mention of the monarch from the Irish constitution. In April 1949, Ireland was declared a republic and is sometimes called the Republic of Ireland. Since April 1949, the only part of the island of Ireland that retains a monarchical system is Northern Ireland (as part of the United Kingdom of Great Britain and Northern Ireland).
With the death of (the last Tudor monarch) Queen Elizabeth I, in 1603, the (Stuart monarch) King James IV of Scotland additionally became King James I of England (and Wales) by the invitation of the English parliament. But there was no political union, and the English and Scottish parliaments, in London and Edinburgh respectively, remained entirely separate, as did their legal systems and other national institutions. So James was King of England, and King of Ireland and King of Scotland – three different countries, one monarch.
James I and his successors Charles I, Charles II and James II were (IMHO) unlikeable, arrogant and inept, in addition to their crypto-Catholicism, and the flight of James II in 1689 in the face of invasion by William of Orange and his wife Mary (James' Protestant sister), led to Acts of Parliament banning any future possibility of a Catholic monarch or consort.
William and Mary became joint monarchs, as any fule kno, and after Mary's death in 1694 William ruled alone until 1702. They were childless (he was homosexual, though perhaps he could have shut his eyes and thought of England) and so Mary's equally Protestant sister Anne became the last of the Stuart monarchs – she was widely rumoured to be lesbian, but certainly did shut her eyes, open her legs and think of England at least 18 times – but sadly none of those children survived early infancy). Anne herself died in 1714.
To ensure a Protestant succession, the English Parliament had in 1701 arranged that Prince George of Hanover should succeed to the throne of England following Anne's eventual death. But neither the Scottish Parliament nor the Scottish populace had been party to this deal, and a furious row erupted in which Scotland seriously threatened to withdraw from the triple monarchy and arrange their own king – quite possibly James III, the Old Pretender, Catholic son of the deposed James II, both of whom had been lurking at the court of Le Roi Soleil the while.
Cutting short what is already an overlong exposition, the two Parliaments eventually agreed terms: the Scots would accept Prince George as King in due course and furthermore unite with England politically as one national entity, and England would recompense all the Scottish investors who had lost a fortune in the ill-fated Darien Scheme – indeed Scotland herself was virtually bankrupt.
The new political entity would be called Great Britain, comprising England, Wales and Scotland. And Queen Anne thereby became the first monarch of Great Britain and Ireland. The Scottish Parliament voted for their own dissolution, and Scotland would henceforth send her Members of Parliament to London rather than Westminster.
en.wikipedia.org/wiki/Acts_of_Union_1707
The Acts of Union were two Acts of Parliament: the Union with Scotland Act 1706 passed by the Parliament of England, and the Union with England Act passed in 1707 by the Parliament of Scotland. They put into effect the terms of the Treaty of Union that had been agreed on 22 July 1706, following negotiation between commissioners representing the parliaments of the two countries. By the two Acts, the Kingdom of England and the Kingdom of Scotland – which at the time were separate states with separate legislatures, but with the same monarch – were, in the words of the Treaty, "United into One Kingdom by the Name of Great Britain".
The two countries had shared a monarch since the Union of the Crowns in 1603, when King James VI of Scotland inherited the English throne from his double first cousin twice removed, Queen Elizabeth I. Although described as a Union of Crowns, until 1707 there were in fact two separate Crowns resting on the same head (as opposed to the implied creation of a single Crown and a single Kingdom, exemplified by the later Kingdom of Great Britain). There had been three attempts in 1606, 1667, and 1689 to unite the two countries by Acts of Parliament, but it was not until the early 18th century that both political establishments came to support the idea, albeit for different reasons.
The Acts took effect on 1 May 1707. On this date, the Scottish Parliament and the English Parliament united to form the Parliament of Great Britain, based in the Palace of Westminster in London, the home of the English Parliament. Hence, the Acts are referred to as the Union of the Parliaments. On the Union, the historian Simon Schama said "What began as a hostile merger, would end in a full partnership in the most powerful going concern in the world ... it was one of the most astonishing transformations in European history."
But Ireland was still a distinct nation, with its own parliament in Dublin. Curiously, the Irish Parliament did shortly afterwards send several thinly-veiled suggestions to England to suggest a further political merger, between Great Britain and Ireland, but for some reason their overtures were rudely ignored.
But almost a century later the British started to worry that the revolutionary French were intent on an invasion of England, and would most probably use Ireland as a springboard, notwithstanding that the only successful invasions (Romans, Normans) over the preceding millennia had been via our south coast. And the abortive 1798 effort involving a French fleet and a fifth column of United Irishmen led by Wolfe Tone (ironically an Ulster Protestant, though commemorated by a statue in pride of place in Bantry town square), frustrated in large part by the Bantry militia led by Richard White, only served to fuel their fears.
It was a complicated situation – the Catholic hierarchy in Ireland actually favoured union with Britain, as they felt that the increasingly liberal political attitudes in Britain would favour Catholic electoral emancipation much more strongly than the prevailing Protestant Ascendancy in Ireland ever would. And in the best traditions of a P G Wodehouse potboiler, bribery and patronage swung the deal.
en.wikipedia.org/wiki/Acts_of_Union_1800
The Acts of Union 1800 (sometimes erroneously referred to as a single Act of Union 1801) united the Kingdom of Great Britain and the Kingdom of Ireland (previously in personal union) to create the United Kingdom of Great Britain and Ireland with effect from 1 January 1801. Both Acts, though since amended, still remain in force in the United Kingdom, but have been repealed in the Republic of Ireland.
Before these Acts, Ireland had been in personal union with England since 1541, when the Irish Parliament had passed the Crown of Ireland Act 1542, proclaiming King Henry VIII of England to be King of Ireland. (Before then, since the 12th century, the King of England had been overlord of the Lordship of Ireland, a papal possession.) Both Ireland and England had come in personal union with Scotland with the Union of the Crowns in 1603.
In 1707, the Kingdom of England and the Kingdom of Scotland were united into a single kingdom: the Kingdom of Great Britain. Upon that union, each House of the Parliament of Ireland passed a congratulatory address to Queen Anne, praying that, "May God put it in your royal heart to add greater strength and lustre to your crown, by a still more comprehensive Union". The Irish parliament at that time was subject to a number of restrictions that placed it subservient to the Parliament of England (and following the union of England and Scotland, the Parliament of Great Britain).
In the century that followed the union of England and Scotland, Ireland gained effective legislative independence from Great Britain through the Constitution of 1782. However, access to institutional power in Ireland was restricted to a small minority, the so-called Anglo-Irish of the Protestant Ascendancy, and frustration at the lack of reform eventually led to a rebellion in 1798, involving a French invasion of Ireland and seeking complete independence from Great Britain. The rebellion was crushed with much bloodshed, and the subsequent drive for union between Great Britain and Ireland that passed in 1800 was motivated at least in part by the belief that the rebellion was caused as much by loyalist brutality as by the United Irishmen.
The final passage of the Act in the Irish Parliament was achieved with substantial majorities, achieved in part according to contemporary documents through bribery, namely the awarding of peerages and honours to critics to get their votes. Whereas the first attempt had been defeated in the Irish House of Commons by 109 votes against to 104 for, the second vote in 1800 produced a result of 158 to 115.
It was all going to come unstitched in the Easter Rising of 1916, when the idiocies of both impetuous Irish nationalists and a beleaguered wartime British Government (led by the utterly inept alcoholic Asquith) messed up what would otherwise have been a much more nuanced restitution of national dignity and self-determination. As usual, we have the Germans – or, this time at least, the infamous Wilhelm II – to blame for instigating it, by irresponsible promises of freedom from British dominance – after all, had it not been for the War, Irish independence (or a first step towards it) would already have been a reality. Ironically, informers had given the game away and the plan was known in advance by the British Cabinet, but Asquith was off the boil for the Easter weekend, and so the situation couldn't be defused.
The Germans tried exactly the same ploy with Mexico in 1917, via the telegram (which the British intercepted and decoded) from their Foreign Minister Zimmermann to the Emperor of Mexico, And that ended in tears too, as the USA took justifiable umbrage and delivered a double-whammy to the Kaiser.
Who ate all the pies?
A common chant at football grounds whenever Paul Gascoigne graced the pitch – and everybody knew the supposed answer: it was of course the phenomenally gifted Gazza, noticeably chubby as he was undeniably was.
A similar enquiry as to who owns all the land in the UK (ie England and Wales, plus Scotland plus Northern Ireland – but let's not be overambitious by including the Isle of Man or the Channel Islands), and indeed the Commonwealth (or at least the Dominions) doesn't appear to have such an easy answer – or else it has all too many, depending on what precisely is meant by ownership.
Just as Isaac Asimov always like to start his scientific explanations by referring back to the Ancient Greeks, I feel that explanations of how things are organized in England should start with what the Normans instituted after the Conquest, which to all intents and purposes was Year 1. Wales, Scotland and Ireland weren't up for grabs at that time.
And the Norman model was very simple – all land belonged absolutely to the monarch, and remained so in those areas that he assigned to his barons: they held those areas, but didn't own them. The Crown (a subsequent legal abstraction that means the institution of monarchy rather than the monarch themself) was the ultimate owner of all land in England, though tenure was granted to each and every baron in exchange for their loyalty. The Crown retained the tenure of certain areas such as the New Forest, for example.
In due course, the Duchy of Cornwall and the Duchy of Lancaster were assigned the absolute ownership of those respective areas, in that the Crown voluntarily relinquished its own absolute ownership. Though when Wales became part of the realm in due course, it became owned absolutely by the Crown (rather than to the Prince of Wales). Tenure of the Duchy of Lancaster has since reverted to the Crown, with the rather incongruous result that our present monarch, the Queen, is also Duke (sic) of Lancaster.
Within each baron's domain, he could grant or sell sub-tenure of various moieties of his land, to various other individuals or institutions – such as the Church – but absolute ownership still resided with the Crown.
And this was of course the basis of the feudal system – a trickle-down of tenure in exchange for loyalty or rent or produce. And as my father liked to say, the feudal system was the only one that really worked – insofar as it persisted for so long. And as far as I can understand, it persists to this day, at least in England and Wales. You may well object that much of the country is now owned by the government, or by county councils or their urban equivalents, or by property developers, or by expatriate oligarchs, or by free-hold house-owners. But all that they have is 'estate', they merely hold, they don't own. It still belongs ultimately to the Crown.
www.duchyofcornwall.eu/latest/?page_id=130
House of Commons Hansard Written Answers for February 11, 2009: Land
Andrew George: To ask the Secretary of State for Justice (1) who the absolute owner of land is in (a) England, (b) Scotland, (c) Northern Ireland, (d) Wales, (e) Cornwall and (f) the Isles of Scilly; [255057]
Bridget Prentice: The Crown is the ultimate owner of all land in England and Wales (including the Isles of Scilly): all other owners hold an estate in land. Although there is some land that the Crown has never granted away, most land is held of the Crown as freehold or leasehold. If there is no other owner, land will belong to the Crown, the Duchy of Lancaster or the Duchy of Cornwall.
Responsibility for land law and succession law in Scotland and Northern Ireland is devolved. Questions about land law in these jurisdictions should be addressed to the Scottish Executive and the Department of Finance and Personnel in Northern Ireland respectively.
The Crown Estate, it should be noted, is simply an independent organisation which has been granted the right to administer land which has remained in the tenure of the Crown (as the New Forest remained the tenure of the Norman monarchs).
And likewise, the Duchy of Cornwall is now administered commercially on behalf of the Duke of Cornwall, aka HRH the Prince of Wales. And the Duchy of Lancaster is similarly administered on behalf of the Duke of Lancaster, aka HM Queen Elizabeth II.
Mooseburgers and Rooburgers too?
Yes indeed. Read on.
Pro or anti-Proudhon?
My own political ideas, and indeed ideals, were shaped from about 1955 onwards, when my parents were able to afford the luxury of The Daily Telegraph, foremost amongst the features of which were, for me, the Way of the World column, illustrated by Michael ffolkes, the most quizzical cartoonist and illustrator of his generation, and attributed to Peter Simple, the nom de plume of, initially, Colin Welch, and subsequently Michael Wharton and later on Auberon Waugh, probably inter alia.
This formative influence was continued in the late 1960's when The Times provided student subscriptions at a much-reduced price, and I was able to enjoy the libertarian sentiments and Wagnerian, indeed Brucknerian, sentence constructions of the incomparable Bernard Levin.
A few years earlier I had also fallen under the spell of G K Chesterton, whose phrase "The human race, to which so many of my readers belong", in his introduction to The Napoleon of Notting Hill, where coincidentally I happened to be living at the time, bewitched me, as did his idealised vision of a quasi-mediaeval or Athenian world of city-states, in which all classes of people (as class is of course ineradicable in any political system) could live harmoniously together under a benevolent Heaven.
So I'd be happy to be classified as a radical reactionary, a sort of Hegelian synthesis of antithetical extremes, adhering to the best of both points of view (perhaps Jacob Rees-Mogg is a perfect exemplar of this mind-set). And, despite a regrettable youthful flirtation with republicanism, I'm not only comfortable with a constitutional hereditary monarchy, I also rather enjoy the idea of the British monarch owning not only Britain but also large tracts of the erstwhile Empire – in a purely legal and non-interventionist, non-beneficiary status.
This self-indulgent preamble brings me to the subject under discussion, in the form of a couple of internet commentaries ...
From the epitome of ultra-respectable British whiggish radical journalism:

www.newstatesman.com/global-issues/2011/03/land-queen-world-australia
(Extract)
17 March 2011
Who owns the world?
The Queen, the family of the actress Nicole Kidman, King Abdullah of Saudi Arabia and the media tycoon Ted Turner
By Kevin Cahill
The world relative to its human population is quite large. It is 123 billion acres in size, of which 37 billion acres are land. This means that there are a notional four acres available for every man, woman and child in the predicted 2050 world population of nine billion, which would be an increase of two billion on the present population. But notional is not real, and what is noticeable when looking at how the 37 billion acres are used by nature and humanity is that the urban area, humanity's footprint on the land patch, is extremely small, at 1.5 per cent. This conflicts with the common rhetoric of environmentalists, which too often comes fact-free.
Land use has historically tended to follow claims to ownership, defined as the right to the use of and disposal of land. The relationship between humans and land begins with a fundamental claim by some people or countries to "own" land. On that basis, the world divides into two simple categories: those countries that allow citizens to own the land to which they hold legal title and those that grant only tenancies to their citizens, permitting the state to claim a total prior right to the use of all land within its borders.
Those countries that allow their people to own the land to which they hold legal title are among the most economically successful - such as the United States, Germany and France. Those operating what is essentially a feudal or pre-feudal system, in which the state or monarch claims legal rights to all land, tend to be less developed, with rare exceptions such as the UK, Canada, Australia and New Zealand.
The latter category, in which citizens cannot own land legally, is dominated by one of the oddest situations on earth: the legal ownership by a single individual of all land in a number of countries and the consequent downgrading of all citizens of those countries to the status of feudal vassals in relation to land.
The world's primary feudal landowner is Queen Elizabeth II. She is Queen of 32 countries, head of a Commonwealth of 54 countries in which a quarter of the world's population lives, and legal owner of about 6.6 billion acres of land, one-sixth of the earth's land surface. Her position is a relic of the last and largest land empire in history, rumours of whose demise would appear to be somewhat premature based on her position and possessions. But her power is real, or at least legally real, and it derives from a tradition based on a specific and unbalanced relationship between rulers and the ruled.
1066-and-all-that feudalism begins with the idea that all land and people are the possession of the gods, with the gods devolving that ownership to a human representative. The divine origin of land ownership became all-pervasive in classical times and took its most brutal general form in the deified Roman emperors, from whom all land in the empire was held. The Romans brought the idea of imperial ownership to Britain in 43AD.
Following the Norman Conquest in 1066, the last time Britain [England?] was invaded, the idea of a singular, absolute, monarchical owner of land became entrenched in constitution and practice. With the expansion of the British Empire, this version of the feudal system was imposed on about a quarter of the world. Today we have two kinds of feudal state: the inherited state, usually with a monarch at its head, such as the UK; and the state that claims ownership of all land and is feudal in its conception and often totalitarian, such as China. But the core surviving feudal structure in the modern world is inherited,
transnational and covers many countries. It has no formal name. It is, in fact, the British crown and its wearer, Elizabeth II. Her legal title runs thus: "by the Grace of God, of the United Kingdom of Great Britain and Northern Ireland and of Her other Realms and Territories Queen, Head of the Commonwealth, Defender of the Faith".
This constitutional statement includes some vast territories where the Queen is quite separately the sovereign head of state and legal owner. First among these is Australia, which, if its Antarctic territories are included, is the second-largest country on earth. And the Queen, in effect, owns it. She also owns the third-largest country, Canada.
When the Queen's territories are added together, the Russian Federation ceases to be the largest single political entity on earth. Like the Queen's realms, the Russian Federation is dramatically underpopulated and immensely rich in mineral wealth of all kinds.
Together, the Queen's realms have a depth of international political defence unlike any other alliance. They are combined together in the Commonwealth, the largest single bloc in the United Nations, the largest single combination of nations outside the UN, and they are all headed by the same diminutive octogenarian [now nonagenarian, 21 Apr 2016]. If the Queen could convert her landholdings into cash, she would not only be the richest individual on earth, but also the richest person who has ever lived. Another way she could achieve that, however, is by turning upside down the 13 tax havens of which she is both ruler and owner and shaking the cash out of them.
A tax haven is, fundamentally, a bandits' lair, as in those old-style Hollywood westerns where the bad guys gather with their stolen loot. Modern tax havens are where the international kleptocracy, often the rulers of states and their families, hide the money they steal while in office and where multinational corporations keep the cash and assets on which they have no wish to pay tax. Indeed, with its own peculiar rules of domicile, the UK, the Queen's primary realm, is itself a kind of tax haven for many.
Of the world's 24 largest tax havens (see the table above right), the Queen is sovereign of no fewer than 13. Their existence is currently [Mar 2011] dividing the coalition government, with the Liberal Democrats seeking to regulate all of them and the Tories unwilling to terminate the source of so much of their party's donations.
The list of the world's largest individual or family landowners (see table above), dominated by the Queen, has some interesting entrants. The largest individual landowner after the Queen is another monarch, King Abdullah of Saudi Arabia. He holds the land in trust for the people and as a gift from God. This ancient constitutional formulation also applies in Scotland, where the monarch holds the land in trust from her ultimate feudal superior, God. The same religious formula applies to the King of Morocco, Sultan Quaboos of Oman, King Abdullah of Jordan, the Emir of Kuwait and Sheikh Hamad of Qatar.
Unlike the Queen, however, the majority of the Islamic custodians of land are personally active in its allocation. The Queen is wholly remote from land transactions, except in connection with her private estates. In the UK, most of the country has been allocated through freehold transactions, sometimes as far back as the early Middle Ages. Transactions are mostly between estates, corporations and individuals, and are conducted by lawyers in association with the land registries.
In Canada, New Zealand and Australia, government agencies allocate and dispose of land on behalf of the Crown. There is no formal record of any of these countries remitting funds to the UK on behalf of the Queen.
The Pope, who is a head of state and a monarch in international law, also acts as God's representative but not in quite the same way as Muslim monarchs. In Catholic dogma, all land does indeed come from God, and for many centuries the Pope had nearly as many acres as Elizabeth II has today – between 20 and 30 per cent of Europe and the same proportion of South America. Most of those lands have been lost, but the Pope is understood to own all the land of the Catholic Church's institutions, religious orders and dioceses as monarch, on much the same basis as the Queen owns her acres. The estimated total of land held by the Pope is around 177 million acres.
At eight on the list of individual and family landowners are the farms and ranches of the Kidmans in Australia, to whom the actress Nicole Kidman is related. Theirs is the largest private, non-monarchical, non-state land-holding on earth. The Kidmans cannot "own" land in Australia; only the Queen does so there. What the Kidmans possess is a mixture of specific Crown leases for fixed periods of time and freehold leases for indefinite periods.
The first American on the list, Ted Turner, is at number 24. As Australia demonstrates, a small population can create huge landholdings if there is plenty of available land. Despite its vast size, America has a relatively large population in relation to land availability, especially for agricultural use. Both countries practise free-market capitalism, but the American model is based largely on industry and population, while Australia's is based on a combination of agriculture and mined minerals.
Alongside the Kidman holdings, there are no fewer than eight other Australian ranches on the list, the smallest of which, the Colonial Agricultural Company, is over 4.5 million acres in size. While the Kidman holding is larger than Hungary, larger even than 90 of the world's smaller states, Colonial Agricultural is bigger than the world's smallest 43 countries. These huge holdings, which are are not replicated in either the home of free-market capitalism, the US, or Canada, suggest that economic prosperity at a corporate level is not formally impeded by feudal structures, so long as there is flexibility in their application, matched by entrepreneurial aggression in forcing that flexibility to operate.
Down as far as some would describe, unfairly, as the Jacobin Loony Left:
universalfreepress.com/2013/queen-elizabeth-ii-owns-16-of-earths-land-could-end-poverty-and-hunger-instead-profits-of-our-enslavement-a-new-world-order/
(extract)
She personally owns the land, owns, not rules or reigns over, and she owns more land than any government as well. Queen Elizabeth II, head of state of the United Kingdom and of 31 other states and territories, is the legal owner of about 6,600 million acres of land, one sixth of the earth's non-ocean surface. She is the only person on earth who owns whole countries, and who owns countries that are not her own domestic territory. This land ownership is separate from her role as head of state and is different from other monarchies where no such claim is made eg. Norway, Belgium, Denmark etc. The value of her land holding £17,600,000,000,000 (approx). This makes her the richest individual on earth. However, there is no way easily to value her real estate. There is no current market in the land of entire countries. At a rough estimate of $5,000 an acre, and based on the sale of Alaska to the USA by the Tsar, and of Louisiana to the USA by France, the Queen's land holding is worth a notional $33,000,000,000,000 (Thirty three trillion dollars or about £17,600,000,000,000). Her holding is based on the laws of the countries she owns and her land title is valid in all the countries she owns.
Her main holdings are Canada, the 2nd largest country on earth, with 2,467 million acres, Australia, the 7th largest country on earth with 1,900 million acres, the Papua New Guinea with 114 million acres, New Zealand with 66 million acres and the UK with 60 million acres. She is the world's largest landowner by a significant margin. The next largest landowner is the Russian state, with an overall ownership of 4,219 million acres, and a direct ownership comparable with the Queen's land holding of 2,447 million acres. The 3rd largest landowner is the Chinese state, which claims all of Chinese land, about 2,365 million acres. The 4th largest landowner on earth is the Federal Government of the United States, which owns about one third of the land of the USA, 760 million acres. The fifth largest landowner on earth is the King of Saudi Arabia with 553 million acres.