Jean Somers Gordon Ballingall

(3 Jun 1890 – 2 Feb 1980)
The narrative that follows is transcribed from Alexander (Sandy) Waddell's invaluable summary in his biographical documentation of the Little and Martin families.
Summary transcript
Born 3 Jan 1890 in Assam, India. Second child of Charles Ballingall, teaplanter with James Findlay and Co. Returned to London where her father worked in the London office and the family lived in Hampstead. She went to the High School and later to St Winifred's School, Eastbourne.
She met and married Harry Martin Little in Hampstead on 29 Mar 1913, and went out to Shanghai, where they made their home, They were interned in Shanghai as civilian internees during the second World War from 1943-45 and repatriated to England in October 1945 with their eldest daughter, Helen.
After the death of her husband Martin in 1947, she moved to Bexhill, where she died aged 90 years on 2 Feb 1980. (For details of their family, see Helen Gordon Little, Marion Lawrence Little, Matthew Martin Little, Jean Heather Little and David Maxwell Little).
Pictures from the prospectus of St Winifred's school show that it was surprisingly well equipped for a girls' school in that era, despite its comparatively modest size.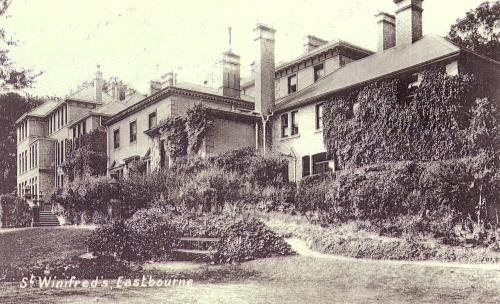 View from the Gardens