The Mosley and Mitford Connections
The Curzons, Mosleys and Mitfords were an infernal triangle in the politics of the first and second quarters of the twentieth century, and to a limited extent to the third quarter thereafter.
The Mosleys
One of the many noteworthy features of the urban scene in south Manchester is the tenacity with which so many roads retain their names – in the second division, so to say, there are Kings Road and Great Stone Road, for example, and in the first division there are Barlow Moor Road, Wilbraham Road and Chorlton Road, but in a league of its own must surely be Princess Road in combination with Princess Parkway. Once the City Fathers decided on a good name they stayed with it for as long as possible.
But in the city centre itself is an example of a slightly different sort – the apparent unconcern with which the name of Mosley is retained in Lower Mosley Street, from Great Bridgewater Street to St Peter's Square, and in Mosley Street itself, from St Peter's Square to Piccadilly Gardens. There was a time, within living memory, however, when the name of Mosley was a hissing and a byword to all decent people in Britain.
And the object of their scorn was Oswald Mosley, born of a long line of mercantile and civic grandees.
Edited version of
en.wikipedia.org/wiki/Nicholas_Mosley_(mayor)
The surname of Mosley first came to prominence with (Sir) Nicholas Mosley (c. 1527 – 12 Dec 1612), knighted in 1610 by Queen Elizabeth. He was born in or near Manchester, supposedly the eldest son of Edward Moseley and his wife Margaret Moseley (née Elcock). Together with his younger brothers Oswald (1534-1621), Francis (1535-1570), and Anthony (1537-1607) he was a highly successful manufacturer of woollen cloth, who subsequently became lord of the manor of Manchester, and a Lord Mayor of London for the year 1599 to 1600.
By the early 1550s, Mosley had moved from Manchester to London as a step in the expansion of the business. He went on to become a city of London merchant and a member of the Worshipful Company of Clothworkers.
Between the early 1560s and the mid to late 1570s, he returned to the Manchester area (where five of his children were baptised at St James' Chapel, Didsbury, between 1562 and 1568).
However, after the death of his brother Francis, Moseley returned to London to manage the commercial end of the family business. In 1589 he was elected an alderman of the City of London for Aldersgate ward. In 1591 he was a Sheriff of London, and was High Sheriff of Lancashire from 1609 to 1610.
On 20 Feb 1553, Mosley had married Margery Whitbroke at All Hallows, Honey Lane, in the City of London. They were to have a total of nine known children, of whom the youngest, Edward (DoB – 1638, unmarried and without issue), became a highly successful barrister, was knighted by King James I in 1614; was appointed a justice of the peace and Attorney-General for the Duchy of Lancaster; was elected as an MP for Preston in 1614, 1620-2, and 1624-5; and was the Mosley who first acquired the estates at Rolleston on Dove, in Staffordshire, held by the Mosley family for 400 years from the early 1600s until the 20th Century.
The Mosley Baronetcy of Rolleston, was created in 1640 for Nicholas Mosley's grandson Sir Edward Mosley, 1st Baronet (the 1st Baronet's father was Rowland Mosley (1558–1616), another son of Sir Nicholas and his wife Marjorie), of Rolleston Hall. There were to be numerous variations on this theme over the next four centuries or so.
We must now fast-forward through almost four hundred years of the honourable and successful progress of multiple generations of the Mosley family in commerce and public service, during which two thoroughfares were named for them, in order to reach the reviled sixth baronet.
#
Individual
Spouse / Partner
Family
Sir Oswald Mosley
5th baronet
Baronetcy of Ancoats (1781)
(1873 –
1928)

libertine
Katherine Maud Edwards-Heathcote
(1874 –
1950)
Oswald Ernald Mosley
(16 Nov 1896 –
3 Dec 1980)

Edward Heathcoat Mosley
(1899 –
1980)

John Arthur Noel Mosley
(1901 –
1973)
Sir Oswald Ernald Mosley
6th baronet
Baronetcy of Ancoats (1781)
(16 Nov 1896 –
3 Dec 1980)

Portrait

successively Conservative, Independent, Labour, New Party, and BUF (British Union of Fascists)

Click here for biography
Lady Cynthia Blanche (Cimmie) Curzon
(23 Aug 1898 –
16 May 1933, peritonitis)
(m 11 May 1920)

wedding portraits

daughter of George Curzon 1st Marquess Curzon of Kedlestone

Labour, briefly New Party

Click here for biography
Vivien Elizabeth Mosley
(25 Feb 1921 –
26 Aug 2002)

Nicholas Mosley
3rd Baron Ravensdale,
7th Baronet
(25 Jun 1923 –
28 Feb 2017)

Michael Mosley
(25 Apr 1932 –
13 Mar 2012)
Diana Freeman-Mitford
(17 Jun 1910 –
11 Aug 2003)
(m 6 Oct 1936)

daughter of David Freeman-Mitford,
2nd Baron Redesdale

Fascist

Click here for hagiography
Oswald Alexander Moseley
(1938 –
2005)

Max Rufus Mosley
(13 Apr 1940 –
23 May 2021)
Sir Nicholas Mosley
3rd Baron Ravensdale,
7th baronet
Baronetcy of Ancoats (1781)
(25 Jun 1923 –
28 Feb 2017)

novelist, essayist
Rosemary Laura Salmond
(d 1991)
(m 14 Nov 1947, div 1974)

daughter of Air-Marshal Sir John Maitland Salmond)
Shaun Nicholas Moseley
(5 Aug 1949 –
10 Dec 2009)

Ivo Adam Rex Moseley
(b 14 Apr 1951)

Robert Mosley
(b 24 Dec 1955)

Clare Imogen Mosley
(b 11 Nov 1959)
Verity Elizabeth Raymond
(m 19 Jul 1974)
Marius Mosley
(b 28 May 1976)
Max Rufus Mosley
(13 Apr 1940 –
23 May 2021, suicide)

racing driver, lawyer, libertine
Jean Taylor
(m 9 Jun 1960)

daughter of a Streatham policeman
Alexander Mosley
(1970 –
5 May 2009)

Patrick Mosley
(b 1972)
There's an intriguing connection from Sir John Ritchie-Findlay, 1st baronet of Aberlour, via the marriage of his daughter Laetitia to Sir Michael Oppenheimer, 3rd baronet Oppenheimer of Stoke Poges (you couldn't make it up!), plus one or two other hops and a skip, to Ivo Mosley.
Enoch Powell, who was often compared with Oswald Mosley, is credited with the remark that every political career ends in failure, and indeed that was certainly true for both of them. What he actually said, in his inimitable way, was more nuanced but nonethless just as telling,
"All political lives, unless they are cut off in midstream at a happy juncture, end in failure, because that is the nature of politics and of human affairs".
They both came to grief over the question of racial issues, Mosley being anti-semitic (though he denied it), whereas Powell focussed on ethnic immigrants in general. Britain nowadays is justifiably proud of its assimilation of other cultures – after all, though we have just hailed a prime minister of Asian origin, our Victorian ancestors elected a Jewish prime minister twice over back in the nineteenth century.
Moseley was also reviled as a fascist – but what did that actually mean, then or indeed now? As is so often the case, we must look a long way back.
• Britannica:
Fascism is a way of organising a society in which a government ruled by a dictator controls the lives of the people and in which people are not allowed to disagree with the government.
• Wikipedia:
Fascism is a far-right, authoritarian, ultranationalist political ideology and movement, characterized by a dictatorial leader, centralized autocracy, militarism, forcible suppression of opposition, belief in a natural social hierarchy, subordination of individual interests for the perceived good of the nation and race, and strong regimentation of society and the economy.
Strictly speaking, that's the way the majority of human societies have been organised since time immemorial, although a lot of the phrases used above require clarification themselves.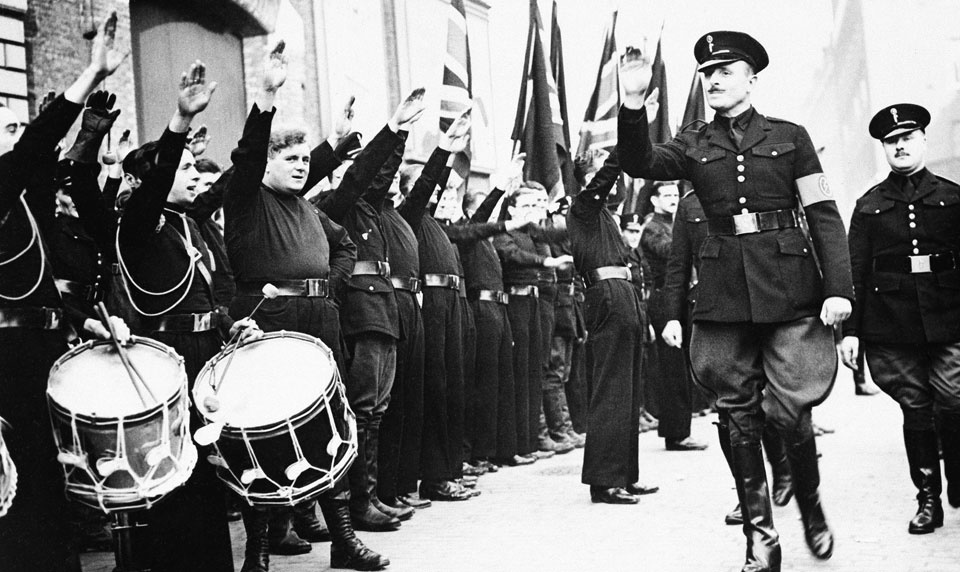 Oswald (Tom) Mosley at Blackshirt rally ca 1936
Early days
So what induced Mosely to join such unsavoury company?
He was regarded as strikingly handsome, as is certainly borne out by the first image in the portrait reference above. But I think his good looks were slightly distorted by the aeroplane crash that also left him with a permanent limp. His spivvy moustache, however, as in the second image above, was a dreadful mistake – perhaps he thought the moustache might draw attention from the facial asymmetry.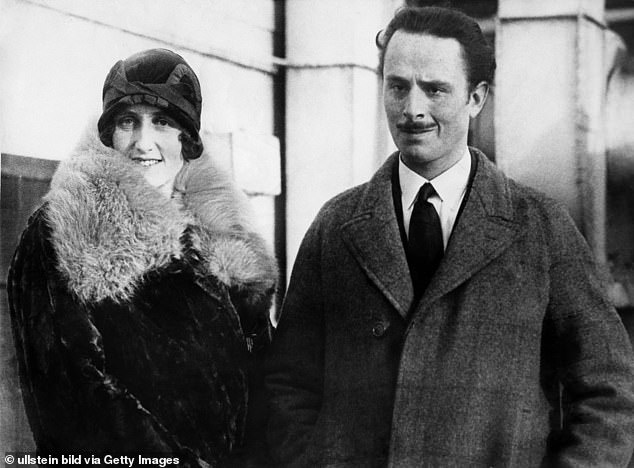 These minor imperfections certainly didn't deter his sisters-in-law Nina and Baba Curzon and his stepmother-in-law Grace Curzon, with all$ of whom he conducted affairs before or during his marriage to Cimmie (which he later described as having been 'perfect').
His wartime service was irreproachable, but it left him at the age of 22 without the benefit of a university (ie Oxford) education, usually regarded as a prerequisite for a career in public affairs. But his charm, and oratorical abilities, secured his selection as Conservative candidate for the constituency of Harrow in the 1918 General Election. He duly became Conservative MP for Harrow on 14 Dec 1918 (Lib).
Soon after his marriage to Cimmie, however, he crossed the floor (of the House of Commons) in late 1920, to sit as an Independent. His popularity with his constituents was such that he retained his Harrow seat as an Independent in the General Elections on 15 Nov 1922 (Con) and 6 Dec 1923 (Con). But in the next General Election, on 29 Oct 1924 (Con/Lab), he was ousted by the Unionist candidate.
On 27 Mar 1924 he had in fact applied to join the Labour party, as had Cimmie, and was selected as Labour candidate for the constituency of Smethwick in the by-election of 21 Dec 1926, winning the seat comfortably. He retained the seat, again comfortably, in the next General Election, on 30 May 1929 (Lab/Con).
For that same 30 May 1929 General Election, Cimmie had been selected as the Labour candidate for Stoke-on-Trent. The Liberal candidate, Davison, had held the seat since 1918 and in the 29 Oct 1924 General Election he'd had a 4,546 majority over his Labour opponent. Cimmie was excoriated by the media, but despite these attacks she got a 7,850 majority over Davison, and doubled the Labour vote from 13,000 to 26,000. It was the largest swing to Labour of the election.
She was duly elected as Labour member for Stoke-on-Trent, but didn't contest the 27 Oct 1931 (
Nat
) General Election.
Mosley resigned his membership of the Labour party on 28 Feb 1931, launching the so-called New Party the following day. He contested the 27 Oct 1931 (Nat) General Election as the New Party candidate for the constituency of Stoke-on-Trent (hoping, no doubt, to capitalise on Cimmie's immense popularity with its Labour electorate).
He came third, with only 24.1% of the vote. None of the New Party candidates in other constituencies fared any better. The New Party was dead in the water, as was his career in democratic politics, in which he had now lost all faith.
$
bookreporter.com/reviews/the-viceroys-daughters-the-lives-of-the-curzon-sisters
Given that both Nina (Irene) Curzon and Oswald Mosley belonged to the "Melton Mowbray set" until he sold his hunters in order to concentrate on politics, and given their limitless libidos, it is almost inconceivable that they didn't get together at some time or another. And indeed reviews of Anne de Courcy's The Viceroy's Daughters do note that they did in fact share a drunken night together although neither felt inclined to pursue the liaison. However, I can't track it down though I'm sure it's true.
The Times, 14 Jan 2019
"Previously unpublished letters (seen by The Times) ... donated to the National Library of Scotland appear to confirm that Mosley had relationships with Cynthia's sister Alexandra and their father's second wife Grace ... He also had a relationship with Cynthia's other sister, Irene"
The Mitfords
This connection was first (ca 2015) conceived some years ago, and left uncompleted in order to deal with what was then more up-date stuff. But if not now, then when?
Why anyway, you may well ask, am I dragging in the Mitford family – who have only a tenuous link (via "Gollum" Mosley) with the Curzons, who already are only tangential to the Howards and ipso facto the Kaulbacks, and thence my wife and ultimately myself. Is this simply self-aggrandisement on my part?
Well for one thing, the sturdy Tom Mitford was regularly solacing Tilly Losch throughout her ill-starred marriage to Edward James, a very significant figure in Howard family history, so the perspective can be much closer than one might think.
People are interested in family history for a good many praiseworthy reasons, but there are some baser motives too – we're all hoping for a high-born ancestor or two (and practically everybody on the planet could discover several of those, as per that actor in EastEnders), and folk who were colourful characters or noteworthy for their deeds or misdeeds of whatever kind. There have been ever so many of all these in my own background, insignificant petit-bourgeois though I be, and I don't actually need any more ticks on my T-shirt.
But I do like finding concealed, or at least unsuspected, connections between things, to support my admittedly woolly notion that the universe is simply one Big Idea rather that lots of scrappy little ideas unconnected with one another.
And – a very important point – there's a whole lot more mainstream historical documentation of aristocratic families, and naval or military men, or clergymen, or university graduates, than there is for people of more modest backgrounds or attainments.
So carpers and cynics be blown to the vex'd Bermoothes, here we go with the Mitford family demographics of that era, almost immediately complicated by the fact that the lineage had died-out, and had to be recreated, as we shall see, but followed by several more untimely deaths or 'sine proles'.
Please be aware that this is a WIP!
#
Individual
Spouse / Partner
Family
John Mitford
(d 1761, Exbury, Hants)

barrister
Philadelphia Reveley

daughter of Willey Reveley of Newton Underwood, Northumberland
William Mitford
(10 Feb 1744 –
10 Feb 1827)

John Mitford
(18 Aug 1748 –
16 Jan 1830)

John Mitford

1, 2
(18 Aug 1748 –
16 Jan 1830)

1) knighted in 1793
2) became Baron Redesdale in Mar 1801
3) took additional name of Freeman in 1809 by royal licence on succeeding to estates of his relative Thomas Edwards Freeman

younger brother of historian William Mitford
(10 Feb 1744 –
10 Feb 1827)
Lady Frances Perceval
(m 1803)
(d Aug 1817)

sister of the assassinated prime minister, Spencer Perceval
John Thomas Mitford
(1805 –
1886)
John Thomas Mitford
(1805 –
1886)

2nd Baron of Redesdale

became 1st Earl of Redesdale in 1877
unmarried
sp

As per Wikipedia "The Earl bequeathed his substantial estates to his first cousin twice removed, the diplomat, politician and writer Sir Algernon Freeman-Mitford, the great-grandson of historian William Mitford, who was the elder brother of the first Baron Redesdale.

The Redesdale title was revived when Algernon Freeman-Mitford was raised to the peerage as Baron Redesdale on 15 July 1902. He was succeeded by his second but eldest surviving son, David Freeman-Mitford, 2nd Baron Redesdale, who is chiefly remembered as the father of the famous Mitford sisters. His only son, the Hon. Thomas Freeman-Mitford, was killed in action in Burma in 1945.

Lord Redesdale was therefore succeeded by his younger brother, the third Baron. He was High Sheriff of Oxfordshire in 1935. He died childless in 1962 when the title passed to his younger brother, the fourth Baron. He died in the following year, also childless, and was succeeded by his nephew, the fifth Baron. He was the son of the Hon. Ernest Rupert Bertram Ogilvy Freeman-Mitford, fifth son of the first Baron.

As of 2020, the title is held by the fifth Baron's son, the sixth Baron, who succeeded in 1991."

Please click here for further clarification.

Algernon Bertram (Barty) Freeman-Mitford
1st Baron Redesdale
(of the second creation)
(24 Feb 1837 –
17 Aug 1916)

Portrait

diplomat and libertine

putative father of Sir Henry Hozier's nominal offspring, including Clemmie who subsequently married Winston Churchill, and Nellie who subsequently married Col Bertram Romilly, of impeccable Huguenot descent.

authority on Japanese customs and literature of earlier times
Lady Clementina Gertrude Helen Ogilvy
(19 Jun 1854 –
30 Apr 1932)
(m 31 Dec 1874)

daughter of David Ogilvy, 10th Earl of Airlie
Frances Mitford
(1875 –
1951)

Clement Bertram Ogilvy Freeman-Mitford
(14 Dec 1876 –
13 May 1915 KIA),
the eldest son, killed in action in the Battle of Loos

Portrait

David Freeman-Mitford
(13 Mar 1878 –
17 Mar 1958),
who succeeded his father in the barony and was the father of the prominent Mitford sisters

Iris Freeman-Mitford
(1878 –
1966)

Bertram Freeman-Mitford
(1880 –
1962), who succeeded David as the 3rd Baron Redesdale in 1958

John Freeman-Mitford
(1885 –
1963), who succeeded Bertram as the 4th Baron Redesdale in 1962

Joan Freeman-Mitford
(1887 –
1976)

Ernest Freeman-Mitford
(1895 –
1939), father of Clement Freeman-Mitford, 5th Baron Redesdale

Daphne Freeman-Mitford
(1895 –
1996)
David Bertram Ogilvy (Farve) Freeman-Mitford
2nd Baron Redesdale
(13 Mar 1878 –
17 Mar 1958)

Portrait

Portrait with young family

first three daughters given first names only
Sydney (Muv) Gibson-Bowles
(10 May 1880, Exbury –
25 May 1963, Inch Kenneth)
(m 6 Feb 1904)

Portrait

by no means outstandingly attractive and notoriously vague
Nancy (Naunce) Mitford
(28 Nov 1904 –
30 Jun 1973)

Pamela (Woman) Mitford
(25 Nov 1907 –
12 Apr 1994)

Maj Thomas (Tom, Tud) David Freeman-Mitford
(2 Jan 1909 –
30 Mar 1945 KIA)

Diana (Honks) Mitford
(17 Jun 1910 –
11 Aug 2003)

Unity Valkyrie (Boud, Bobo) Mitford
(8 Aug 1914 –
26 or 28 May 1948)

Jessica (Decca) Lucy Mitford
(11 Sep 1917 –
22 Jul 1996)

Deborah (Debo) Vivien Mitford
(31 Mar 1920 –
24 Sep 2014)
Nancy Mitford
(28 Nov 1904 –
30 Jun 1973)

Portraits

novelist, U and non-U
Hon Peter Murray Rennell Rodd
(16 Apr 1904 –
17 Jul 1968)
(m 4 Dec 1933)

wastrel
sp
Lt Col Gaston Palewski
(20 Mar 1901 –
3 Sep 1984)

mover and shaker

cad
sp
Pamela Mitford
(25 Nov 1907 –
12 Apr 1994)

Portraits

ruralist, sapphist
W/Cdr Professor Derek Ainslie Jackson
(23 Jun 1906 –
20 Feb 1982)
(m 29 Dec 1936)

physicist, WW2 RAF navigator, equestrian, bisexual libertine
Maj Thomas David (Tom, Tud) Freeman-Mitford
(2 Jan 1909 –
30 Mar 1945 KIA)

Portrait

anti-Semite

regular lover of Tilly Losch(!) during her marriage to Edward James
Diana Mitford
(17 Jun 1910 –
11 Aug 2003)

Portrait

Fascist

chummy with Wallis Simpson
Bryan Walter Guinness
2nd Baron Moyne
(27 Oct 1905 –
6 Jul 1992)
(m 30 Jan 1929)

a 'Bright Young Thing', barrister
Jonathan Bryan Guinness
3rd Baron Moyne
(b 16 Mar 1930)

Desmond Walter Guinness
(8 Sep 1931 –
20 Aug 2020)
Sir Oswald Ernald (Tom) Mosley
6th baronet
(16 Nov 1896 –
3 Dec 1980)
(m 6 Oct 1936)

his second marriage
Oswald Alexander Mosley
(1938 –
2005)

Max Mosley
(13 Apr 1940 –
23 May 2021)
Unity Valkyrie Mitford
(8 Aug 1914 –
26 or 28 May 1948)

Portrait

Nazi enthusiast, semi-invalid after failed attempt at suicide in 1939
sp
Jessica Lucy Mitford
(11 Sep 1917 –
22 Jul 1996)

Portrait

Communist,
writer (eg The American Way of Death)
Esmond Marcus David Romilly
(10 Jun 1918 –
30 Nov 1941)
(m 18 May 1937)

Portrait
Robert Edward Treuhaft
(8 Aug 1912 –
11 Nov 2001)
(m 8 Jun 1943)
Benjamin Treuhaft

Nicholas Treuhaft
Deborah Vivien Mitford
(31 Mar 1920 –
24 Sep 2014)

Portrait

Duchess of Devonshire, châtelaine of Chatsworth House
Andrew Robert Buxton Cavendish
11th Duke of Devonshire
(2 Jan 1920 –
3 May 2004)
(m 19 Apr 1941)

Portrait
Lady Emma Cavendish
(b 26 Mar 1943)

Peregrine Cavendish
12th Duke of Devonshire
(b 27 Apr 1944)

Lady Sophia Cavendish
(b 18 Mar 1957)
ukniwm.wordpress.com/2010/10/07/the-mitford-men/
War Memorials Archive Blog
The Mitford Men
This is a blog by Project Officer Frances Casey
The Mitford name is most famously associated with the six extraordinary daughters of David Freeman-Mitford, 2nd Baron Redesdale (1878-1958). They were Nancy, the author of witty tales of family life; Pamela, whose love of farm life led John Betjeman to refer to her as the 'Rural Mitford'; Diana the beauty and wife of the heir to the Guinness family, whom she later divorced in favour of Oswald Mosley, the leader of the British Union of Fascists; Unity whose torn love between Hitler and her country led her to shoot herself at the outbreak of the Second World War; Decca the communist, who tried to donate her share of the family's remote Scottish island, Inch Kenneth, to the Communist Party; and Deborah (Debo), the only surviving child and current Duchess of Devonshire. It would be understandable to assume that the stories of the male members of the family could not compare, but the family's war memorials tell us an equally interesting story of the Mitford men.
Pew to Maj C Freeman Mitford (ukniwm 31692) and tablet to Major T Mitford (ukniwm 31693), ukniwm
In St Marys Church in the Oxfordshire village of Swinbrook, memorials to the Mitford family are mounted on the walls and, on closer inspection, the family pews can be found.
One of the pews was donated by David Freeman Mitford from his winnings on the Grand National in 1918 and was used by the family during services. The other is an ornately carved oak pew, dedicated to David's elder brother Major Clement Freeman Mitford, who died in Flanders, aged 38, on 13th May 1915. This pew also remembers David and Clement's father, Lord Redesdale (1837-1916), whose last year was overshadowed by the loss of his eldest son.
David's daughter, Pamela, remembers her father crying openly when he heard of the death of his brother (The Mitford Girls, Mary S Lovell, 2001, pg35). As well as dedicating the pew, David organised an expedition to retrieve Clement's battlefield cross from Belgium, now mounted in St Mary's Church, Batsford, the family estate in the Cotswolds. On behalf of his father, David also erected commemorative wrought iron gates at the entrance to Vlamertinghe, the Commonwealth War Graves cemetery where Clement is buried. Clement's death was to dramatically change the course of family history. He died before the birth of his only child, Clementine, in October 1915. As a girl, Clementine could not inherit the male Redesdale title. This was to pass to David, whose daughters would then become the titled 'hons and debs' of literary fame.
Swinbrook Cross, ukniwm 31691
On the wall above the pew dedicated to Clement hangs an oval tablet in memory of 'a very perfect son and brother', Major Thomas David Freeman Mitford, who died aged 36. Tom Mitford was David's only son. According to Mary S Lovell, he was adored and teased in equal measure by his sisters, who would delight in making him 'blither' (giggle) during sermons in Swinbrook Church (Lovell, 2001, pg50).
The tablet records how Tom 'died in Burma on Good Friday 30th March 1945 of wounds received in action on the previous Saturday'. Devastated by the death of their son, David and his wife Sydney placed another tablet to Tom in Holy Trinity Church, Horsley, their estate in Northumberland. The tablets to Tom and the pew to Clement bear the Mitford motto 'God Careth for Us'.
As well as the family memorials, David ensured that both Mitford men were remembered for their community role and had their names included on the Roll of Honour inside Swinbrook church and on the cross in the churchyard. Sydney, Nancy, Unity and Diana are all buried in Swinbrook churchyard.
Bibliography re the Mitfords et al.
NANCY MITFORD
by Selina Hastings
pub Vintage
LIFE IN A COLD CLIMATE,
NANCY MITFORD, The Biography
by Laura Thompson
pub Review (Headline Book Publishing)
LOVE IN A COLD CLIMATE
Novel by Nancy Mitford
pub Hamish Hamilton, and Penguin Books
THE PURSUIT OF LOVE
Novel by Nancy Mitford
pub Hamish Hamilton, and Penguin Books
HONS & REBELS
(An Autobiography)
by Jessica Mitford
pub Victor Gollancz
WAIT FOR ME
(Memoirs of the youngest Mitford sister)
by Deborah Devonshire
pub John Murray
THE MITFORDS
Letters between Sisters
Edited by Charlotte Mosley
pub HarperCollins
LOVED ONES
Pen Portraits by Diana Mosley
pub Sidgwick Jackson
THE VICEROY'S DAUGHTERS
The Lives of the Curzon Sisters
by Anne de Courcy
pub Weidenfeld & Nicolson