Sophia Little

(28 Aug 1852 - 3 Mar 1899)
The narrative that follows is transcribed from Alexander (Sandy) Waddell's invaluable summary in his biographical documentation of the Little and Martin families.
Summary transcript
Born 28 Aug 1852 in Singapore. First child of Sarah Sophia Whittle and Dr Robert Little. By 26 Jun 1863 she was in England at 19 Rutland Gardens seemingly in the care of a Mrs Meek.
She was outward bound to Singapore (8 Feb 1871) when writing to her sister Jessie left behind in England. In Singapore she married James Brennand, a son of Richard Brennand who had been a clerk in Smith Pell & Co, and commenced his own business in 1868. On 31 Dec 1864 his premises were involved in a serious fire, started on neighbouring property.
This ends so abruptly and inconsequentially that the arrival of a Person from Porlock must be suspected. Five children were born to Sophie and James, before he expired at 45. Such early death was not unusual for European menfolk East of Suez – they so often succumbed to injury, overwork and exhaustion, just as their wives' threads of life so often snapped after the umpteenth childbirth. The undoubted riches of Empire were dearly bought with the lives of those who served it – the merchants of London, Bristol, Liverpool and Glasgow grew fat, but at what human cost (both to the oppressors and to the oppressed, it must be immediately conceded – the White Man's Burden was of course overwhelmingly borne by the subject peoples).
The letter that follows was written by Sophie Little (10:10) in London to her sister Mary (7:01) still with her parents in Singapore, being daughters of Sarah Sophia Little née Whittle and Dr Robert Little.
19 Rutland Gardens
26th June 1863
My dear Mary,
Grandmama came here yesterday and told me that Uncle John and Minty and you were coming here very soon. I am so glad for I will see you. I do not think I have seen you for a year. Mrs Douglas, a very kind lady who we often go to see, has got a new little baby, its name is William. I have seen him, he is a very nice little boy.
Mama has sent me some strange seeds of a beautiful tree with bright red flowers. How are you getting on with your lessons and what do you learn, does Willie learn with you?
It is only a month to the holidays now, then I will have no more lessons for a long time. It is very nice indeed. I wish you were coming here next year for I wanted to have you beside me, for we would have grand fun. All of us are writing just now, for this is the only time we have in the week, after we are done we get dressed and go into the drawing-room and play on the piano some tunes while Mrs Meek listens then we have tea and sometimes we play after it but often we work till bedtime.
Have you seen Aunt Jessie's baby yet, is not its name to be Jessie*. I wonder when I will see it. Mame says in her letter to Grandmama that perhaps she will send Maggie and Robert in two years and if she does I will be so glad I will not know what to do.
Poor Mrs Marten fell down one day and hurt her arm very much, only she is getting better now.
There I must end as I am very busy.
With love and kisses to all
I remain your affectionate sister
Sophia Little
Original in possession of Mrs Moira Stilling. Ref: SOPHYLIT,000
Footnotes added by Sandy
Mrs Stilling avers that Sophia was always called Sophie to avoid confusion with her mother. As far as possible this practice has been carried forward.

Grandmother must have been Anne Little (née Martin) by this date widow of William Maxwell Little (d 12 Dec 1843 Edinburgh). Anne may have moved to London. She died 14 Apr 1869.

Aunt Jessie was the seventh child of William Maxwell Little and thus a younger sister of Dr Robert Little. She married her cousin William Martin, They too must have been in Singapore.

[The baby] was christened Anne, and later married Dr Gimson whose practice was in Chelmsford.

Mary died 31 Jul 1868 aged 13 yrs and was buried at Shooters Hill Cemetery, Blackheath.

She refers to Maggie, her younger sister Margaret (Rita) and brother Robert McEwen.
At the moment [Mar 2014] I'm baffled by Sandy's footnote 3. Sophie's Aunt Jessie Martin née Little (b 15 Jun 1830) did indeed have a child Anne Margaret Martin (24 Jul 1857 – 20 Feb 1916), but it would have been aged 6 (no longer a baby) at the time the letter was written.
There was another Anne Margaret Martin (1875 – 16 Nov 1956) who in 1898 did marry William Douglas Gimson (1865 – 1929), but of course this was a generation or two later.
The letter that follows was written by Sophie Little to her younger sister Jessie. She is returning to Singapore on completion of her schooling in England. accompanied by her father Dr. Robert Little and her recently acquired step-mother Mary Elizabeth Little (née Campbell).
Tanjore off Cape St Vincent
8th Febry 1871
My dear Jessica,
Thanks very much for your last letter which read with great pleasure but my dear before going on let me make one observation which is I never flirt and don't like your telling me that I shant be able to do so under Papa's eyes which is a mistake. Let me remark en passant, for if I choose to flirt with every man on board Papa would not be the wiser.
We have a very kind lot on board, old married couples and the only man is Mr Ebell the permanent consul for Hong Kong, who carries on a disparate (sic) flirtation with an English widow, whom he is chaperoning back to H. There are a lot of babies on board and the Gentlemen all devoutly wish "that all the babes would go to Heaven" for they do squall so, with(out) ceasing. As Mr. Ebell said "they cry but once a day" meaning they begin at dawn and go straight on till dark.
Do you know that the stewards do really make the beds, empty the slops etc, bring you your tea in bed etc, so make up your mind to it my dear. This morning I had a bath, I had to go in my dressing gown through the saloon where the stewards were laying breakfast, I tried to look dignified but how was that possible when my hair was in a pigtail and I was scampering as if for dear life but once at the bath I had Dempsey the bathroom steward to pour the water over me.
Today we passed close to the coast of Spain and tomorrow at daybreak we reach Gib. The weather is already quite warm and the sea is covered at night with phosphorescence light, we have also seen today a school of porpoises and a steamer with four masts, such a big one. Papa thinks it must be the Himalaya or some such one.
Remember when you come on board to choose your seats as near to your cabin door as possible so as to make a rush easy if such a thing is necessary.
I have in my cabin a Miss Hancock who is going to India for pleasure and perhaps coming back at once if she does not like it but I can't tell if she is going to be married or going to her parents or what.
Love to Mrs Meek dear Lizzie
Original in possession of Mrs Moira Stilling. Ref. SOPHYLIT 001
Footnote added by Sandy
Strangely there is no direct reference to her father's second wife. Dr Robert Little remarried 5 Jan 1871 to Mary Elizabeth Campbell and thus by implication would be too preoccupied to notice any flirtations. It makes sense that he had come to England to claim his second bride, probably the culmination of his round-the-world trip. Mary Elizabeth was in fact little older than and already known to Jessie.
The extracts that follow are from a letter by Sophie Little to her younger sister Jessie who was just leaving school in England and about to rejoin her family in Singapore. Jessie writes with a wealth of experience, having returned herself not more than 5 months previously.
July 1871
'What a sentimental moment for you! dear Sis, and with it youth and all its visions, duties of womanhood such as scolding the dhobie for putting his head through some[thing] but away with pleasure and come business!
But first I must tell you about the battle – great battle of Salingore between HMS Rinaldo and the Rajah of Madi's men. It began by the pirates attacking a Chinese junk. A small steamer, the Pluto, was sent out to catch 'em and caught it herself so the Rinaldo, stationed here, went to attack them; went up their river, got well peppered, swung round and delivered a broadside with killing effect. I intend asking Capt. Robinson for particulars when next we meet, but will send you today's paper and you shall read the thrilling account!
There follows a list of clothes to be taken out to Singapore – prices out there from Uncle Matt's (John Little and Co. Ltd) and so on. Some items – 6 prs. coloured kid gloves, 6 prs. of boots, 3 prs. dancing boots – all hand-made from bootmaker in Blackheath! Things like "Don't bring coloured cotton stockings – utterly useless – only white; 2 plain coloured petticoats, old if you like for the plantation and 6 white. Please bring me some nice things for round the neck! My black jacket is very useful. I think you had better get a plain white muslin or so; something that will wash, and trim it with ribbon".
Now I think I have done with dress affairs but, while I remember, don't spend all the money Papa is sending you at home, for one needs it here I can tell you to my cost. Chinese pedlars come round with lots of pretty curiosities and you see nice things in shops and want to buy them.
On board, the first thing you do is to pin a card on the table nearest your cabin door; such precautions are useful and necessary at sometimes! Then get the steward to put your chair there – et vous voila etablie – pourquoi ne m'ecrivez vous pas en Francais – je l'ai oublié!
Adieu
Embrassez tous le monde
Votre soeur Sophie
Original in possession of Mrs Moira Stilling. Ref ANTSOP10.000
The incident Sophie described so vividly was in fact a turning point in the Selangor civil war, which the British used adroitly to establish further dominance in a commercially important region.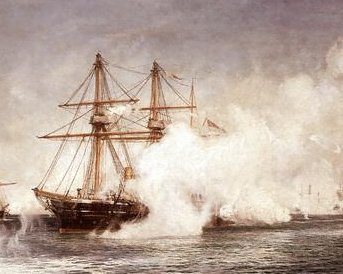 Bombarding the fortress
www.worldnavalships.com/forums/showthread.php?t=10276
The second HMS Rinaldo was a Brig rigged wooden screw sloop of the Chameleon Class.
After the Pangkor Treaty, during the Selangor civil war when pirates from the Selangor River had attacked a Penang based Junk the British sent HMS Rinaldo and HMS Pluto to attack the pirates' fort. HMS Rinaldo stood off to seal the river mouth while HMS Pluto entered the river and landed Marines on the 3rd July 1871. The Malays repulsed the marines with one killed and five wounded. HMS Pluto left with the wounded for Penang, leaving Rinaldo covering the river mouth. On the following day, HMS Rinaldo bombarded the fort, destroying it and driving out Saiyyid Mashhor and his warriors. This is known as "The Selangor Incident" starting events which led eventually to the end of the Selangor civil war and the imposition of a British Resident named Frank Swettenham to "advise" the ruler Sultan Abdul Samad – and the rest is history, as they say.
So, if your relative was in HMS Rinaldo in 1871 he probably was present at The Selangor Incident which was a major step in establishing British rule over the nine Malay States and the creation of Malaya.
The letter that follows was written by James Brennand to his daughter Sophy, aged 13:04 at school back in England.
Per German Mail
Singapore
14 May 1888
My dear little daughter,
Your nice long letter rec'd the other day gave me great pleasure, it contained quite a .... of news,
Yesterday Cousin Bob went into the country to look at some land he had bought. I started from the Hotel at 5 o'clock and did not get back to Uncle Bob's until 10 o'clock. I spent the day at his house, in the afternoon we were walking about the compound when one of the Syces came up and told us there was a .... in the tree and it had been playing havoc with their fowls, we got a gun and shot at it and hit it but after falling down from the tree it managed to escape among the underwood but it wont come back for some time as it was badly wounded.
Next Monday I am going to Branjee(?) and may perhaps go across to Johore and call upon the Sultan.
I hope you have enjoyed your holiday at Worthing, did you catch any fish and how did you spend your time?
Uncle Waddell has gone to Penang but is expected back in a few days. It was thought that Aunt Rita and the children were coming up here, but Uncle James is going back to Java after he returns from Penang.
I suppose by this time you are back at school and I hope studying hard so as to be a clever girl.
Give my love to Grandfather and Grandmother and with the same to you all.
Your affectionate father
J Brennand.
Original in possession of Mrs. Moira Stilling. Ref.BRENNAN0,000
Copied 3 Jun 1987
Footnotes added by Sandy
'Grandfather' is possibly Sophy's maternal grandfather Dr Robert Little MD (Edin) who retired from practice in Singapore to Blackheath 1884 where he died 11 Jun 1888, probably before this letter was received. 'Grandmother' thus being Mary Elizabeth (née Campbell) his second wife and therefore stepmother-in-law to James Brennand.

Alternatively he could be referring to his father Richard Brennand who died 16 July 1899 and his mother, name not traced.

Cousin Bob was the elder son of Matthew Little and his first wife Isabella McNair (née Black), for whom a place must have been found in John Little and Co. His father had retired to Hampstead in 1877.

Uncle (James) Waddell was a brother-in-law to James Brennand. James Brennand married Sophia Little and her youngest sister Margaret (Rita) Little married James Waddell (grandfather of the present compiler).
A syce, often capitalised, is an Indian word meaning stablehand, who attends to all the basic needs of a horse — be it feeding, washing, scrubbing, walking, talking and even preparing its bed in the stables. He also needs to understand the horse and build a happy bond with it, and attend to any (minor) injuries or ailments. I'd guess that Job Description is the same the world over.
It might well have been a leopard that the Syce saw in that tree. A badly wounded leopard will of course go for easier, ground-based, targets including dogs, children, or even adults as Dr John Wishart discovered to his cost ...
The Sultan of Johore was as that time Sir Abu Bakar ibni Daing Ibrahim (3 Feb 1833 – 4 Jun 1895). He had started as the Temenggong (2 Feb 1862 – 29 Jun 1868) and then switched to the better-understood title of Maharaja (30 Jun 1868 – 12 Feb 1886, finally opting for the title of Sultan (13 Feb 1886 – 4 Jun 1895). His full ceremonial soubriquet was H.H. Paduka Sri Sultan Sir Abu Bakar al-Khalil Ibrahim Shah ibni al-Marhum Dato' Temenggong Sri Maharaja Tun Ibrahim. He was widely liked and respected as a ruler and statesman, though he tended towards extravagance.