The Erskine of Kellie and Erskine of Cambo Connections
The origins of the Earldom of Kellie had their lighter side ...
Sir Thomas Erskine was a school classmate and lifelong personal friend of James VI of Scotland (from 1603, James I of England) and in 1585 was made one of the Gentlemen of His Majesty's Bedchamber. In 1604 he was appointed as Groom of the Stool (or Stole) to the King, though it's not entirely clear as to what extent the job descriptions of bedchamber and privy differed (as, despite the inventiveness of Sir John Harington, the commode was still a portable affair rather than a plumbed-in fixture in a separate room). However, the latter duty was a very private, personal and powerful position, conferring immense influence and prestige, and in due course he was rewarded with (inter alia) the Earldom of Kellie.
He was a grandson of Sir John Erskine, umpteenth Earl of Mar (click -11 to refer back to the Erskine of Mar and Dun Connection), and consequently inherited the extraordinary capability of that genetic strain. But as we shall observe, though himself vigorous in the bedchamber, his descendants were much less procreative, many indeed lifelong bachelors, and the inheritance meandered in a most uncertain manner, finally conking out temporarily with the decease of Methven, the 10th Earl, in 1829.
At this point, the dynastic loop suddenly closed, and the next Earl of Kellie was in fact the then Earl of Mar, John Francis Miller Erskine. His kinship with the Kellies and the Cambos was very remote, but he was the nearest, as presumably the College of Heralds said, and that's how they earn their keep. He was of course a pivotal figure in the protracted mid-nineteenth century legal manoeuvering for ownership of these Earldoms, which revealed the Victorian legal system at its boneheaded worst.
After the fog of internecine war more or less settled, his successors have continued imperturbably to this very day as the Earls of Mar and Kellie, chronologically junior to the Earls of Mar per se, but nevertheless secundus inter pares.
For the Earldom of Kellie, I am very much indebted to the websites
and for the Baronetcy of Cambo, the honours go to
I do generally steer clear of baronetcies, as they seem to proliferate without rhyme or reason, and I just don't understand what they're about (often, I suspect, they were handed out like lollipops), but in this Connection they seem to have been invaluable counterparts to the Kellie earldom.
#
Individual
Spouse / Partner
Family
‑11
Alexander Erskine of Gogar
(~1549 – 1592)

Portraits

Gogar
Margaret Home
(m 1564)

daughter of George Home, 4th Lord Home, and Mariotta Haliburton.
Mary Erskine

(Sir) George Erskine

(Sir) James Erskine,

daughter

Christian Erskine

2 daughters, son



Thomas Erskine


(1566 –
12 Jun 1639)

2 sons
1
Sir Thomas Erskine
1st Earl of Kellie
(1566 –
12 Jun 1639)


Lord Erskine of Dirletoun (1604),
Viscount Fentoun (1606),
Baron Kellie (1613),
Earl of Kellie (1619)

Acquired Kellie Castle
Anne Ogilvy
(m 30 Nov 1587)

daughter of Sir Gilbert Ogilvy of Powrie

Sir Alexander Erskine


(predeceased, 11 Feb 1633, sp)

Lady Anna (Erskine) Mowbray
Elizabeth (Pierrepoint) Norreys
(d 27 Apr 1621)
(m 1604)

daughter of Sir Henry Pierrepoint
Viscountess Dorothy (Smith, Barnham, Pakington) Needham
(d <1639)

daughter of Ambrose (or Humphrey) Smith of Cheapside
2
Sir Alexander Erskine
(d 11 Feb 1633)
Lady Anne Seton
(m < Jun 1610)

daughter of Alexander Seton 1st Earl of Dunfermline
Thomas Erskine
2nd Earl of Kellie
(May 1615 –
3 Feb 1643 unmarried)

Alexander Erskine
3rd Earl of Kellie
(d May 1677)

Sir Charles Erskine
1st Baronet of Cambo
(d Feb 1687)

purchased

Cambo

1, 2

George Erskine
(d 31 Dec 1656 unmarried)

Lady Mary (Erskine) Dalzell

Lady Sophia (Erskine) Saltoun

Lady Anna (Erskine) Forbes

Lady Elizabeth Erskine
(b Aug 1613)
3
Thomas Erskine
2nd Earl of Kellie
(May 1615 –
3 Feb 1643 unmarried)

grandson of 1st Earl
3
Alexander Erskine
3rd Earl of Kellie
(~1615 –
May 1677)

brother of 2nd Earl
Anna Kirkpatrick
(m <Jun 1661)

daughter of Lt Gen Kirkpatrick, Governor of the Bush (Netherlands)

Anna Erskine

Mary Dalzell
(m Jul 1665)

daughter of Sir John Dalzell of Glenae
John Erskine
(Nov 1671 –
d young)

Elizabeth (Erskine) Fraser
(Sep 1673 –
11 Dec 1744)

Mary Erskine (?)

Alexander Erskine
4th Earl of Kellie
(Sep 1677 –
8 Mar 1710)
3
Sir Charles Erskine,
1st Baronet of Cambo
(d Feb 1677)

Lord Lyon King of Arms
Penelope Barclay
(m 1663)
Sir Alexander Erskine
2nd Baronet of Cambo
(1663 –
1727)

Metalene Erskine (twin?)
(1663 –
Apr 1691)

Charles Erskine
(b 8 Jun 1664)

Margaret (Erskine) Sharp
(d Mar 1726)

Penelope (Erskine) Macdonald
(b Jul 1665)

Mary (Erskine) Colville
(b May 1667)
4
Alexander Erskine
4th Earl of Kellie
(Sep 1677 –
8 Mar 1710)

son of 3rd Earl
Anne Lindsay
(May 1674 –
3 Feb 1743)
(m 11 Jun 1699)

daughter of Colin Lindsay 3rd Earl of Balcarres
Alexander Erskine
5th Earl of Kellie
(d 3 Apr 1756)

Jane (Erskine) Scott
(d 17 Jul 1735)
4
Sir Alexander Erskine
2nd Baronet of Cambo
(1663 –
1727)

Lord Lyon King of Arms

Portrait

Anna Erskine



daughter of Alexander Erskine 3rd Earl of Kellie
Charles Erskine
(Nov 1682, died infancy)

Alexander Erskine
(May 1686, died unmarried)

Sir Charles Erskine
3rd Baronet of Cambo
(Sep 1687 –
8 Feb 1753 unmarried)

Sir John Erskine
4th Baronet of Cambo
(May 1690 –
20 Jul 1754 unmarried)

Anne Erskine
(Dec 1692 –
1764 unmarried)

Sir William Erskine
5th Baronet of Cambo
(Apr 1695 –
15 Oct 1781 unmarried)

Sophia (Erskine) Sharp
(Jan 1698 –
Jun 1735)



David Erskine


(d 7 Oct 1769)

Thomas Erskine
(Jan 1699 –
2 Feb 1783)

Colin Erskine

Penelope Erskine
(d 17 Apr 1768)
5
Alexander Erskine
5th Earl of Kellie
(d 3 Apr 1756)

son of 4th Earl
Louisa Moray
(d 11 Nov 1729)
(m 1726)
Janet Pitcairn
(d 7 Jun 1775)
(m Oct 1731)

daughter of Dr Alexander Pitcairn
Thomas Alexander Erskine
6th Earl of Kellie
(1 Sep 1732 –
9 Oct 1781 unmarried)

Anne Erskine
(18 Feb 1735 –
18 Mar 1802)

Archibald Erskine
7th Earl of Kellie
(22 Apr 1736 –
8 May 1795 unmarried)

Elizabeth (Erskine)
1.McFarlan, 2.Colville
(~1735 –
2 Nov 1794)

Janet (Erskine) Anstruther
(d 14 Oct 1770)
5
David Erskine
(d 7 Oct 1769)

Rothesay Herald and Lyon Clerk
Miss Grant
Anne (Erskine) Dewar

Penelope (Erskine) Stewart
Miss Young
Sir Charles Erskine
6th Baronet of Cambo
(1730 –
6 Mar 1790)

Thomas Erskine
9th Earl of Kellie
(~1745 –
7 Feb 1828)

Methven Erskine
10th Earl of Kellie
(~1750 –
3 Dec 1829)

George, John, David
(all d unmarried)
6
Thomas Alexander Erskine
6th Earl of Kellie
(1 Sep 1732 –
9 Oct 1781 unmarried)

son of 5th Earl

aka Fiddler Tam, by far the most interesting of all the Kellies!

Portrait
6
Archibald Erskine
7th Earl of Kellie
(22 Apr 1736 –
8 May 1795 unmarried)

brother of 6th Earl
6
Sir Charles Erskine
6th Baronet of Cambo
(1730 –
6 Mar 1790)
Margaret Chiene
(m ~1758)
Sir William Erskine
7th Baronet of Cambo
(1759 –
2 Oct 1791 unmarried)

Agnes Erskine
(b 1760)

David Erskine
(b 1761, d young)

Charles Erskine
8th Baronet of Cambo
8th Earl of Kellie
(1765 –
12 Oct 1799 unmarried)

Margaret Erskine
(b 1766)

John Erskine
(b 1768)

Penelope Erskine
(b 1769)
6
Thomas Erskine
9th Earl of Kellie
(~1745 –
7 Feb 1828)

uncle of 8th Earl

Portrait
Anne Gordon
(d 20 Mar 1829)
(m 1771)

daughter of Captain Adam Gordon of Ardoch
sp

Prior to his happy but childless marriage, Thomas had fathered a natural daughter in Sweden, Anna Eglehart.

Anna, possibly as a single mother, then had a number of her own children, who Thomas and his wife were happy to adopt ...
6
Methven Erskine,
10th Earl of Kellie
(~1750 –
3 Dec 1829)

brother of 9th Earl

Portrait
Joanna Gordon
(m 10 Jul 1781)
sp
7
Charles Erskine,
8th Baronet of Cambo,
8th Earl of Kellie
(~1764 –
28 Oct 1799 unmarried)

3rd cousin once removed of 7th Earl
8
John Francis Miller Erskine
19th Lord Garioch,
14th Lord Erskine,
9th Earl of Mar (of the 7th creation),
11th Earl of Kellie
(28 Dec 1795 –
19 Jun 1866)

Portrait, Portrait ?

6th cousin three times removed of 10th Earl
Philadelphia Stuart Stuart-Menteth
(d 15 Dec 1853)
(m 24 Apr 1827)

daughter of Sir Charles Granvill Stuart-Menteth, 1st Bart. of Closeburn.
sp

Succeeded in Kellie Earldom and Erskine Lordship by cousin

Walter Coningsby Erskine

, and in Earldom of Mar by nephew John Francis Erskine Goodeve-Erskine
9
Walter Coningsby Erskine
10th Earl of Mar and 12th Earl of Kellie
(12 Jul 1810 –
17 Jan 1872)

Portraits

cousin of 11th Earl
Elise Youngson
(1814 –
14 Jul 1895)
(m 11 Sep 1834)

daughter of Col Youngson of Bowscar

Walter Henry Erskine


(17 Dec 1839 –
16 Sep 1888)

Augustus William Erskine
(18 Jun 1841 –
17 Jul 1914)

Maj Charles Herbert Stewart Erskine
(11 Sep 1853 –
6 Apr 1896)
10
Walter Henry Erskine
11th Earl of Mar and 13th Earl of Kellie
(17 Dec 1839 –
16 Sep 1888)

Portrait
Mary Anne Forbes
(d 22 May 1927)
(m 14 Oct 1863)

Portrait

daughter of William Forbes of Medwyn & Mary-Ann Ancker Houblon

Walter John Francis Erskine


(29 Aug 1865 –
3 Jun 1955)

Elysa Mary Erskine
(1866 –
4 Oct 1891 unmarried)

Constance Elise Erskine
(1869 –
22 Feb 1959)

Rt Hon William Augustus Forbes Erskine
(30 Oct 1871 –
17 Jul 1952)

Portraits

Mary Erskine
(1873, d infancy)

Louisa Frances Erskine
(1875 –
15 Dec 1965)
Mother Superior, St Mary's the Virgin, Wantage

Alice Mary Erskine
(1878 –
24 May 1967 unmarried)

Rev Alexander Penrose Forbes Erskine
(13 Aug 1881 –
20 Jun 1925)
11
Col Walter John Francis Erskine
12th Earl of Mar and 14th Earl of Kellie
(29 Aug 1865 –
3 Jun 1955)

Portraits
Lady Susan Violet Ashley-Cooper
(1868 –
16 Dec 1938)
(m 14 Jul 1892)

Portrait

Portrait 2

daughter of Anthony Ashley-Cooper
8th Earl of Shaftesbury
Elyne Violet Erskine
(b 2 Aug 1893, d same day)

John (Jock) Francis Ashley Erskine
(26 Apr 1895 –
3 May 1953)

Francis Walter (Tommy) Erskine
(9 Jan 1899 –
1972)
12
Lord John Francis Ashley Erskine
(26 Apr 1895 –
3 May 1953)

Portraits

Governor of Madras Presidency (1934–1940)
Lady Marjorie Hervey
(16 Oct 1898 –
22 Nov 1967
(m 2 Dec 1919)

daughter of Frederick Hervey, 4th Marquess of Bristol

John Francis Hervey Erskine


(15 Feb 1921 –
1993)

Alistair Robert Hervey Erskine
(21 Mar 1923 –
19 Apr 1945 KIA)

Portrait

The Hon David Hervey Erskine
(5 Nov 1924 –
25 May 2004)

Robert William Hervey Erskine
(b 13 Oct 1930)
13
John Francis Hervey Erskine
13th Earl of Mar and 15th Earl of Kellie
(15 Feb 1921 –
1993)

Portrait
Pansy Constance Thorne
(16 Dec 1921 –
9 Aug 1996)
(m 24 April 1948)

daughter of Gen Sir Augustus Francis Andrew Nicol Thorne & Hon Margaret Douglas-Pennant

James Thorne Erskine


(b 10 Mar 1949)



Hon Alexander David Erskine


(b 26 Oct 1952)

Hon Michael John Erskine (b 5 Apr 1956)

Lady Fiona Erskine
(b 5 Apr 1956, twin)
14
James Thorne Erskine
14th Earl of Mar and 16th Earl of Kellie
(b 10 Mar 1949)

Portrait
Mary Kirk
23 Mar 1974

daughter of Dougal McDougal Kirk
15
The heir presumptive is the present holder's brother Hon. Alexander David Erskine, Master of Mar
Katherine Shawford Capel
(b 15 Dec 1950)
Alexander Capel Erskine
(b 1979)

Isabel Katherine Erskine
(b 1982)
Narrative history
Please click here to see a concise account of the Earldom of Kellie and Baronetcy of Cambo until the death of Methven Erskine the 10th Earl.
The Young Ladies of Ardoch
www.thebookofdays.com/months/july/10.htm
THE TWO COUNTESSES OF KELLIE
On this day, in the year 1781, Mr. Methven Erskine, a cadet of the Kellie family, married at Edinburgh Joanna, daughter of the deceased Adam Gordon, of Ardoch, in Aberdeenshire. A brother of the gentleman, named Thomas, had, ten years before, married Anne, another daughter of Mr. Gordon. These gentlemen were in the position of merchants, and there were at one time seventeen persons between them and the family titles; yet they lived to become, in succession, Earls of Kellie, being the last who enjoyed that peerage, separately from any other.
It was by a series of very singular circumstances, hitherto unnarrated, that these two marriages came about. The facts were thus related to the writer in 1845, by a lady then upwards of ninety years of age, who had had opportunities of becoming well acquainted with all the particulars.
At Ardoch Castle – which is situated upon a tall rock overlooking the sea – the proprietor, Mr. Gordon, was one evening, a little after the middle of the last century, alarmed by the firing of a gun, evidently from a vessel in distress near shore. A storm was raging, and he had every reason to fear that the vessel was about to be dashed against that iron-bound coast. Hastening down to the beach with lights and ropes, he and his servants looked in vain for the distressed vessel. Its fate was already accomplished, as the floating spars but too plainly shewed; but they looked in vain for any, dead or alive, who might have come from the wreck. At length they found a sort of crib which had been rudely cast ashore, containing, strange to say, a still live infant. The little creature, whose singular fate it had been to survive where so many stronger people perished, was carefully taken to the house and nursed. It proved to be a female child, evidently from its wrappings the offspring of persons of no mean condition, but with nothing about it to afford a trace as to who these were.
Mr. Gordon made some attempts to find the relatives of this foundling, but without effect. Hoping that she in time might be claimed, he caused her to be brought up along with his own daughters, and treated in all respects as one of them. The personal graces and amiable character of the child in time made him feel towards her as if she had actually stood in that relation to him. When she had attained to womanhood, a storm similar to that already spoken of occurred. An alarm-gun was fired, and Mr. Gordon, as was his wont, hurried down to the beach, but this time to receive a ship-wrecked party, whom he immediately conducted to his house, and treated with his characteristic kindness. Amongst them was one gentleman-passenger, whom he took into his own parlour, and entertained at supper. After a comfortable night spent in the castle, this stranger was surprised at breakfast by the entrance of a troop of blooming young ladies, the daughters of his host, as he understood, but one of whom attracted his attention in a special manner. 'Is this young lady your daughter too?' he inquired of Mr. Gordon. 'No,' replied his host; 'but she is as dear to me as if she were.' And he then related her story. The stranger listened with increasing emotion, and at the close of the narration, said he had reason to believe that the young lady was his own niece. He then related the circumstances of a sister's return from India, corresponding to the time of the shipwreck, and explained how it might happen that Mr. Gordon's inquiries for her relations had failed. 'She is now,' said he, an orphan; but, if I am not mistaken in my supposition, she is entitled to a handsome provision which her father bequeathed to her in the hope of her yet being found.'
Ere long, sufficient evidence was afforded to make it certain that the gentleman had really, by the strange accident of the shipwreck, found his long missing niece. It became necessary, of course, that she should pass under his care, and leave Ardoch – a bitter necessity to her, as it inferred a parting with so many friends dear to her. To mitigate the anguish of this separation, it was arranged that one of her so-called sisters, the Misses Gordon, should accompany her. Their destination was Gottenburg, where the uncle had long been settled as a merchant. Here closes all that was romantic in the history of the foundling, but there was to be a sequel of that nature in favour of Mr. Gordon's children. Amongst the Scotch merchants settled in the Swedish port, was Mr. Thomas Erskine, a younger son of a younger brother of Sir William Erskine of Cambo, in Fife, an offshoot of the family of the Earl of Kellie. To him was Miss Anne Gordon of Ardoch married in 1771. A younger brother, named Methven, who had pursued merchandise in Bengal, ten years later, married a sister of Miss Gordon, as has been stated. No one then dreamed that these gentlemen would ever come near to the peerage of their family; but in 1797 the baronet of Cambo became Earl of Kellie, and two years later, the title lighted on the shoulders of the husband of Anne Gordon. In short, these two daughters of Mr. Gordon of Ardoch, became, in succession, Countesses of Kellie in consequence of the incident of the shipwrecked foundling, whom their father's humanity had rescued from the waves, and for whom an owner had so unexpectedly been found.
The Swedish Link
I found the following chart quite serendipitously, via a sudden impulsive google (as, when a student, an idly-selected copy of (eg) J Chem Ed, opened at a random page, could spookily reveal a revelatory insight into something technical that thitherto had baffled and perplexed me).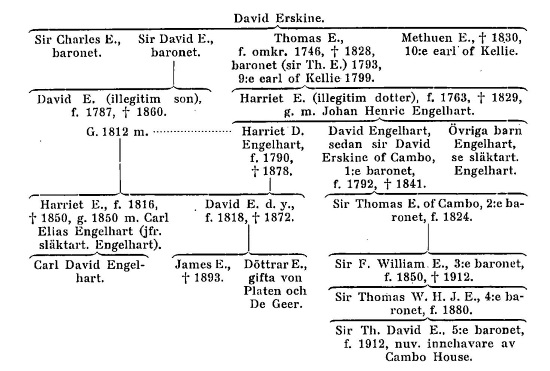 (sok.riksarkivet.se/SBL/bilder/15454_8_014_00000480_2.jpg)
In the main Kellie and Cambo generation table above, the name of Sir Thomas' natural daughter is given as Anna (as per another authority), but I'm now putting my faith in Harriet, in accord with this newly-discovered chart, and Wikipedia too:
en.wikipedia.org/wiki/Thomas_Erskine,_9th_Earl_of_Kellie
In 1771 Thomas Erskine wed Anne Gordon, a daughter of Captain Adam Gordon of Ardoch. The marriage was childless, but Erskine's daughter born out of wedlock, Harriet (born in 1763), married Johan Henrik Engelhart, professor of medicine at Lund. Four of Harriet's children were raised in their grandfather's house in Scotland. While the earldom was inherited by Erskine's brother Methven, a new Erskine Baronetcy was granted in 1820 to the 9th Earl's grandson, David Engelhart, who changed his name to Erskine and on whom Thomas Erskine entailed the estate of Cambo. David's sister, Harriet Engelhart, married a first cousin, another David Erskine (a grand nephew of the 9th Earl of Kellie and the natural son of Sir David Erskine) who settled as a merchant in Stockholm.
So a flourishing Swedish Erskine descent was established (albeit on the wrong side of several blankets), which hopefully continues – although greatly diluted – to this day.
It should be noted that where a surname is abbreviated as E, the chart implies Erskine rather than Engelhart, though various genealogical webpages make the opposite assumption, incorrectly IMHO. The multiplicity of Harriets and Davids also causes confusion between the generations.
The various entries in www.geni.com for the immediate family of the admirable Dr Dr Johan Henric Engelhart seem to be hopelessly muddled – the chart I've used is at least internally consistent, even if it may not be totally accurate – particularly as to the sanctity of his relationship with Harriet Erskine. Were they actually married (no date has been put forward), and in any case, why (as Wikipedia relates) were four of their children brought up in Sir Thomas Erskine's house back in Scotland, and a brand-new surname and baronetcy arranged for young David Englehart? These are deep waters, Watson.
#
Individual
Spouse / Partner
Family
5
David Erskine
(d 7 Oct 1769)
Miss Young
Sir Charles Erskine
6th Baronet of Cambo
(1730 –
6 Mar 1790)

(Sir?)

David Erskine



Sir Thomas Erskine
9th Earl of Kellie
(~1745 –
7 Feb 1828)

Meth(u/v)en Erskine
10th Earl of Kellie
(~1750 –
3 Dec 1829)
6
(Sir?) David Erskine

David Erskine


(natural son)
(1787 –
1860)
6
Sir Thomas Erskine
9th Earl of Kellie
(~1745 –
7 Feb 1828)

Harriet Erskine


(natural daughter)
(1763 –
1829)
7
Harriet Erskine
(1763 –
1829)

Johan Henric Engelhart

1a, 1b, 2
(17 Oct 1759 –
24 Oct 1832)

Portrait

Harriet Dorothea Engelhart


(1790 –
1878)

David Engelhart
aka Sir David Erskine of Cambo (1821)
(1792 –
1841)



Carl Elias Engelhart



John Julius Engelhart (?)
(b 12 Dec 1799)

+ Thomas (??)
+ Gustav (???)
8
Harriet Dorothea Engelhart
(1790 –
1878)
David Erskine
(1787 –
1860)
(m 1812)

Harriet Erskine


(1816 –
1850)



David Erskine


(1818 –
1872)
9
Harriet Erskine
(1816 –
1850)
Carl Elias Engelhart
(m 1850)
Carl David Engelhart
(b 1850/1)
9
David Erskine
(1818 –
1872)
Unknown
James Erskine
(d 1893)

Helena Viktoria Erskine
(27 May 1848 –
18 Sep 1874)

Mary Elisabet Erskine
(4 Oct 1861 –
1922)

and perhaps others
10
Helena Viktoria Erskine
(27 May 1848 –
18 Sep 1874)
Carl Ludvig Gustav von Platen
(30 Oct 1924 –
6 Feb 1904)
(m 20 Oct 1868)
Ellen Louise von Platen
(9 Nov 1869 –
1955)

Gösta von Platen
(b 17 Mar 1871)

Harriet Clara (von Platen) Renvall
(b 20 Oct 1873)
10
Mary Elisabet Erskine
(4 Oct 1861 –
1922)

Gerard Jacob De Geer af Finspång

1, 2
(2 Oct 1858 –
23 Jul 1943)
(m 6 Aug 1884, div 1907)

President of the Royal Swedish Academy of Sciences
Sten de Geer
(b 26 Apr 1886)

Dag de Geer
(b1887)
It would be incredibly exciting if an English translation of the following article (which relates to the chart displayed above) were to become available:
sok.riksarkivet.se/SBL/Presentation.aspx?id=15454
Biografi | Författare | Källor och litteratur
Erskine, släkt
Band 14 (1953), sida 476
Biografi
Erskine, skotsk adelssläkt, har sitt namn av baroniet Erskine i Renfrewshire, Skottland, vilket under konung Alexander II:s regering (reg. 1214–49) innehades av Henry de Erskine. Släkten delade sig redan på 1300-talet i flera linjer och har under skilda tider innehaft flera olika adelsvärdigheter. Flera släktgrenar av ätten ha längre eller kortare tid varit knutna till svenskt statsområde och svensk statstjänst eller kommersiell verksamhet (se nedan). Av den i Skottland kvarlevande ätten var Edvard Morris Erskine (f. 1817, d. 1883) – son av David Montagu E., andre baron E. – brittisk minister i Stockholm 1872–81. Den skotska ätten för (enligt Innes) en med hjärtsköld belagd, kvadrerad sköld, som i första och fjärde fälten visar en svart stolpe i silverfält.
Till Pommern överflyttade under slutet av 1500-talet en släktgren med Walter Esken eller Erskein. Dennes son Alexander Erskein (f. 1598, d. 1656; skrev sig till 1637 Esken) våren framstående civilmilitär ämbetsman och diplomat under trettioåriga kriget och blev svensk adelsman 1643 (konfirmationsbrev 1652) samt friherre 1655, i båda fallen ointroducerad; om honom och hans släktgren, dess vapen samt om andra personer i svensk tjänst med namnformen Esken eller Erskein, se Erskein, släkt (ovan s. 460 ff.).
I svensk militärtjänst var på 1600-talet även Thomas Erskin (e), som var fänrik vid Francis Johnstown's infanterireg. 1648–51, löjtnant 1654–55, utmärkte sig då ryssarna 1656 belägrade Riga och var ryttmästare vid Wolmar Wrangels kavallerireg. 1666–67. Thomas E. var 1665 förlovad med Anna Böllja och synes ha äktat henne s. å. I en supplik anger han sig själv ha tjänstgjort vid rikskanslerens livregemente, d. v. s. M. G. De la Gardies infanteriregemente, samt levde ännu 1678 och var då i Malchin i Pommern. Thomas E.'för stolpen i vapnet (Biographica: Erskine, Riksarkivet). – Om kaptenen vid Kronobergs reg. Robert Erskine (d. 1657), se Erskein, släkt (ovan s. 461).
Under 1700-talet engagerade sig flera medlemmar av ätten E. starkt för den jakobitiska saken, d. v. s. för de stuartska tronpretendenterna Jakob och Karl Edvard. Några personer E. nämnas just härvid i svenska sammanhang. Under Karl XII:s tid omtalas sålunda den jakobitiske agenten Charles E. samt diplomaten John E., earl of Mar, upphöjd till jakobitisk hertig av Mar; denna gren ärvde på 1800-talet värdigheten som earl of Kellie efter den halvsvenska linje, som nedan namnes. För anhängarna av huset Stuart var det svenska Göteborg vid olika tillfällen en tillflyktsort. Sålunda ankrade där på redden febr. 1716 ett skepp med skotska kavaljerer, bl. a. en major E.; de vägrades dock att landstiga (Fröding).
Efter den yngre pretendenten Karl Edvards nederlag vid Culloden 1746 gingo godsindragningar ut över hans anhängare, däribland medlemmar av ätten E. Sålunda indrogs av den jord, som medföljde värdigheten som earl of Kellie, allt utom slottsruinen med några få acres betesmarker (jfr nedan). Bland dem, som efter Cullodenkatastrofen och godsindragningarna emigrerade från Skottland,, var Thomas E. (d. 1828), som 1759 tog affärsplats i Göteborg och arbetade sig fram till ställningen som en av stadens förnämligare grosshandlare samt brittisk konsul; om honom se särskild art. nedan. Hans äldre bror kapten David E. (d. 1793) och hans yngre bror MethuenE. (d. 1830) voro vid 1770-talets mitt bosatta som affärsmän i Bengalen i Indien (jfr nedan s. 482), varifrån dock Methuen E., i varje fall för en tid, återvände till sitt hemland 1779. Efter äldste brodern sir Charles E. (se släkttavlan) gick värdigheten som baronet till David, nu sir David E., och vid hans död 1793 till Thomas, som sådan sir Thomas Erskine. Denne återvände 1799 från Sverigetill Skottland, s. å. han genom arv från en äldre linje fått värdigheten som 9:e earl of Kellie, dock utan det gods, som tidigare åtföljt titeln (jfr ovan). I stället hade han redan omkring 1790 inköpt ett annat, gammalt familjegods, Cambo House i Fifeshire, Skottland, vilket blev hans hem. Hans äktenskap med Anne Gordon var barnlöst. Lord Kellie hade emellertid före sitt äktenskap en illegitim dotter, Harriet E. (f. 1763, d. 1829), som 1787 äktade Johan Henric Engelhart (se denne), senare medicine professor i Lund och prost i Fellingsbro. Av deras nio till mogen ålder komna barn uppfostrades, hos morfadern i Skottland dels tre döttrar (Anna, Harriet och Caroline Engelhart), dels äldste sonen, David Engelhart. Lord' Kellie adopterade denne dotterson och gjorde honom till sin universalarvinge. Lordens titlar kunde däremot ej ärvas genom den illegitima, dottern, professorskan Engelhart, utan värdigheten som earl of Kellie gick först till Thomas E:s yngre bror, Methuen E. (t barnlös. 1830) och efter denne till en avlägsen, här ovan nämnd släktgren. Lord Kellie lyckades emellertid utverka ett engelskt k. brev av 27 aug. 1821, som förlänade en ny, till Cambo House knuten baronet-värdighet åt hans dotter- och adoptivson. Härigenom förvandlades, professorssonen David Engelhart från Lund till sir David Erskine of Cambo (f. 1792, d. 1841), baronet, i Skottland. I sitt gifte (1821) med en förmögen prästdotter från Wales, Jane Silence-Williams (d. 1880), hade denne bl. a. tre gifta söner: överstelöjtnanten sir Thomas E., andre baronet (f. 1824), brittiske konsuln, på Madeira David Holland E. samt Hugh Henry E. Det gamla magnifika Cambo House brann 1879; slottet återuppbyggdes men icke i sin gamla stil. Son till sistnämnde sir Thomas samt tredje: baronet var översten sir Ffolliott William E. (f. 1850, d. 1912). Dennes äldste son, överstelöjtnanten sir Thomas Wilfred Hargreaves John E. (f. 1880), fjärde baronet, var fader till den nuvarande innehavaren av Cambo House, femte baro- net sir Thomas David E. (f. 1912); rörande övriga grenar av släkten Engelhart än denna skotska Erskine-gren, se släktart. Engelhart.
Thomas E., 9:e earl of Kellie, hade en äldre redan nämnd bror, sir David Erskine, som hade en illegitim son David Erskine (f. 1787, d. 1860), stamfader för den sista svenska släktgrenen E. Denne fick, tack vare farbrodern lord Kellie, en god uppfostran men ägde ingen förmögenhet och sändes tidigt till Göteborg, där han som 15-åring 1802 fick anställning på David Carnegies kontor. D. E. uppges omkr. 1810 ha begynt egen rörelse, gjorde vidlyftiga affärsresor i Europa och äktade 1812 sin kusin professorskan Engelharts dotter, lord Kellies dotterdotter Harriet Dorothea Engelhart (f. 1790, d. 1878). De flyttade 1813 till Stockholm, där David E. ingick kompanjonskap med en annan skotsk affärsman, Ralph Stokoe. David E. var också Förenta Staternas konsul i Stockholm och fondmäklare men gjorde bankrutt och miste sitt amerikanska konsulskap. Av deras fem barn må nämnas dottern Harriet E. (f. 1816, d. 1850) som 1850 äktade kommendörkapten Carl Elias Engelhart, brorson till hennes morfar J. H. Engelhart (se vidare släktart. Engelhart), samt sonen David E. d. y. (f. 1818, d. 1872). Denne, som var rikt begåvad, genomgick Hillska skolan i Barnängen, praktiserade inom affärslivet i Amsterdam samt blev grosshandlare i Stockholm. I gifte med Sophie Sjöberg (d. 1893) hade han fem barn. Med en av deras söner, James E., utdog denna släktgren E. på manssidan i Sverige 1893. Av David E. d. y:s döttrar äktade Helene Victoria E. (f. 1848, d. 1874) år 1868 friherre Ludvig von Platen (föräldrar till författarinnan fröken Ellen von Platen, som i sin memoarbok berört släkten E.), medan Mary Elisabeth E. (f. 1861, d. 1922) var gift 1884–1907 med geologen, professorn friherre Gerard De Geer.
Författare
Bengt Hildebrand.
Sök i Nationella Arkivdatabasen
Källor och litteratur
Källor: Om ätten Erskine i allmänhet se sir Thomas Innes of Learney, The tartans of the elans and families of Scotland (4:e uppl., Edinburgh & London, 1948), samt släktart. Erskein ovan. – Om ryttmästaren Thomas E. (1600-talet) se: Biographica, RA; Personreg. till rullor, Kr A; meddel. av advokat-fiskalen Otto Adelborg efter uppgifter i bl. a. K. brev 16 mars 1665 rörande Anna Böllja (Reduktionskollegii akt nr 363, KA) och Svea Hovrätts liber causarum, 117, pars 1, RA; B. Schlegel & C. A. Klingspor, Den ... ej å riddarhuset introducerade svenska adelns ättartaflor (1875), s. 69. – Om jakobiterna E: H. Fröding,. Berättelser ur Göteborgs historia under envåldstiden (1915), s. 327 f.; S. Jägerskiöld, Sverige och Europa 1716–1718 (1937). – Om Thomas E:s (9:e earl of Kellie) familj, linjen E. of Cambo, hans bröder samt amerikanske konsuln i Stockholm David E: s gren: W. Berg, Genealogiska anteckningar om Göteborgssläkter, ser. 2, vol. 3–4 (maskinskrift), Landsarkivet i Göteborg; Kammarskrivaren Oarl David Engelharts handskrivna «Some biographical notes-about the Erskines of Cambo, who have lived in Sweden» (tillh. byråsekreteraren frih. Rolf De Geer, Stockholm); Superkargören vid Ostindiska kompaniets kontor i Kanton, sedermera titulära krigsrådet James Maules brevkopiebok 1776–80 (tillhör överste John Maule, avskr. hos flygläkaren dr L. Westring och fru Mary Westring, f. Maule, Stockholm); sir Bernard Burke & A. W. Thorpe, A genealogical and heraldic history of the peerage and baronetage.. . (London 1921), s. 844; G. E. C[okayne], V. Gibbs, H. A. Doubleday & lord Howard de Walden, The complete peerage, vol. 7 (1929), s. 103; Ellen von Platen, Ensam genom livet (1939); H. Rosman & Arne Munthe, Släkten Arfwedson (1945). Jfr även källor till art. Thomas E. nedan.
And this too:
sok.riksarkivet.se/sbl/Presentation.aspx?id=15455
Meriter | Biografi | Författare | Arkivuppgifter | Tryckta arbeten | Källor och litteratur
Thomas Erskine
Född:1746 omkring
Död:1828-02-06 – Storbritannien och Nordirland (på Cambo House, Fifeshire, Skottland)
Band 14 (1953), sida 480
Meriter
Thomas Erskine, från 1793 sir Thomas Erskine, baronet, och från 1799 earl of Kellie, f. omkr. 1746, d. 6 febr. 1828 på Cambo House, Fifeshire, Skottland. Föräldrar: David Erskine, esq., och Anne Young Fisherrow. Kontorsbetjänt hos George Carnegie, Göteborg, 1759–65; handelsbokhållare hos John och Benjamin Hall där 1765–67; burskap som handlande i Göteborg 27 febr. 1767; delägare i firman John Hall & Co. där 1767–98; brittisk konsul för Göteborg, Marstrand och övriga hamnstäder vid västkusten enligt engelskt kungl. brev 9 nov. 1775 och svenskt kungl. brev 20 dec. s. å.; ledamot av kommittén för utdelning av bidrag till nödlidande, Göteborg, 1792; baronet 1793 (jfr ovan); innehavare av firma i eget namn i Göteborg 1794–98; delägare i firman Thomas Erskine & Co. i Göteborg 1798–99; nionde earl of Kellie 1799; återflyttade till Skottland s. å. (ej 1794); såsom skotsk pär medlem av engelska överhuset 1804–06 och 1807–28; Lord Lieutenant of County Fife 1824. KVO 1808. Ägde Cambo House, som han inköpt omkr. 1790. G. 1771 i Göteborg m. Anne Gordon, d. 20 mars 1829 på Cambo House, dotter av kaptenen Adam Gordon of Ardoch.
Biografi
Släktens utarmning genom godsindragningarna efter den yngre stuartske pretendentens uppror (se släktart. ovan) var bakgrunden till att E. vid unga år sändes till Göteborg för att skapa sig en egen karriär inom affärslivet. Av flyktade Stuartsanhängare fanns där redan köpmannen George Carnegie (f. 1726, d. 1799), som fått bur-skap som handlande i Göteborg 1758 samt bedrev bl. a. export av stångjärn och bräder, främst till England, och import av spannmål, smör och stenkol. E. fick anställning på hans kontor året därpå. Han övergick emellertid 1765 till de engelskbördiga bröderna John och Benjamin Halls firma, vann själv burskap 1767 och blev samtidigt delägare i firman John Hall & Co. Denne John Hall, den andre av namnet, var som bekant sin tids rikaste köpman i Göteborg, dess störste järnexportör samt ägare av järnbruk, sågverk och skogar. År 1780 innehade firman tredje rummet vid taxeringen i Göteborg. E. var kvar i firman över trettio år, och det är utan tvivel under denna tid han skapat åt sig själv en stor förmögenhet.
I Göteborgs sociala liv kom E. att spela en särskild roll. Man hade i England redan på 1600-talet börjat att samlas några vänner på ett värdshus «for clubbing», varmed början var gjord till det ryktbara anglosachsiska klubbväsendet. De många engelsmännen i Göteborg medförde från hemlandet ett intresse för biljardspel, som de önskade fortsätta också i sin nya hemstad. Emellertid hade en k. förordning av 6 okt. 1731 vid högt vite förbjudit biljardspel på källare. Detta orsakade, att britterna i Göteborg jämte några av stadens egna söner den 19 nov. 1769 sammanträdde för att lösa frågan om fritids-problemet. Sex dagar senare, den 25 nov., satte tjugu ungkarlar med Thomas E. i spetsen sina namn under stiftelseurkunden till den ryktbara Bachelor's Club i Göteborg, som uppges vara den femte klubben i världen av existerande dylika. Sammanslutningen gick bl. a. ut just på hållande av biljard under «en nöjsam och ostörd sammanlevnad». I matrikeln är E. nummer ett. Den i klubbens namn angivna fordran på ungkarlsstånd höll man ej så hårt på – redan 1771 gifte sig E. själv. I klubben, sedan 1787 The Royal Bachelor's Club, fick E. även förbindelser, som sedan kunde vara honom till praktisk nytta (R. Söderström, se nedan).
Thomas E. hade vittförgrenade affärer. Då James Maule, som även var vän med fru E. och hennes syster Elizabeth (Betty) Gordon, på 1770-talet var Ostindiska kompaniets superkargör i Kanton, var han E:s korrespondent och ombud där, liksom han brevväxlade med Mrs. E. Genom Maule gingo också E:s förbindelser med hans två då i Bengalen, Indien, som affärsmän bosatta bröder (som hade kompanjonen A. Mackenzie) David och Methuen E. (se släktart. ovan s. 478). På 1790-talet intresserade sig E. mycket för handeln på Förenta staterna. Han omtalas i konseljprotokoll våren 1794 som korrespondent till sin kamrat från Bachelor's Club Richard Söderström, som 1795 blev svensk konsul i Philadelphia. Tillsammans med M. Törngren, W. Chalmers och Chr. Arfwidsson hemställde E. i skrivelse 1794 till K. M:t om utsträckt nederlagsrätt i Göteborg för att stimulera den amerikanska handeln, vilket beviljades 2 okt. s. å. (I. Hildebrand).
E:s sociala ställning blev i Göteborg mer framträdande, sedan han 1775 utsetts till brittisk konsul för nämnda stad, Marstrand samt övriga västkuststäder. Som konsul har E. spelat en icke obetydlig roll på flera sätt. Man vet nämligen, att han i varje fall på 1790-talet förde en regelbunden officiell korrespondens med engelska regeringen. E. lämnade med stor påpasslighet rapporter om den svenska exporten från Göteborg. Av särskild betydelse blev detta under revolutionskrigen, då E. med vaksamt öga följde den svenska kontrabandshandeln på Frankrike. På ledande finanshåll i Sverige har han åtnjutit förtroende, och då frih. Eric Ruuth 1790 behövde växlar för Riksgäldskontorets räkning, vände han sig till E., som genast (3 mars) lät genom firman John Hall & Co. remittera 1 000 pund sterling i växlar till generalkonsul C. Grill i London. Som kontorsbetjänt hade E. 1787–92 David Carnegie d. ä., som 1793 blev bokhållare i firman John Hall & Co. E. skapade vid sidan av sin verksamhet hos John Hall & Co. en egen firma i Göteborg 1794 och hade vid denna tid som medhjälpare sin landsman från Montrose i Skottland David Mitchell, med vilken han 1798 bildade firman Thomas Erskine & Co., som året därpå övertogs av Mitchell ensam. I Sophie Elkans roman «John Hall» skymtar E. vid sidan av Carnegie och Mitchell. Emellertid hade E. omkr. 1790 i Skottland inköpt ett gammalt familjegods Cambo House i Fifeshire, och då hans äldre bror sir David E. avled 1793, ärvde E. dennes baronetvärdighet. Han vistades nu i Skottland vintern 1793–94 men återkom sommaren 1794 till Göteborg. E. hyste redan nu planer på tillbakaflyttning till hemlandet. Emellertid kvarblev han i Sverige som konsul ända till 1799, då den definitiva återflyttningen till Skottland ägde rum. Magistraten i Göteborg begärde, att E. skulle betala Ve av sin förmögenhet före avresan från Sverige. E. hemställde hos engelska regeringen att få kvarstå som konsul, tills frågan ordnats. Magistraten lade beslag på E:s egendom och började process; hur saken slutordnades är icke klarlagt.
Med Anne Gordon (silhuettporträtt i Fataburen 1937) hade E. inga barn. Emellertid hade han en i Skottland född, illegitim dotter, Henrietta (Harriet) E. Då James Maule i sina brev 1776–79 aldrig omnämner denna, medan hon 1785 är hos familjen E. (Baeckström), har hon tydligen upptagits i hemmet i Göteborg först vid 1780-talets början. Vid avflyttningen 1799 hade E. kvar en stor del av förmögenheten i Sverige, och eftersom Harriet E. redan 1787 äktat läkaren professor J. H. Engelhart (SBL, 13, s. 594 f.) i Lund, var E. alltjämt med starka band fäst vid Sverige. Orsaken till att återflyttningen till Skottland blev av just 1799 torde varit, att E. s. å., genom arv från en äldre släktgren, ärvde skotsk pärvärdighet och blev nionde earl of Kellie (jfr släktart.). Hans residens blev Cambo House, en praktfull byggnad i medeltida borgstil med flyglar och mitteltorn, belägen i en vacker park med lummiga ekar. I rummen minde bl. a. en Göteborgsvy av Elias Martin om den skotske lordens svenska tid; tyvärr brann slottet med inventarier 1879. Lord Kellie uppfostrade tre av sina dotterdöttrar Engelhart och sin äldste dotterson David Engelhart samt adopterade dottersonen och utverkade för honom 1821 en särskild, till Cambo knuten baronettitel (se släktart.). Som pär inträdde E. 1804 i överhuset och anges såsom politiker ha varit en «anticatholic tory». Från Skottland bistod lorden 1802–03 jordbruksreformatorn C- G. Stjernswärd på Engeltofta genom att sända skotska mekaniker, smeder och plogdrängar med verktyg och redskap för att starta dennes tillverkning av modernare jordbruksredskap – en betydande insats i svensk lantbrukshistoria. Sina sista levnadsår var E. lord-lieutenant i sitt grevskap, Fife. Hos E:s svenska ättlingar i Stockholm förvaras ännu den fryntlige lord Kellies porträtt i olja (se ovan s. 481). E. är en frappant symbol för den gamla, intima förbindelsen och samverkan mellan Skottland och Sverige, särskilt Göteborg.
Författare
Bengt Hildebrand.
Sök i Nationella Arkivdatabasen
Arkivuppgifter
Tryckta arbeten
Källor och litteratur
Källor: Konseljprotokoll 1 Inrikes eivilärenden 22 maj (mom. 4) och 2 okt 1794 (mom. 7), Georg III:s diplom för E. 9 nov. 1775 att vara brittisk konsul (kopia, överlämnad av engelske envoyén till kanslipresidenten) i Diplomatica: Anglica: engelska beskickningars memorial ocb noter 1729–1782 samt Bio-graphica, RA; W. Berg, Genealogiska anteckningar om Göteborgssläkter, ser. 2, vol. 3–4 (maskinskrift), Landsarkivet i Göteborg; G. D. Engelharts under släktart. anförda «Some biographical notes etc.»; Superkargören, sedermera tit. krigsrådet James Maules brev till Tbomas E. ocb Anne E., f. Gordon, i Maules brevkopiebok från Kanton 1776–80 (tillb. överste John Maule, avskr. hos flygläkaren dr L. Westring och fru Mary Westring, f. Maule, Stockholm); excerpter av professor Lydia Wahlström ur handlingar i Public Record Office, London (hos prof. Walhlström). – Göteborgs stads borgarelängd 1621–1864, utg. af E. Långström (1926), s. 107. – A. Bceckström, Maria Charlotta Holtermans minnesalbum (Fataburen 1937), s. 173 f.; iSigne Carlsson, Sverige och Storbritannien 1787–1790 (1944); G. E. C[okayne], V. Gibbs, H. A. Doubleday & lord Howard de Walden, The complete peerage, 7 (1929), s. 103; B. Dahlström, Rikets gäld 1788–1792 (1942), s. 317; A. Esgeröd, Carl Georg Stjernsvärd och Engeltofta (Fataburen 1952); Th. A. Fischer, The Scots in Swéden (1907); H. Frö-ding, Berättelser ur Göteborgs historia under gustavianska tiden (1922); Ingegerd Hildebrand, Den svenska kolonien S:t Barthélemy och Västindiska kompaniet fram till 1790 (1951); S. T. Kjellberg, TJr krigsrådet James Maules silhuettbok (i Festskrift till Axel L. Romdahl, 1930); G. Lext, Bok och samhälle i Göteborg 1720–1809 (1950), s. 37; Ellen von Plåten, Ensam genom livet (1939); The Royal Bachelor's club 1769–1944 (1947); [C. G. Stjernswärd], Engeltofta förr och nu (2; a uppl., 1855), s. 7 f., 16; Lydia Wahlström, Sverige och England under revolutionskrigens början (1917). – Meddel. av fil. lic. fru Ingegerd Hildebrand. – Jfr även källor till släktart. ovan.
Cambo Revival
With the death on 28 Oct 1799 of Charles Erskine, 8th Earl of Kellie and 8th Baronet of Cambo, the Baronetcy of Cambo seems to have become dormant, later achieving official extinction with the death on 3 Dec 1829 of Methven Erskine, 10th Earl of Kellie.
But meanwhile, a new incarnation of the Baronetcy had arisen, phoenix-like, in 1821, when David Erskine, the natural grandson of Thomas Erskine 9th Earl of Kellie, was created the 1st Earl of Cambo (1821).
I'm being deliberately vague about all this, as I really don't understand the technicalities (maybe the two baronetcies could run in parallel as the earlier one was granted in the Baronetage of Nova Scotia and the later one in the Baronetage of the United Kingdom), but the bottom line was that the Cambo estate remained in the Erskine family, with whom it continued to flourish and indeed remains a thriving enterprise to this very day.
The following sources have been enormously helpful in establishing the details of what eventuated:
#
Individual
Spouse / Partner
Family
1
Sir David Erskine
1st Bt. of Cambo (1821)
(6 Feb 1792 –
1841)
Jane Silence Williams
(d 9 Mar 1886)
(m 27 Aug 1821)

daughter of Reverend Hugh Williams
Jane Silence Erskine
(d 1826 unmarried)

Harriett Erskine
(d 10 Jan 1860 unmarried)

Mary Erskine
(d 1853 unmarried)

Caroline Erskine
(d 16 Jan 1893 unmarried)



Thomas Erskine


(23 Jul 1824 –
27 Sep 1902)

David Holland Erskine
(4 Sep 1828 –
20 Jun 1869)
9 children

Hugh Henry Erskine
(1839 –
4 Jan 1907)
2
Lt Col Sir Thomas Erskine
2nd Bt. of Cambo (1821)
(23 Jul 1824 –
27 Sep 1902)
Zaida Maria ffolliot
(d 1 Dec 1897)
(m 15 July 1847)

daughter of John ffolliot
Zaida Mary (Erskine) Anstruther
(d 18 Apr 1922)

Elythia Ruth (Erskine) Wauchope
(d 1883)

Harriet Caroline (Erskine) Shairp
(d Feb 1949)



ffolliott William Erskine


(28 Oct 1850 –
9 Jan 1912)

Lt Col Thomas Harry Erskine
(12 May 1860 –
6 May 1924)

Jane Holland Gwenydd Erskine
(28 Jul 1869 –
1959 unmarried)

Mary Lucy Erskine (twin)
(28 Jul 1869 –
3 Feb 1955 unmarried)
3
Lt Col Sir ffolliott William Erskine
3rd Bt. of Cambo (1821)
(28 Oct 1850 –
9 Jan 1912)
Grace Hargreaves
(d 1937)
(m 2 July 1879)
Zaida Grace (Erskine)
Scrymgeour-Wedderburn
(d 27 Feb 1943)



Thomas Wilfrid Hargreaves John Erskine


(27 May 1880 –
29 Apr 1944)
4
Lt Col Sir Thomas Wilfrid Hargreaves John Erskine DSO
4th Bt. of Cambo (1821)
(27 May 1880 –
29 Apr 1944)
Magdalen Janet Anstruther
(19 Apr 1889 –
15 Feb 1953)
(m 14 Aug 1911)

daughter of Sir Ralph William Anstruther
6th Bt. of Balcaskie
Thomas David Erskine
(31 Jul 1912 –
21 Mar 2007)

Mary Ruth Erskine
(b 18 Aug 1913)

Lt Ralph John Erskine RN
(17 Sep 1914 –
1 Dec 1937)

Diana Mildred (Erskine)
1. Skene
2. Buxton
(b 12 Nov 1915)

Victoria Margaret Erskine
(b 22 Feb 1919)

Penelope Anne (Erskine) Sugden
(b 19 Feb 1920)

Constance Gertrude (Erskine) Patch
(b 21 Apr 1921)

Harriet Katherine Lucinda (Erskine) Doheny
(b 12 May 1924)
5
Maj Sir Thomas David Erskine
5th Bt. of Cambo (1821)
(31 Jul 1912 –
21 Mar 2007)
Ann Fraser Tytler
(m 4 Oct 1947)

daughter of Col Neil Fraser Tytler
Caroline Sarah (Erskine) Sharpe
(19 Sep 1948 –
5 Jan 1976)

Thomas Peter Neil Erskine
(b 28 March 1950)

Dr William Erskine
(b 6 Jul 1952)
6
Sir Thomas Peter Neil Erskine
6th Bt. of Cambo (1821)
(b 28 March 1950)

Portrait
Catherine Jean Kilby Hewlett
(m 1972)

daughter of Col G H K Hewlett

Thomas Struan Erskine


(b 6 Feb 1977)

James Dunbar Erskine
(b 1979)

Gillian Christian Erskine
(b 1983)

Mary Caroline Erskine
(b 1986)
The Clan Erskine
Before reading on, you might first like to click here for some background to the Scottish clan system.
And there is indeed a Clan Erskine1, 2 and its Chief is James (Jamie) Thorne Erskine, the present Earl of Kellie and Mar, pictured below: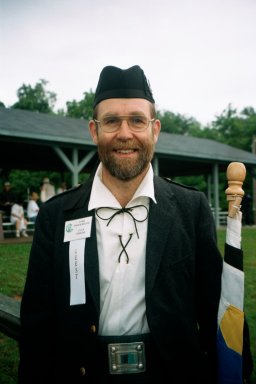 There is also a Clan Mar1, 2, of which Margaret Countess of Mar is the current Chief.
The Erskine clan badge, depicted below, is a most dramatic piece of modern graphic presentation, recalling the traditional origin of the name: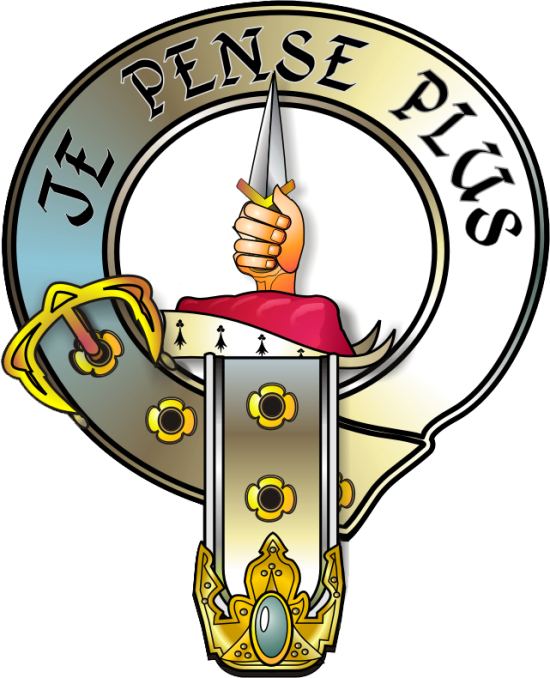 en.wikipedia.org/wiki/Erskine_(surname)
Legend dictates that the name was given by King Malcolm II to a man who killed the Danish General Enrique at the Battle of Murthill. He is said to have shown the bloody knife to king and said eris-skyne, meaning "upon the knife". The King, in honour of his valour, granted him the surname Eriskine.
[www.electricscotland.com/history/nation/erskine.htm]
I have a feeling that the severed head of the unfortunate Dane was still reportedly impaled upon the knife at that moment, but maybe that is nowadays regarded as an unnecessary embellishment. Odd name for a Dane, though.
unknownscottishhistory.com/articlenineteen.php
And indeed, why was the slayer of Enrique using a knife (essentially a singly edged implement used for cutting food or skinning game) in close combat? A dagger – doubly edged as depicted in the graphic – would have been the weapon of choice. And whereas the Gaelic for knife is sgian (or skyne etc), the word for dagger is biodag (or beedak etc). Which would rather b*gger up the derivation of Eriskine, Areskine etc as the family cognomen.
My vote goes with the interpretation "Green rising ground" (ir-isgyn) which might well correlate with various names for the Emerald Isle to the west.
The clan motto Je Pense Plus (I think more) differs slightly but significantly from that of Clan Mar, but the Clan Erskine wikipage also gives Decori decus addit avito (He adds honour to that of his ancestors), confirmed by the ever-reliable Fairbairn (p 374), who also adds Unione Fortior (Stronger by Union, spookily similar to my secondary school motto), presumably a latecomer reflecting the combined Earldom of Mar & Kellie.
The Clan Erskine tartan specified by their website is as promulgated by Vestiarum Scoticum, and doesn't have cast-iron provenance, but then tartans in general don't anyway: