www.independent.ie/life/home-garden/homes/2m-kinsale-mansion-was-once-of-interest-to-the-former-duchess-of-york-30723819.html
€2m Kinsale mansion was once of interest to the former Duchess of York
A 19th Century Cork house with royal connections
Eithne Tynan
Published 07/11/2014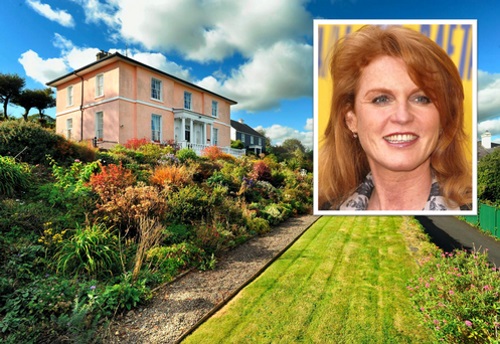 Dromderrig House in Kinsale, County Cork which the Duchess of York was prevented from buying
FOR most of us, the security considerations involved in buying a house amount to little more than whether or not to install a monitored alarm system.
But when Sarah Ferguson, the Duchess of York, looked at Dromderrig House in Kinsale back in the mid-1990s, there were security implications of a whole different order.
At that time the duchess had recently separated from her husband, Prince Andrew, and her reputation was in tatters after photos appeared in the Daily Mirror apparently showing a topless Fergie having her toes sucked by financial adviser John Bryan.
Fergie had also recently begun a friendship with Irish show-jumping international Robert Splaine and his wife Eileen, who ran an equestrian centre at Belgooly. She began spending a lot of time in Kinsale, and considered setting up a permanent base there at Dromderrig, a 19th-century mansion at Compass Hill that was on the market at the time for IR£ 425,000.
According to reports, she was advised against it for security reasons. The duchess was under garda protection on her frequent visits to Kinsale, and local garda sources were reported as saying that they had expressed concern about the security arrangements to her representatives.
At any rate, when it came to inking the deal, the duchess was beaten to it by events business mogul Des McGahan and his wife Lisa, who had made their fortune in Hong Kong.
In both the first and second-edition ordnance survey maps, Dromderrig House, built in 1820, is shown on its own extensive grounds - a commanding, standalone property on one of the highest points in Kinsale, overlooking the inner and outer harbour.
Since then, houses have been put up either side of it. Consequently it is now described as being in a "gated estate" of four houses - and the security afforded by the electronic gates might make up for the imposition of having neighbours.
When Sarah Ferguson took an interest in it, it was described as a four-bedroom house on 1.2 acres. Now, 20 years later, it's a five-bedroom house on three-quarters of an acre.
The McGahans set about restoring the place in around 2000, but they took care not to forfeit any of its stately original features, such as 12-foot-high corniced ceilings with centre roses, sliding sash windows with window shutters, marble fireplaces and wooden floors.
The internal accommodation of the house amounts to some 4,500 sq ft on two storeys plus a basement, with four reception rooms, five bedrooms and three bathrooms.
The grand entrance portico, flanked by ionic columns, opens into a tiled hall, with formal reception rooms laid out symmetrically either side. Both are at the front, taking advantage of the extensive views.
To the left is a drawing room with a marble fireplace and dual-aspect windows that overlook Kinsale harbour, and to the right is a dining room, also dual-aspect and with another marble fireplace.
The kitchen is fitted with light oak cabinets and has an oil-fired red Aga, and it opens into a conservatory that gives access to the back garden.
The ground floor also has a cloakroom and guest toilet, and the last of the rooms on this level is a study with yet another marble fireplace, shelving, and a French door to the side.
On the lower ground floor level there's one guest bedroom with fitted wardrobes and its own exit to the side of the house, as well as various service rooms including a laundry room with a Belfast sink, a wine store, an office and a bathroom.
The most important room on this lower level, though, is a large family room measuring 48ft by 15ft. It's party central, with a fully-equipped mahogany bar, a fireplace with a solid-fuel stove and enough space for a billiard table.
Apart from the basement guest room, all of the bedrooms in the house are on the first floor, reached by means of a curving staircase from the inner hall that's dominated by a tall, arched, 12-over-12 paned sash window.
The master bedroom has a dressing room and ensuite shower, and two of the other three bedrooms on this level have fireplaces. Also on the first floor is the main family bathroom, which has a bath, power shower and bidet. It's worth noting, too, that even at this upper level, the ceiling heights are an expansive 9ft 4in.
The three-quarters of an acre of grounds are rather more manageable than the original curtilage of the property. The gardens are landscaped and include a barbecue area with an outdoor stone pizza oven.
There's a pressurised water system through the house, oil-fired central heating and, yes, an alarm.
Dromderrig House, Kinsale, Cork
Asking price: €1.9m
Agents: Cohalan Downing in Cork (021) 4277717 and Colliers International (01) 6333700