John Martin Little

(17 Sep 1825 - 1894)
The narrative that follows is transcribed from Alexander (Sandy) Waddell's invaluable summary in his biographical documentation of the Little and Martin families.
Summary transcript
Born in 1825, he joined his uncle Francis S Martin, already established in Singapore as an auctioneer and store-keeper. In August 1845 Francis Martin made over the business to John Martin Little and Cursetjee Frommerzee, who carried on as Little, Cursetjee and Co. on the same premises. This partnership was dissolved in 1852 when joined by his brother Matthew. The business continued as John Little and Co. In 1857 he married a cousin Mary Dalgliesh; two children were born in Singapore: William Dalgliesh (1857) and Edward A(lexander?) (1858). By 1862 he was living at Bonnington House, Vanbrugh Fields, Blackheath, an imposing and spacious semi-detached house where he declared himself in the 1871 Census return as 'East India Merchant'. His wife, the two boys and another child Dora (born Blackheath 1863) are named in the entry, together with five servants.
There would also have been garden staff not living in. The object would have been to establish an office in the City to handle the purchase and shipment of merchandise to Singapore, where Matthew continued the day to day business of the company. There is a reference in correspondence from Sophy Little to her sister Jessie (1871) giving prices of clothes at "Uncle Matt's". The London office would have exacted a purchasing commission on all goods handled, sufficient to pay a part salary and he would have retained his share of the partnership remuneration from Singapore. He must have enjoyed considerable wealth to support such an establishment.
There is evidence that he was involved with overseeing the arrangements for the education of nieces and nephews sent home from Singapore. There is no record of his contribution to the civic affairs of the Settlement. A letter from Sara Sophia Little to her daughter 20 August 1871 was written from "Rosemouth, the house which Uncle John built in Papa's plantation and we like it here very much". This was Siglap Plantation, now a housing estate.
He died in Blackheath 1894.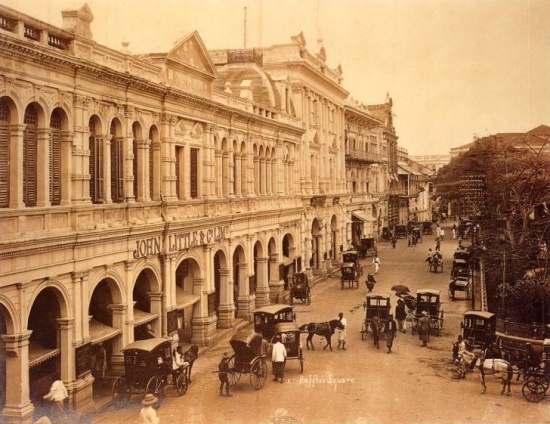 John Little & Co, Raffles Place, Singapore
At various times in my childhood, my father would wax lyrical about the iconic significance of John Little & Co. as the central retail pillar of Singaporean society. He invariably neglected to explain just what significance this had to us, as I had no grasp of our connection with the Littles. He, on the other hand would have been regaled with tales of old Singapore at his grandmother's knee – she, Margaret Little by birth, had been brought up there, and her recollections of the exotic East, and the part played by her family's emporium, would have been far more to his taste than the dour Glaswegian background of his father and grandfather.
John Little & Co was the longest-established department store in Singapore, and its imposing frontage on Commercial Square (renamed, in honour of Sir Stamford Raffles, in 1858 as Raffles Place) would have given it added prestige. But I get the feeling that it was more Army & Navy than Harrods, and that perhaps its merchandise was good-quality utilitarian rather than luxury.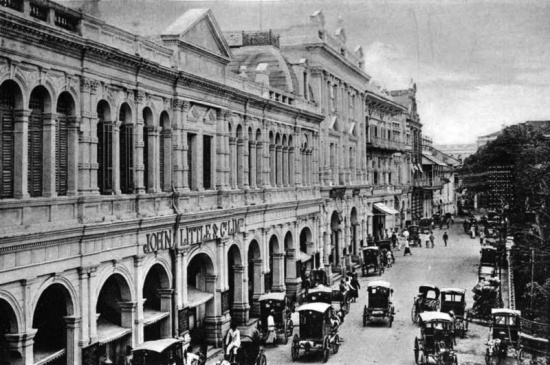 John Little & Co, Raffles Place, Singapore
Inevitably, John Little & Co has experienced numerous ups and downs since the time of John Martin Little.
A new Store designed by Swan & MacLaren and described as a very light and free Renaissance style based on Spanish and Flemish work, was opened in 1910 (Singapore: A Pictorial History 1819-2000, by Gretchen Liu):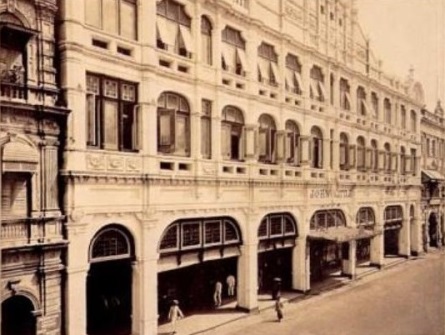 'The Universal Providers of Singapore'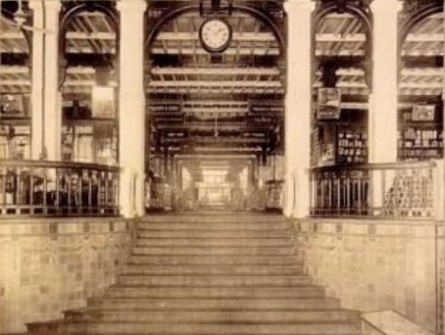 Interior view from Main Entrance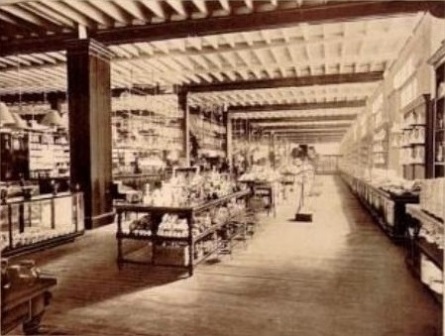 Glassware and Crockery Department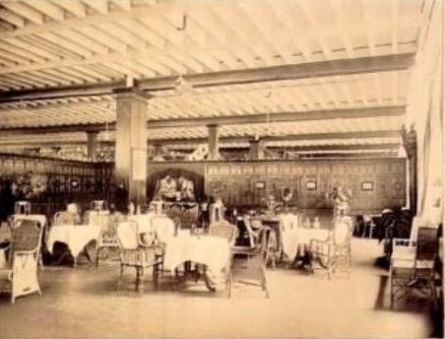 Tea Rooms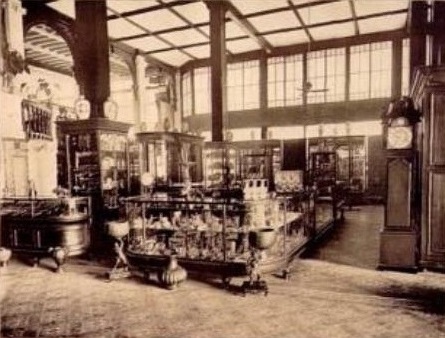 Silverware Department
The Second World War effectively ended the era of British imperial dominance and the store was requisitioned by the occupying Japanese forces in 1941. As per Wikipedia (op cit), however:
After the Japanese occupation of Singapore ended in 1945, it took some time for John Little to re-open for business due to lack of manpower and merchandise. In June 1946, John Little resumed business, and subsequently registered such good sales that the store declared a 20% dividend for its ordinary shareholders in 1948.
In the early 1950's Jardine Matheson took over, with a view to exploiting the property development potential – asset stripping, less euphemistically.
But in 1955, John Little was acquired by Robinsons. The store was relaunched as JL on 29 August 1987 with a new logo, new image and merchandise selection. Its main store moved from Raffles Place to several locations before moving into Specialists' Shopping Centre until the Centre itself was demolished in July 2007.
The chain currently has three stores in Singapore, at Marina Square, Tiong Bahru Plaza and Jurong Point. The Marina Square store is John Little's largest outlet which opened in June 2007.
See below for another narrative, focussing more on the post WW2 history of JL, and its fortunes since the takeover and repositioning by Robinsons.
infopedia.nl.sg/articles/SIP_1116_2010-06-14.html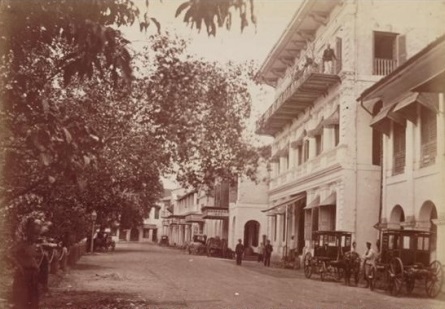 John Little, also known as JL, is Singapore's oldest department store. It was the first European store to offer imported cookies and musical instruments. In 2006, John Little had seven stores island-wide, including five in the heartlands. Wholly owned by Robinson and Company Limited, John Little is positioned as the Group's discount store, targeting young and budget-conscious families. In the year 2004, it registered a turnover of S$96.2 million, contributing to 27.5% of Robinson and Company's turnover.
The story of John Little began in 1842 when John Martin Little started out as a storekeeper and auctioneer of an establishment of his relative Francis S. Martin at Raffles Place (formerly known as Commercial Square). On 30 August 1845, John M. Little and Cursetjee Frommurzee, a well-known Parsee merchant took over the business and continued it under the name of Little, Cursetjee & Co. In 1853, the partnership was dissolved but John M. Little continued the business in the same premise with his brother Matthew Little under the name of John Little & Co. In July 1853, the company was converted to a limited company and by 1929, it had expanded to Malaya, with branches in Kuala Lumpur, Penang and Ipoh.
During the Japanese Occupation, the Kuala Lumpur branch was destroyed. Other Malayan branches were forced to close down. In Singapore, John Little's building at Raffles Place was taken over by the Japanese Army and subsequently, the store was known as Daimaru, serving the Japanese clientele exclusively. Following the end of the war, John Little resumed business in June 1946, operating on a limited trading hours due to shortages in commodities. Normal trading hours were resumed only six months later.
John Little was soon overtaken by Robinsons in terms of popularity. In 1955, Robinsons bought a 76% stake on John Little and the remaining stake by the end of the year. Over the years, John Little shifted to several locations before settling at Specialists Centre in 1985. In 1987, John Little went through an image makeover to shed its image of the poor man's Robinsons. It was relaunched on August 29 as JL with a new logo. In 1992, amidst anticipated competition in Orchard Road from the new major foreign departmental stores, John Little began its expansion in the suburbs with the opening of an 11,000 square feet store in Northpoint to capture a larger customer base of young, budget-conscious families in the heartlands. It continued its expansion in the heartlands with stores located at White Sands, Causeway Point, Jurong Point and Compass Point. In September 2003, it increased its presence along the Orchard Road shopping belt with another store in Plaza Singapura.