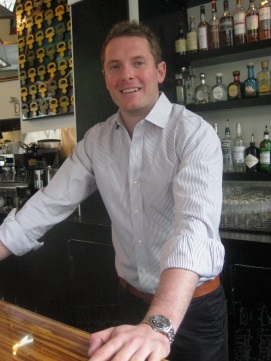 Simon Peter Howard Kaulback

(b 7 Jan 1980)
In Simon's own words,
"I was born and raised in Ottawa, Ontario. I gained a love of food watching my mother and father cook from a very young age. I began working in restaurant kitchens at the age of 16. I developed love for all things food and wine in my teenage years. At 19 years old I moved to London England to pursue a career as a chef. By chance, I was given a job tending bar at a upscale Soho restaurant. I never looked back. Over the next two years I worked at fine dining restaurants, busy upscale cocktail lounges and the private members club that is now home to Milk and Honey.
| | |
| --- | --- |
| I returned back to Canada and took a position running the bar at Ottawa's top dining establishment. For the next 5 years I worked in and ran bars and restaurants in Ottawa, Montreal, Thailand, Australia and New Zealand. On a return trip from Asia I had a prolonged stop over in Vancouver and fell in love with the city, the mountains, the ocean and its adolescent dining scene. I moved to Vancouver shortly after. Since then I have taken up positions behind the bar at acclaimed restaurants West, Nu, Chambar and Blue Water Café – working with some of the best barkeeps in the Pacific North West. | |
After a long stint behind the wood at Blue Water Café, I left to take up a position managing the bar at Boneta. With help and tutelage from owners Mark Brand and Neil Ingram I have helped maintain one of the top cocktail and spirit programs in the city while also receiving accolades in local, national and international press."
(Extracted from www.talesofthecocktail.com/personality/simon-kaulback/)
As they sometimes say in text books, 'perceptive readers will notice an inconsistency' in profiling someone in mid-flight, and a Generation +1 individual at that. Well, these were my own rules and I'm breaking them. Also, what excellent source material for future biographers or historians!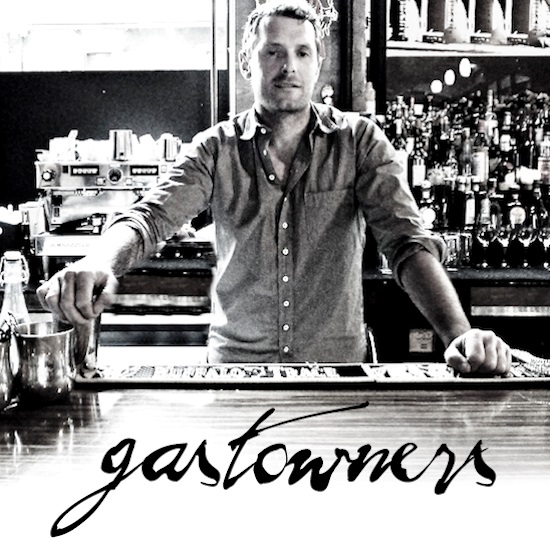 Well, that takes Simon almost up-to-date, but some great new developments are taking place right now and we must progress the story.
Firsly, though, what and where is Gastown? The Wiki link gives the back history, starting with 'Gassy' Jack Deighton, a Yorkshire steamboat captain and bartender who arrived in 1867 to open a saloon in what was then an undeveloped waterfront area of what was yet to become Vancouver. Simon describes Gastown as being the Brooklyn of Vancouver, and perhaps the regenerated Docklands area of London would also be a useful comparison.
Vancouver regularly tops the international polls as being the best city in the world to live, and Gastown for Simon is the beating heart of Vancouver. Though moving on from Boneta, he's staying right in Gastown, as reported by that irrepressible online organ The Gastown Gazette:
Simon Kaulback – Boneta's general manager and "in-house renaissance man", as well as returning Aprons for Gloves light-heavyweight champion – is leaving Blood Alley to embark on his own entrepreneurial endeavour.
GG: Your name has become synonymous with Boneta over the past five years. How are you feeling about leaving?
SK: Boneta has probably been the best job I have ever had. Mark and Neil, who own Boneta, have been outstanding mentors and most importantly friends. Leaving has been really tough. But I will never really leave Gastown. There is more character in one square block here than any other entire neighbourhood in the city. This area was the beginning. The people that have inhabited and opened business here are pioneers, and they did a great job of creating a community."
GG: You are about to become a pioneering proprietor as well. Tell me about the new place.
SK: Mamie Taylors. (251 East Georgia) My business partner's name is Ron Oliver. I mean, it's not like we are reinventing the wheel, we are still selling food and drink, hopefully at a profit! I am excited to be on the forefront of pioneering a certain neighbourhood, though. Thirty years ago, Chinatown was a bustling night market with a vibrant energy. We want to help recreate that. We want the Chinese businesses to be able to stay open late on the weekends. You should be able to shop for everything you need then stop by us for a drink. We hope to create a business that people read about and say, 'Hey, let's go check this out!' We also want to be a go-to place for the neighbourhood – a no-brainer for the people that live within that 10 square block radius. 'Let's go down to Mamie Taylors – the product is great, the atmosphere is amazing, and Simon's there…"
Vancouver's trend-spotting Scout Magazine, another up-to-the minute online tabloid, has further detail:
We first broke the news about the coming of Mamie Taylor's back in November of last year. We didn't know much about the Chinatown restaurant back then, except that it was a project by Gastown fixtures Simon Kaulback and Ron Oliver, and that it was to be located in the old Keefer Bakery space at 251 East Georgia. We didn't even know the name at the time, or who the chef was. Still, knowing the principals was good enough for us. The pair, who manage Boneta and The Diamond restaurants respectively, are widely considered tops among their peers, and the address – just a couple of blocks from the Scout office – is on one of our favourite stretches in the city (between Gore and Main, right across from Phnom Penh). This 100 seater also marks their first trip into the wilderness of independence, so they'll be pouring a lot of heart and soul into it.
So let's have an admiring glimpse at this highly-acclaimed entrepreneurial duo: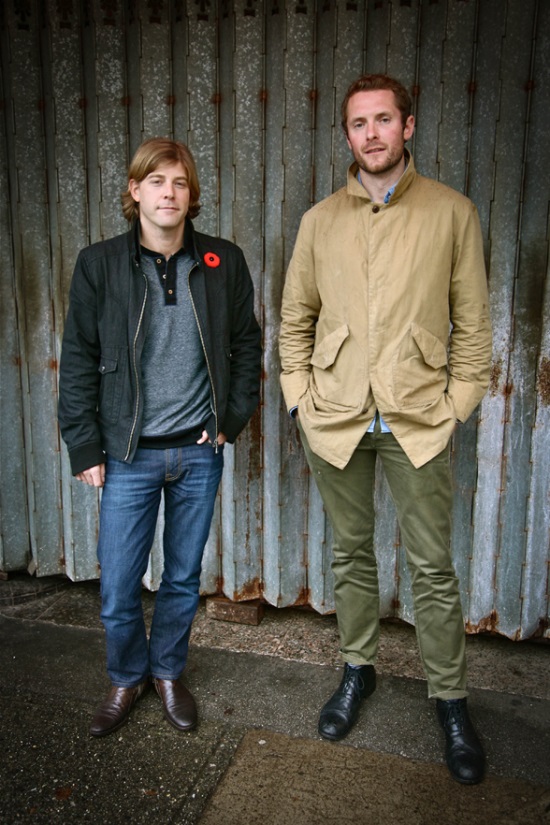 Scout Magazine goes on to say
They have since hired a chef, and I'm glad to say that it's the young and talented Tobias Grignon (pictured below, between Kaulback and Oliver).
Grignon comes to the job via Kitsilano's super steady Bistro Pastis, where he toiled as executive chef for two years. Previously, he was the sous chef at The Vancouver Club and chef at the now defunct Senova. I've seen the first draft of his menu, and it reads similarly to how I imagined it would, which is to say rather attractively, with the refined, old school American streak unmistakable. Think fried chicken with creamed nettles, buttermilk biscuit, and cumin raisin jam; grits with duck egg, prosciutto, white cheddar, and tomato relish; pork chops with squash corn bread, bacon-wrapped apples, tiger blue cheese, and cider reduction – among other flashes of Lower 48 familiarity (yea, verily, I even spied a burger).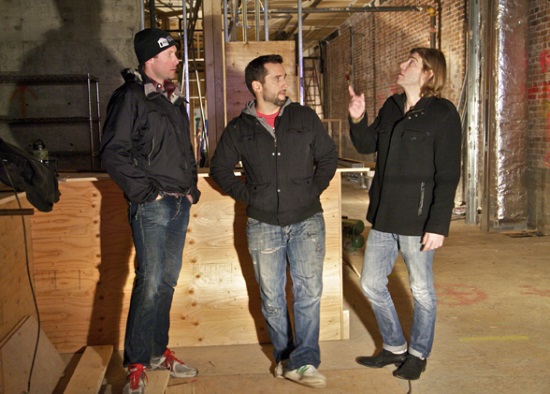 Unfamiliar chow for those of us still stuck in the Old World, but, who knows, one day we might just give it a try …
Not altogether unsurprisingly, given that his great-uncle Bill Kaulback was the British Indian Army's Light Heavyweight Inter-Services Boxing Champion in 1932, Simon was himself a star contestant in Gastown's 'Aprons for Gloves / Restaurant Rumble' at the Eastside Boxing Club last year (2012), winning the Light Heavyweight section in a thrilling final bout with Fortune Sound Club bartender Chris Dzaka (see the picture below). The two of them battled in a knockdown, drag-out brawl that ended with Dzaka on the canvas from a Kaulback right-hand in the third round.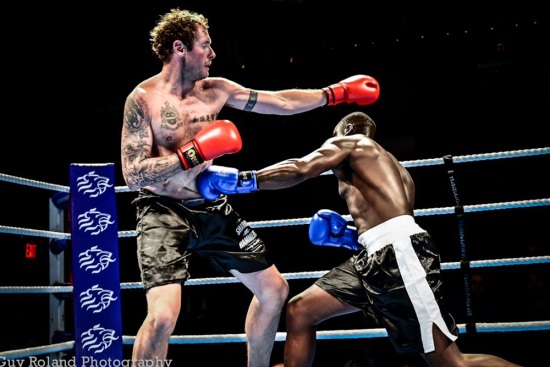 Quizzing Simon about this year's Rumble prospects, it's Gastown Gazette again:
GG: The second Aprons for Gloves/Restaurant Rumble is right around the corner, of which you are defending champ – how has this year differed from last?
SK: Last year no one knew what to expect. The training was awkward. People didn't know what to do. We were training in the meat lockers of Save-On Meats – like Rocky coming up from the streets to become the champ – but it sucked. But it went on, and all of a sudden Gastown became this hub of boxing energy. The event was amazing – the execution of it, the energy it created. This year people know what to expect. They saw the success and the impact it had on the neighbourhood and they want to be involved. Personally, I have a title to defend, so that puts a lot more pressure on me. This year is a little more difficult because I have so much more on my plate. Opening a restaurant, managing a restaurant, while trying to maintain training. I leave the house at six in the morning and don't come home until one. It's been ridiculous, but I still have a big smile on my face.
Seen below after a heavy sparring session, Simon in thoughtful mood:
Simon and Chris meeting with mutual respect at the weigh-in for this year's cruiserweight event (so they've both moved up a notch on the scales!):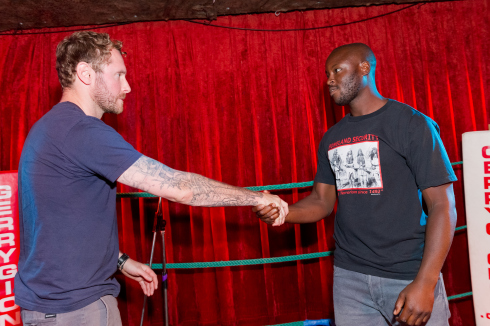 To view last year's bruising encounter, tune-in to www.youtube.com/watch?v=iIGYx8JcOU8.
Footage of this year's rematch will be posted as soon as it becomes available.