Louis St Clair (Bay) Bartholomew
(17 Sep 1897 – 17 Oct 1952)
I now regret the encomium, panegyric even, that I composed on behalf of Anthony Howey, Ron Kaulback's first assistant on the third expedition, who turned out to be a complete waste of space (as chronicled by Ron in his journal). Howey pushed off home (via Melbourne) on 12 Nov 1938, unmissed by all who had encountered him.
Needless to say, Kaulback certainly needed an assistant, to help with the collecting, to provide companionship and to be on hand in case of medical emergency. But word had been passed back to the Natural History Museum, and indeed his mother, of the need for a replacement. And it seems to have been she, together with (possibly) an elder brother William Townend, who head-hunted Louis Bartholomew, a well-travelled Scot, some years Kaulback's senior, quietly-spoken, very capable and resourceful, and with an excellent family background – the Bartholomew family were official Cartographers to the King!
Information about the family is very sparse – much of it from the memorial in Dean Cemetery, Glasgow, and not very consistently presented – but thank goodness for the Scotland's People website.
#
Individual
Spouse / Partner
Family
‑5
George Bartholomew
(1784 –
1871)
‑4
John Bartholomew senior
(1805 –
1861)
‑3
John Bartholomew junior
(1831 –
1893)
‑2
John George Bartholomew
(1860 –
14 Apr 1920, Cintra)

Family memorial
Janet (Jennie) McDonald
(ca 1858 –
24 Aug 1936)
(m 23 Apr 1889)
John (Ian) Bartholomew

George (Hugh) Freeland Bartholomew

Louis (St Clair) (Bay) Bartholomew
‑1
John (Ian) Bartholomew MC
(12 Feb 1890 –
9 Feb 1962)
Minou
(b ca 1899 –
14 Jan 1972)
John Christopher Bartholomew
(1923 –
16 Jan 2008)

Peter Bartholomew
(1924 –
1987)

Robert Bartholomew
(b 1927)
‑1
George (Hugh) Freeland Bartholomew
(8 Jun 1896 –
2 Oct 1917, France, Argyll and Sutherland Highlanders
‑1
Louis (St Clair) (Bay) Bartholomew
(17 Sep 1897 –
17 Oct 1952)

Fisheries Dept, Uganda

engineer, scientist, geographer
As a third son, Louis was only peripheral to the Bartholomew family enterprise, and so he elected for an outdoor livelihood as a senior civil servant administering the Uganda fisheries. Uganda was landlocked, and still is of course, so Louis was administering the inland fisheries activity. On marine passenger manifests he variously appears as an engineer, a scientist or a geographer, a man of many parts.
The family memorial has him as St Clair, no mention of Louis, so perhaps he preferred to be known as Sinclair, and who can blame him. His family nickname was apparently Bay. But adult males in that era habitually addressed one another by surname anyway.
Extract from journal for Friday 20 Jan 1939:

Mail day, and I heard from Bartholomew, who wrote a very cheery letter saying that he would be arriving in Rangoon on February 21st in the Bibby Line 'Emmendine', and would reach Myitkyina on the 24th.
It was in fact the Kemmendine, here pictured in the Mersey with Liverpool in the background: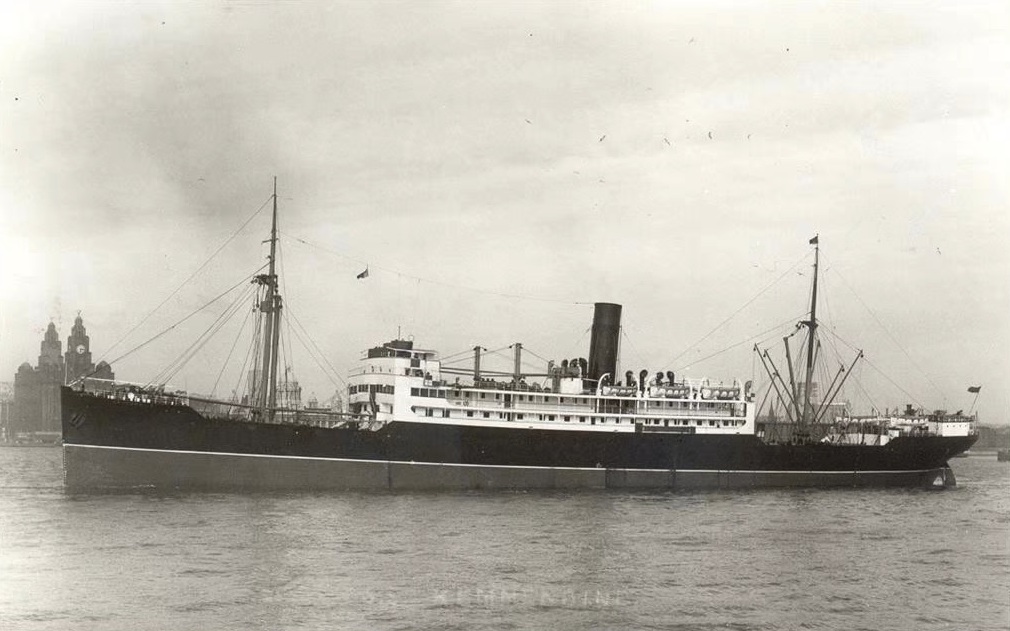 Kemmendine had a tragic-comic end just over a year later:
A 7837 gt single screw triple expansion, 14 knot passenger/cargo vessel launched on 23 January 1924 by William Denny and Bros., Dumbarton for P. Henderson and Co. (British and Burmese SN Co. Ltd.) She had accommodation for 139 1st class passengers. Her boilers were able to burn coal or oil fuel. Her main route was Glasgow-Mediterranean-Burma.

On 13 July 1940, while on voyage UK to Rangoon with a cargo of whisky she was intercepted by the German surface raider Atlantis about 700 miles south of Ceylon. The raider shelled the ship which quickly caught fire. She was stopped and abandoned with the 107 crew members and 36 passengers being picked up by the raider. A boarding party went on board but returned with only two stuffed animals. Atlantis then sank the Kemmendine by torpedo.

Some of the prisoners were transferred to the Tirrana which was later torpedoed and sunk by HMS Tuna with the loss of 31 of the survivors from Kemmendine. Other prisoners were transferred to the Yugoslavian ship Durmitos which landed them at Kismayu from where the prisoners were later liberated when British forces captured the town.
Ron and Louis were both safely home in England by then – Ron got back to Plymouth by P&O Viceroy of India on 24 Nov 1939, and Louis got back to Liverpool by Bibby Bros Staffordshire on 10 Dec 1939.