The Halcro and Erskine Connection
With the benefit of hindsight we can see in the Erskine of Mar and Dun Connection that an important bifurcation occurred with (-16) Sir Thomas Erskine of that Ilk. His elder son Robert became Sir Robert Erskine, 13th Earl of Mar, and 1st Lord Erskine, and his younger son John became 1st Laird of Dun. Thus the houses of Mar and Dun went their separate ways.
Four generations later, another parting of the ways occurred with (-12) Sir Robert Erskine. His eldest son became Sir John Erskine, 17th Earl of Mar, and 5th Lord Erskine, and his youngest son Alexander became 1st Laird of Shielfield. The houses of Mar and Shielfield went their separate ways too.
But it was the destiny of the Orcadian family of Halcro to bring together the Lairds of Dun and Shielfield, via the marriage of Margaret Halcro (great grand-daughter of John Erskine of Logie, 7th Laird of Dun) to the Rev Henry Erskine of Dryburgh, a younger son of Ralph Erskine 2nd Laird of Shielfield, as documented in the Erskine and Wardlaw Connection
How did this reconnection – immensely significant in the religious history of Scotland – come about? By means, in fact, of a murder, an attempted murder, three beheadings and a banishment. God moves in mysterious ways indeed! That side of the story has been outlined in The House of Dun, and here we pick up at the banishment of Helen Erskine, youngest daughter of the 7th Laird, to the Orkney Isles.
The best available source for this purpose is Ebenezer Erskine Scott's The Erskine Halcro Genealogy. The links used in the Erskine & Wardlaw Connection and the Erskine of Mar & Dun / House of Dun Connection access the 1890 edition, (though the URL's purport that it's the 1895 update), and I'm not totally enthused by its apparent tangle between the Lairds of Balgownie and the Lairds of Shielfield – alleging that James of Balgownie was the father, rather than the brother, of Alexander of Shielfield. Click here for a review of the spat between Scott and the Rev A W Cornelius Hallen. I say a plague on both their houses, and am happy to stick with the mutually consistent genealogies that I had already established from other sources:
But a link to the 1895 edition, (though the URL purports that it's the 1890 version), has at last been discovered. Although it is still blighted by the Balgownie / Shielfield muddle, we must give it elbow-room: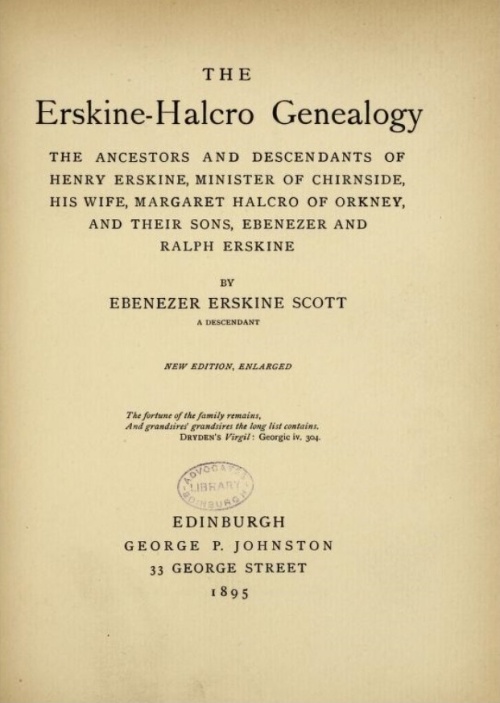 (Please click here)
As always with such online facsimile versions, the maximal screen display can be achieved by using a judicious combination of the options Fullscreen / F11 / Hide Nav Bar / Zoom custom ...%
For visual convenience, the Halcro family tree pages are displayed below: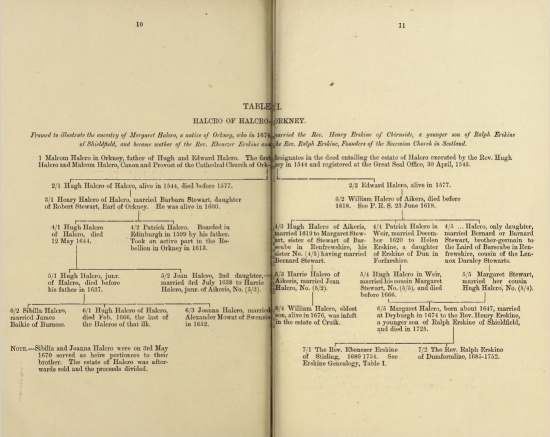 (Please click here for pdf image)
Glance down to see a rather lurid portrait of the young "murthouress" herself, "dressed to kill" as they say. Violet Jacob, a gentle soul, has this to say:
There is a portrait of Helen in the House of Dun. It is no great work of art, but it gives distinct idea of a personality. Everything about her is long; her nose, her eyes over which the eyelids droop, the upper lip above her strong heavy mouth. Her hair, hanging in curls in the fashion of her day, is bunched over the long oval of her face. She was supposed to be the best of the three sisters, which makes one wonder what the other two could have been like. Her expression is sly, resolute and rather cruel, with a possible humour as its redeeming point; she wears a dark dress with an ornament in the front of the bodice shaped like a bunch of grapes.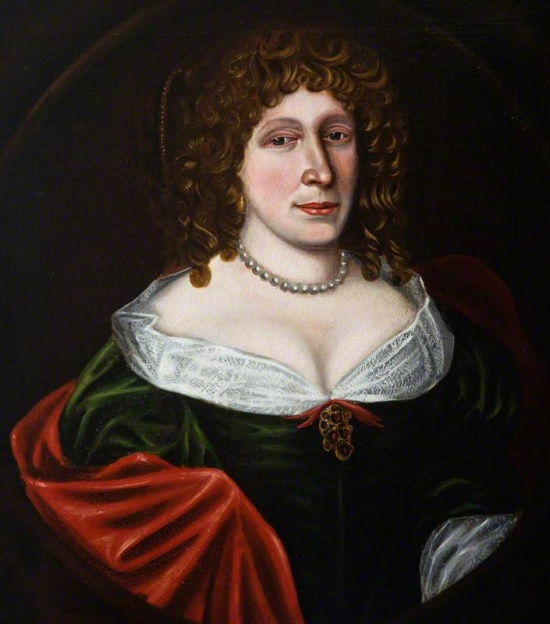 Helen Erskine, daughter of John of Logy, 7th Baron of Dun (d 1591).
Together with her brother Robert and sisters Isobel & Annas, was convicted of murder, for which they were beheaded and she was banished to the Isle of Wyre in the Orkneys.



The Isle of Wyre (aka Weir), low-lying, area 1.2 square miles,
population ca 25
There she seems to have abandoned her wild ways. She settled down, married a good and honest husband, Patrick Halcro, and over two generations the bad DNA was purged. Her granddaughter Margaret was highly regarded in the community (which in those days was more numerous than today), and with their official commendation she was free to return to the mainland: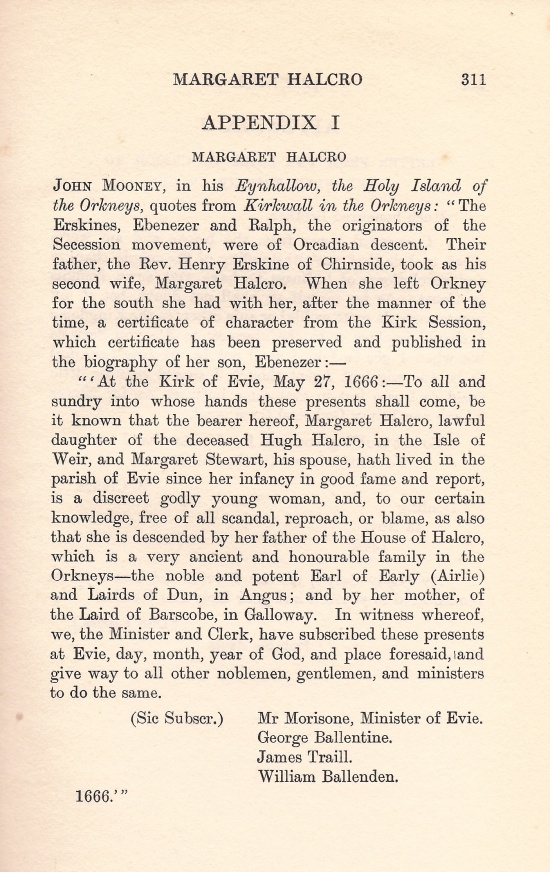 History is silent about howsoever she teamed up with the much-loved and deeply-respected Henry Erskine, but she did (E E Scott says she had an aunt in Dryburgh), and it all seems to have worked as well as marriage ever does, if not better! He was a widower of 50, and she was little more than half his age, when they married, but May and December could get along just fine in those days when marriage was regarded as more of a matter of sustained mutual respect than perhaps it is today.
#
Individual
Spouse / Partner
Family
‑11
Patrick Halcro
(b 1600)

Isle of Wyre,
Orkney Islands
Helen Erskine
(dates unknown)
(m Dec 1620)

Daughter of John of Logy, 7th Laird of Dun. Convicted of murder, banished to Orkney Islands.
Hugh Halcro
(1620 –
1666)
‑10
Hugh Halcro
(1620 –
1666)
Margaret Stewart
(b 1627)

daughter of Bernard Stewart (b 1605) & Helen Halcro of Aikers (b 1605)
Margaret Halcro
(1647 –
14 Jan 1725)
‑9
Margaret Halcro
(1647 –
14 Jan 1725)

born on Isle of Wyre, Orkneys
Rev Henry Erskine
(22 Aug 1624 –
10 Aug 1696)
(m 1 Sep 1674)
Jean Erskine

Phillip Erskine

Hugh Erskine



Rev Ebenezer Erskine


(22 Jun 1680 –
1 Jun 1754)



Rev Ralph Erskine


(15 Mar 1685 –
6 Nov 1752)