The Weidner / Coupland Connection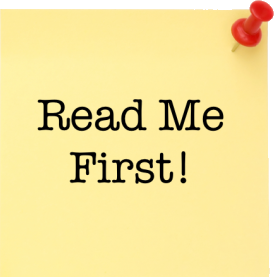 Please note that links from
OrnaVerum
to pages within the
ancestry.co.uk
website require you to have logged-on to that website in advance of clicking the links in question. Click
here
for advice about membership.
This Connection was conceived in early 2013 but by now (Jul 2017) has been in gestation for rather more than four years, mainly because I lacked the self-confidence to proceed with it. As per (at least) 97.5% of the rest of my family connections, its contents have come as a complete surprise to me.
As I need to get back up to speed with it all, I'll put it on-line gradatim. Let's begin with a really nice map of the 15 German provincial states and national capital (as of today),
simple.wikipedia.org/wiki/States_of_Germany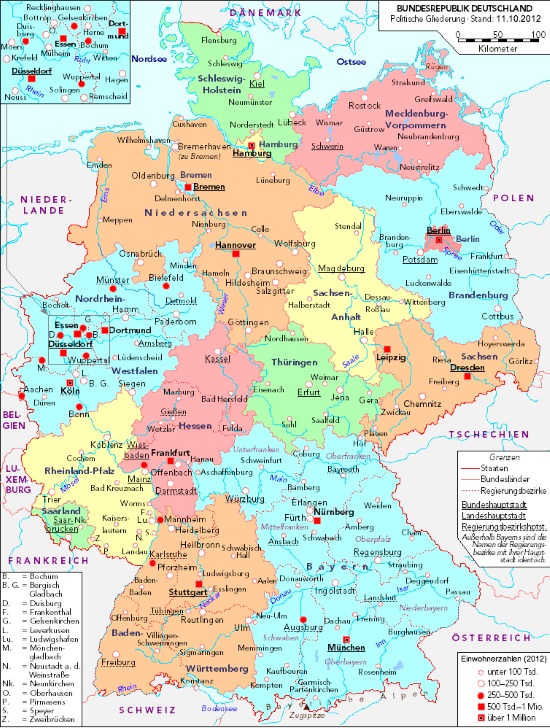 focussing on the central entity of Thüringen, aka Thuringia, renowned for its vast forests, mountain peaks and mediæval villages, and also for Martin Luther's links with Erfurt and the Wartburg in Eisenach (where he translated the New Testament into demotic German).
In the early nineteenth century, however, these attractions began to pall on the more restless members of the Weidner family, and they headed northwards for the greater economic opportunities in England. That sounds a bit ironic now, doesn't it?
Though the next two images are slightly out of context I'll leave them where they are FTTB.
The following source has recently (2020) proved very helpful in correcting and extending many of the details in the tabulation.
Adeline Janet Bryson (26 Sep 1882 – 25 Mar 1962) ancestry.co.uk/family-tree/person/tree/165271417/person/112151579379/facts?_phsrc=Afh1&_phstart=successSource
#
Individual
Spouse / Partner
Family
‑4
John Frederick Weidner
(1819, Manchester or Liverpool –
19 Apr 1886, Newcastle upon Tyne)

Railway agent
(Census 1861)

Commercial clerk
(Census 1871)

seems to have married twice but records conflict
Mary Ann Gallon
(1820 –
1855)

John Frederick Weidner


(3 Oct 1853 or

2 Jan 1854

Newcastle –
4 May 1934)

William Henry Weidner
(1 Jan 1856 –
6 Sep 1921)

Edward Fenwick Weidner
(b 16 Aug 1857)
‑3
John Frederick Weidner
(3 Oct 1853 or

2 Jan 1854

–
4 May 1934)

Ship broker, alderman

Lord Mayor of Newcastle upon Tyne (1912-1913)

Census 1881
Census 1891
Census 1901
Census 1911
Isabella Carverhill
(30 Oct 1856 –
19 Mar 1922)
(m 1876)
Mary Ann Cecilia Weidner
(bapt 3 Jun 1877 –
5 May 1935)
= Clifford Vernon
(m Mar 1914)

John Frederick Weidner
(b ca 1879)

Maria Eliza Weidner
(bapt 15 Feb 1880 –
Dec 1885)



Robert Joseph Weidner


(22 Apr 1882 –
14 Mar 1957)



Edward Fenwick Weidner


(22 Apr 1882 –
1966)



Osmond Weidner


(Mar 1885 –
1 May 1927)

Charles William Weidner
(ca 1887 –
5 Jun 1917 KIA)

James Matthew Weidner
(Mar 1890 –
Sep 1903)

Mary Agnes Weidner
(14 Oct 1892 –
1972)

Isabelle Lucy Weidner
(b Oct 1897)

Louis Henry Weidner
(6 Mar 1901 –
1974)
‑2
Robert Joseph Weedner (né Weidner)
(Q3 1882 –
14 Mar 1957, St Brelade)

surgeon, GP

name-change
Adeline Janet Bryson
(26 Sep 1882 –
25 Mar 1962, St Brelade)
(m Oct/Dec 1908)
Margery Jean Coleman Weidner
(20 Jul 1909 –
1955)

Patricia Weidner
(26 Aug 1911 –
Q4 1999, Worthing 46A 7862 179)
= Charles Raymond Zóllner
(m Q2 1934)

Robert Ian Gallon Coupland (né Weidner)
(25 Jul 1914 –
23 Aug 2000, Aylesbury Vale, A24C, 3241A, 277)
= Eleanor Betty Bailey née Marx
(17 Aug 1915 –
15 Mar 1992)
(m 9 Sep 1942 Chelsea)

name-change

Charles Edgar Paisley Coupland (né Weidner)
(5 Sep 1919 –
15/16 May 1944, Burma)
= Mollie A B Casey
(4 Jul 1920, Alahabad –
ca 1965)
(m 1940, Fakenham)

name-change

Paul Geoffrey Simson Coupland (né Weidner)
(4 Jan 1924 –
5 Sep 1996 St Albans)

name-change
death-certificate
‑2
Edward Fenwick Weidner
(b Q3 1882)

merchant, ship-owner
Edward Ian Sinclair Coupland (né Weidner)

name-change
‑2
Osmond Weidner
(Mar 1885 –
1 May 1927)

naval architect
Margaret May Cunningham
(Apr 1886 –
Mar 1954)
Isabel Weidner

Margaret Weidner

Charles Osmond Weidner
(3 Nov 1920 –
29 Nov 2009)
= Margaret M Shea
(5 Jun 1923 –
1 Jun 2017)

Agnes Weidner
‑1
Paul Geoffrey Simson Coupland (né Weidner)
(

4 Jan 1924 –




5 Sep 1996

Harpenden)

sales manager
for the Titanine paint company

Portrait

Peggy (Brocklehurst)

Deller
(9 Nov 1914 –
24 Jun 2006)
(m

20 Apr 1949

)

the second of her three marriages, the first being on 14 Apr 1937
Peggy had one child, a son Peter R(oy) Deller
(b Q4 1940, Upton 6C 413)

sp
Kathleen Lilian (

Blunt

) Waddell
(15 Jun 1916 –
23 May 2008)
(m 22 Dec 1967)

the second of her two marriages
sp
Anne Elizabeth Bailey Davies
(7 Dec 1922 –
31 Jul 1982)
(m 12 Jul 1974)

retail manageress / buyer

her first marriage
sp
Paul Geoffrey Simson Coupland
(né Paul Geoffrey Weidner)
(4 Jan 1924 – 5 Sep 1996)
Yet man is born unto trouble, as the sparks fly upward.
The Bible (King James Version)
Book of Job, Chapter 5, Verse 7
Like Job, Geoffrey was not a man who went looking for trouble, but it went looking for him.
I'd guess that not very many people share the same paragraph with their father and their mother, separately, in the same month and year of the England and Wales Register of Marriages, but in the extract below we can see, in the paragraph for WADDELL, entries for KATHLEEN L, ROBERT E and WALTER W: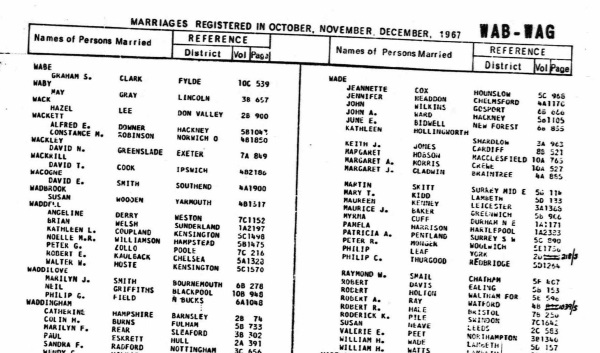 My father's marriage was the first, to Jane Hoste at the Kensington Registry Office on 16 Nov 1967, followed by my marriage to Sonia Kaulback at Chelsea Old Church on 16 Dec 1967, and my mother's marriage to Geoffrey Coupland at the Kensington Registry Office on 22 Dec 1967.
The marriage certificate of Katie and Geoffrey is reproduced below: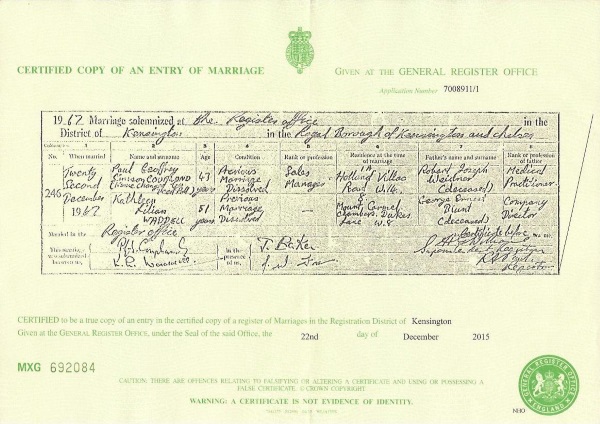 The ceremony was witnessed by her loyal and longstanding friend Joanna Malcolm-Baker (whose address had been given as Katie's residence), and Joanna's affable but unassertive companion J Wilfrid (sic) Fox, distinguished by a remarkably florid nose and reputed partiality to Dickens. As far as I know, there was nobody from Geoffrey's side in attendance.
The marriage was disastrous, and I strongly suspect that Geoffrey had serious reservations about the venture, which were compounded on the day by the discovery that Katie was eight years older than himself. Her economy with the truth about her age was the first crack in what was already a shaky edifice.
(In fact, his first wife had been nine years older than him, quite possibly unbeknownst to him until too late, and so he might well have been all the more put out to discover that the wool had been pulled over his eyes for a second time running.)
Sonia and I both liked Geoffrey immensely, and sympathised with his increasingly difficult predicament over the three turbulent years that followed, but Katie's veto on any further communication with him following the events of New Year's Day 1971, meant that we lost touch with him entirely.
In expiation of our compliance, I'd like to give an outline of his most interesting background, deriving entirely from the internet and (yet again) good old ancestry.
To Be Continued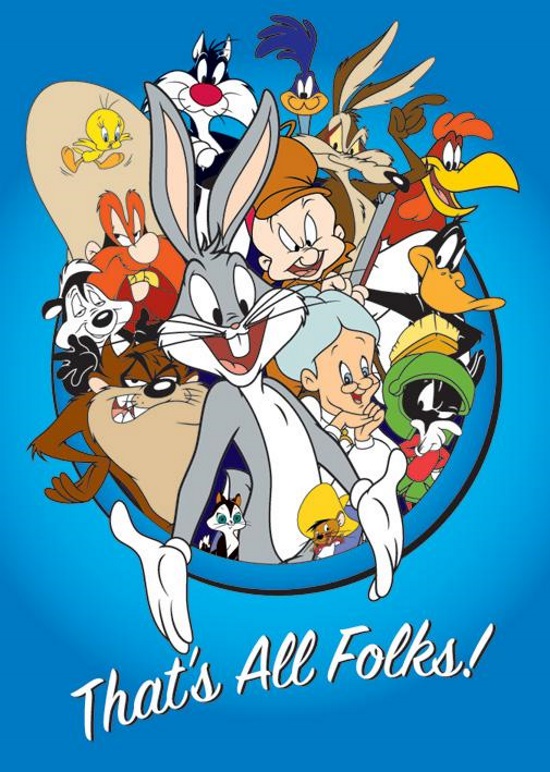 Elmer says the Wabbit lies – there will be much more, DV & WP ...