www.southernstar.ie/Community/Bantry/At-home-in-Bantry-House-17062013.htm

Cork's trusted source of news, views and sport
Friday 19 September 2014
At home in Bantry House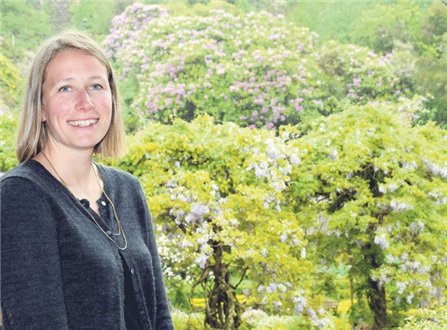 Sophie Shelswell-White, who is general manager of the vast Bantry House and 100-acre estate. (Photos: Tony McElhinney)
'I don't think anyone actually thinks I'm in charge,' said Sophie with a laugh.
Four years ago, at the age of 28, Sophie Shelswell-White took over as general manager of Bantry House, West Cork's premier tourist attraction – a stately home that attracts 25,000 visitors every year.
'After my father, Egerton, died in December my mother, Brigitte, took a well needed break and went to see her family in Vienna, and while she was away people would say to me: "you're the boss now".
'There was a perception that as long as my parents were living here in Bantry House that they were ultimately in charge.'
Being general manager of this vast house and 100-acre estate is actually working very well for Sophie. She said: 'we have ten people working in the house and garden and we work well as a team. They know the ropes as well as I do, most of them having been with us for many years.
'Mum and Dad had always been a good resource for advice. They may have tried things in the past and they would have been able to tell me and my partner, Josh, what works and what doesn't.
'I have lived in Bantry House most of my life, as have my brother and sisters, Sam, Anna and Julie. But my half brother and sister, Edward and Janie, from my dad's previous marriage, were raised in the States.
'Living in a house as vast as Bantry House is obviously not the norm: but it was what we knew growing up. This was normality for us. But, now, I have to say that raising a young family here (namely Sophie and Josh's adorable son, Jacob) can be difficult. More difficult than a three-bedroom semi!
'Gosh, that does sound like bourgeois suffering,' said Sophie, with yet another laugh. 'But what I mean is that our very "lived in" apartment – which is contained within the structure of the estate house – has its own restrictions. 'Growing up in this apartment was great in many respects because it is comfortable and quite big, but with work and home life being one, we found that Mum and Dad were always on call.'
Comforting
With a comforting glow coming from the old Rayburn, the open-plan kitchen – which has a large circular dining table covered in soft white linen, and an abundance of different coloured and properly stuffed armchairs – has a relaxed elegance and a very homely feel to it.
'It is far removed from the very formal appearance of the rest of the house, which, it has to be said, is like a museum what with its antique furniture, ancient tapestries and other object d'art.
'The point I am trying to make,' said Sophie, 'is that this is a kind of oasis in the middle of what is essentially the family business and it is only when you step outside of "our" front door, or look out one of the many large windows, you realise that you are surrounded by 100 acres of land.
'As children, going outside was an event because we are essentially living in an apartment surrounded by an estate that is open to the public. So when we did go outside we didn't have our own space. We played in a garden that is an attraction in its own right.
'Living cheek by jowl with the business means, effectively, that you are always working especially during the summer season – which runs from Easter to the end of October – and for us there really isn't a set working week because a Tuesday is the same as a Sunday when you are busy.
'Clearly, it is not an office job and anyone who has seen the Channel 4 programme Country House Rescue will recall that there are a lot of demands to be met if you are to make sure that all the events we organise are run to perfection.'
The programme showed just how sensible, down to earth, and earnest Sophie and her Australian partner, Josh, are when it comes to running the family business.
But the real star of the programme was Brigitte who is – at all times – refreshingly direct. Funny and a bit ballsy. Though she might not approve of those exact words!
'The programme was a really good promotional tool,' said Sophie, 'it was a fantastic showcase for the estate and the Bantry area. We couldn't have paid for publicity like that but of course it was not without its problems.
'The presenter, Simon Davis, identified a number of key areas to work on namely using the East Stables as an events space, keeping up with the maintenance of the house and grounds, and maximising our accommodation throughout the year.
'It is not as if we didn't know that already but the production team brought a fresh prospective. And here is something that the readers might like to know...we, as a family, vowed not to fight amongst ourselves on camera, or more importantly, with the presenter.
'It is not as if we are an argumentative bunch anyway, but we were determined to kept our composure even though the pop-up restaurant was a real challenge.
'Aside from the endless requests from members of the production team and film crew leading up to, and on, the day – April 3rd, 2012 – we were conscious of the fact that there were 70 people, each of whom had paid €100 a seat, to have a memorable evening.
'It meant transforming the East Stables from a disused museum space to an elegant dining room featuring an incredible menu by Richard Corrigan, who is arguably Ireland's finest chef.
'People came from England and all parts of Ireland for this special occasion and they were not disappointed because we sourced the most amazing local produce for Richard and, seeing it again on television, I am reminded of the excellence and standards achieved by our local artisan producers.
'The programme has since aired in Canada, South Africa, Australia and New Zealand and it has resulted in a significant increase in traffic to our website and an increase in enquiries.
'We have certainly had more people from Ireland and England visiting the house and garden and staying in our bed and breakfast since it aired in June 2012. So it was a worthwhile experience all round.
'This house is perfect for special events: it has such a unique location and we are able to use some of the very formal, dramatic rooms for concerts, performances, and even civil ceremonies.
'Weddings – although they can be stressful because we worry as much as the bride about getting everything right – are a real joy,' said Sophie. 'We are always pleased and proud to play an important part in their special day. There is, after all, a reason why people say it is the happiest day of their lives.'
Diverse
Speaking to Sophie on June 6th last – the day before more than 60 visitors were due to descend as part of the London Opera tour – she explained how the summer schedule at Bantry House is about as diverse as it gets.
'We have an important role to play in promoting Bantry as a tourism destination and the fact that we offer an eclectic programme of events helps attract visitors to the area.
'Obviously, the West Cork Chamber Music Festival – which runs from Friday, June 28th, to Saturday, July 6th – is a huge attraction and we feel honoured to have been a part of it since its inception. My father, Egerton, worked with the festival's director, Francis Humphrys, in setting up what is now a festival of international renown.'
Everything from the day pass to the garden, the house tours, and the cream teas served in the charming coffee shop all help to make a visit to Bantry House memorable.
Different people have different reasons for visiting the estate, but there is one relatively new tourism attraction – the outdoor theatre experience by Chapter House – that is proving extremely popular with ticket sales exceeding 250 on a fine night.
The next event, a performance of Wind in the Willows, will take place on the front lawn at 7.30pm on Wednesday, June 26th, followed by Pride and Prejudice on Thursday, July 11th.
Making a stately home a viable proposition is a struggle, but since she took over as general manager in 2010, Sophie Shelswell-White has shown that she is equal to the challenge.
'From time to time, I do get stressed but the team at Bantry House give me the support I need. It is clear to me that they want to see this business succeed – not just for commercial reasons, but also for posterity.
'I also work extremely well with Josh, who manages all the accounts and finances, and he is great at helping me to keep things in perspective. Although my siblings are not here working with me on a day-to-day basis – two are in Dublin, two are in America and there is one in Kilkenny – they too give me help and support in other ways.
'They are always checking up on me and asking me about my stress levels, but to be fair,' Sophie laughed, 'I think they are proud of what I am doing here in our ancestral home.'