Francis (Frank) Kingdon Ward
(later Kingdon-Ward)

(6 Nov 1885 – 8 Apr 1958)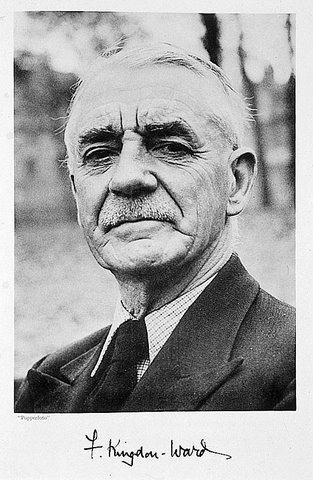 See
Bibliography of Natural History Travel Narratives
, by
Anne S Troelstra
, published by KNNV Publishing, 1 Jun 2017, pp 238-245
FKW was indisputably the doyen of twentieth century botanical exploration in the Himalayas, Burma and NW China. For an overview of his background, career, and publications, it's probably best to look at Wikipedia first.
For an interesting account of FKW's background and early career, see his grandson Oliver Tooley's narrative:
www.plantexplorers.com/explorers/biographies/kingdon-ward/frank-kingdon-ward.htm (if link is broken click here)
And for a very readable biographical summary, see Tony Schilling's article:
www.rhododendron.org/v45n3p140.htm (if link is broken click here)
For a remarkable account of FKW's extraordinary life, with a wealth of personal detail that puts his public persona into context, I would urge you to see the following link (and please don't let the psychosociological jargon put you off!):
quod.lib.umich.edu/cgi/t/text/text-idx?cc=mqr;c=mqr;c=mqrarchive;idno=act2080.0044.427;rgn=main;view=text;xc=1;g=mqrg
It speaks volumes for Kaulback's personality, enthusiasm, physical fitness, and useful accomplishments both botanical and cartographical, that Kingdon-Ward agreed to accept him (after a brief probationary period) as companion for the Tibetan expedition in 1933.
FKW's own account of the expedition was published as
A Plant Hunter in Tibet (1934) Jonathan Cape (reprinted by White Orchid, Thailand (2006) ISBN 978-974-524-087-2)
Please see the profile of John Hanbury-Tracy for details of the entomological aspects of the various expeditions undertaken by Kingdon-Ward, Kaulback and Hanbury-Tracy during the 1930's.
Postscript
During the 1965 summer vacation following my first rehabilitative year at Birkbeck, some benign influence (see below) got me a job behind the bar at the Princess of Wales, a pub just off the Fulham Road (not far from Redcliffe Gardens, at No 34 of which I was sharing a top-floor flat with various other ne'er-do-wells). Off the Fulham Road it may have been, but the saloon bar regulars were either extremely upper-crust Chelsea denizens or thrusting young public-school chaps who arrived promptly at 11 am each week-day and returned to their offices at 3 pm – those were the days.
Damaris Fleming, who was avowedly a sister of Ian the James Bond novelist and / or Amaryllis the cellist, or was it harpist, used to do the lunchtime and evening menus, mostly consisting of lobster and avocado salad, neither of which I'd ever previously encountered.
The barmen comprised a rather crumpled middle-aged chap called Doug, who was 'resting' from his job as a salesman at a West End Bentley showroom, and a slightly camp chap called Jeremy (perhaps) whose background nobody knew or asked about. And in the evenings and on Sundays there was a splendid rather brassy divorcée by the name of Janice. Not vulgar but wonderfully earthy, she once remarked not entirely sotto voce, of a limp and pallid young woman who had drooped over to the far side of the room, "What that girl needs is 15 inches, hot and steaming!"
Presiding, mostly genially, over the proceedings was Charles Hockey, a tall well-educated man with a spreading middle, who generally stood at one end of the bar with the Times crossword. He could be pretty brisk, even forthright, however, if something offended his sense of decency – as when an intruder from the public bar asked could 'e 'ave a lager and lime? Horrified by this barbarous request, Charles said No! (He didn't mind the missing aspirates, it was the thought of lager, a fizzy foreign brew, that appalled him). A few years later he and his wife Anne were sacked by the brewery that owned the Princess, as he'd upset one person too many. A great shame – Ron Kaulback held him in high esteem and always popped into the Princess when visiting London – perhaps they'd been at school together.
Which brings me to the point. There was a smallish elderly man, with thinning silvery hair, invariably tweed-clad, pleasant and old-fashionedly well spoken (assuredly a grandfather to some very nicely brought-up children), who took up position at his favourite bar-stool every morning, with an occasional sip of his gin and tonic. I never knew who he was, and I still don't know, but he was clearly very knowledgeable about the Himalayan region. And somehow he knew that I was acquainted with Ron, and rather assumed that I was up to speed with all the twists and turns of the expeditions with Frank Kingdon-Ward and John Hanbury-Tracy. He certainly spoke rather wistfully, as though he too had trodden those altitunidous paths, and I'd be fascinated to hear any suggestions as to who he might have been.
Well, I've learnt quite a bit about Kaulback, Kingdon-Ward and Hanbury-Tracy since then, and will try to make amends for my youthful ignorance of these three remarkable individuals at several junctures in the website. But to start with, just a few background details of FKW himself.
#
Individual
Spouse / Partner
Family
‑3

Harry Marshall Ward

1, 2 FRS
(21 Mar 1854 –
26 Aug 1906)

eminent botanist
Selina Mary Kingdon
(1 Dec 1853 –
18 Jun 1922)
(m 1883, after 13 year engagement)

Winifred Mary Ward

1, 2
(12 Oct 1884 –
26 Jan 1979)

Francis (Frank) Kingdon Ward
(6 Nov 1885 –
8 Apr 1958)
‑2
Francis (Frank) Kingdon Ward1, 2
(later Kingdon-Ward)
(6 Nov 1885 –
8 Apr 1958)

eminent botanist
Florinda Norman-Thompson
(b 11 Apr 1896)
(m 11 Apr 1923)
(div 1937)
Pleione Kingdon Ward
(21 Mar 1926 –
ca 14 Jan 2019)

Martha Kingdon Ward
(Q1 1928, Marylebone, 1a 755)

Portait (ca 18)
Jean Macklin (devenue Rasmussen)
(27 Jan 1921 –
3 Dec 2011)
(m 12 Nov 1947)

a very happy union of April and November
‑1
Pleione Kingdon Ward
(21 Mar 1926 –
ca 14 Jan 2019)
Malcolm J Tooley
(Q1 1961, Pancras 5d 1003)

his second marriage
Sarah J Tooley
(1963 Q4)
= Simon Thompson

Oliver J Tooley
(1965 Q3)
‑1
Martha Kingdon Ward
(b 1928)

musicologist and composer
Click here1, 2 for a great deal of further details about this remarkable family, as researched by Oliver Tooley.
FKW published some 25 books in all, many of which have been digitised, as indicated in the bibliography below. The photographs don't always digitise all that well but the text is invariably excellent.
He wrote with exceptional vividness and lucidity, and indeed (to borrow a phrase from Terry Pratchett) has often been accused of literature – so much so, in fact, that an anthology, Himalayan Enchantment, was published in 1990.
On the road to Tibet, 1910
archive.org/details/onroadtotibetrep00wardiala/page/n3/mode/2up
Land of the blue poppy, 1913
archive.org/details/landofbluepoppyt00ward/page/n7/mode/2up
In farthest Burma, 1921
archive.org/details/infarthestburmar00ward/page/4/mode/2up
Mystery rivers of Tibet, 1921
archive.org/details/mysteryriversoft0000king/page/n3/mode/2up
From China to Hkamti Long, 1924
archive.org/details/dli.pahar.2241/page/n1/mode/2up
The romance of plant hunting, 1924
archive.org/details/RomanceOfPlantHunting/page/n1/mode/2up
The riddle of the Tsangpo gorges, 1926
archive.org/details/dli.pahar.2307/page/n1/mode/2up
Rhododendrons for everyone, 1926
(no archive available)
Plant hunting on the edge of the world, 1930
(no archive available)
Plant hunting in the wilds, 1931
archive.org/details/dli.pahar.2477/page/1/mode/2up
Loom of the East, 1932
(no archive available)
A plant hunter in Tibet, 1934
archive.org/details/planthunterintib0000ward/page/n7/mode/2up
The romance of gardening, 1935
(no archive available)
Plant hunters paradise, 1937
archive.org/details/in.ernet.dli.2015.80388/page/n9/mode/2up
Assam Adventure, 1941
archive.org/details/dli.pahar.2783/page/n1/mode/2up
Modern Exploration, 1945
(no archive available)
About this earth, 1945
(no archive available)
Common sense rock gardening, 1948
archive.org/details/dli.ernet.19525/page/n7/mode/2up
Burma's icy mountains, 1949
archive.org/details/dli.pahar.2892/page/n1/mode/2up
Rhododendrons [field notes 1926], 1949
archive.org/details/dli.pahar.2685/page/n1/mode/2up
Footsteps in civilisation, 1950
(no archive available)
Plant hunter in Manipur, 1952
archive.org/details/dli.pahar.2974/page/n1/mode/2up
Berried treasure, 1954
(no archive available)
Return to the Irrawaddy, 1956
archive.org/details/dli.pahar.3072/page/1/mode/2up
Pilgrimage for plants, 1960
(no archive available)