The Erskine of Huntsville & South Bend Connection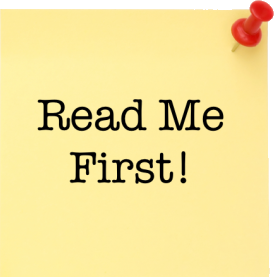 Please note that links from
OrnaVerum
to pages within the
ancestry.co.uk
website require you to have logged-on to that website in advance of clicking the links in question. Click
here
for advice about membership.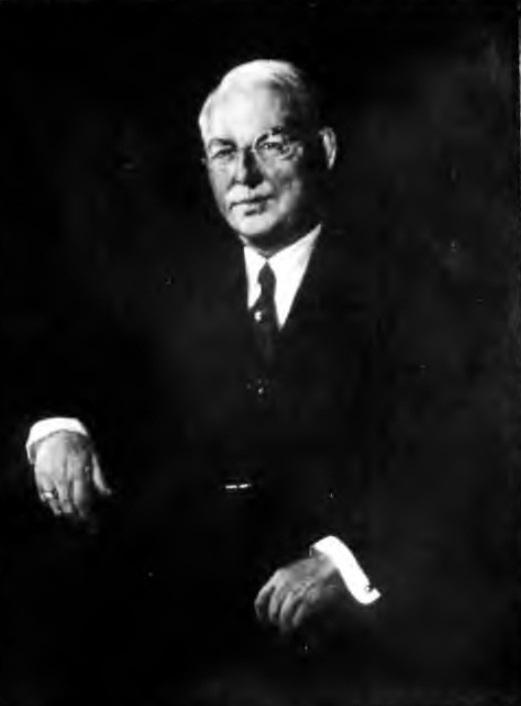 Albert Russel Erskine
(24 Jan 1871, Huntsville – 30 Jun 1933, South Bend)
President of the
Studebaker Corporation
(1915 – 1933)
Amidst his multitudinous corporate responsibilitities and day-to-day distractions, our Albert (as I think of him, for reasons to be explained), also found time to publish in 1918 a company history of the Studebaker corporation from its earliest inceptions during the first quarter of the nineteenth century, some two generations subsequent to the arrival of the devoutly Lutheran and technically-talented immigrant family Studebecker (later naturalised to Studebaker) from Holland in 1736.
Click here to view a gallery of family photographs of the Studebaker brothers and their parents – blacksmiths, wagon builders and founders of the automotive dynasty.
My interest had originally been aroused by this photograph on a webpage relating to the Renfrewshire origins of the Erskines, and I initially supposed that the Erskine marque was a product of that locality – the Studebaker connection only emerged as I started to investigate, and pretty quickly the whole background took shape.
The Erskine concept was inspired by Albert Russel Erskine's trip to Europe in 1924, during which he visited various national motor shows, and was gripped by the idea of marrying European style and flair with the American engineering tradition of power and ruggedness, and marketing this formula as a luxurious life-style accompaniment for the well-to-do. It went on sale in 1927, but for reasons analysed below, it didn't really catch on either side of the Atlantic, and as the Great Depression set in the Erskine brand was quietly discontinued in 1930.
www.lesser-known-cars.com/erskine.php
This fascinating account of the high-level inspiration, innovative design and flamboyant marketing of the Erskine marque is perhaps an object lesson in corporate dynamics – as I observed in my own mute inglorious career, the CEO is often the rogue elephant who brings the rest of the herd to its knees.
Part 1: Studebaker's Erskine Six: the Little Aristocrat of Motordom - Page 1
Part 1: Studebaker's Erskine Six: the Little Aristocrat of Motordom - Page 2
Part 1: Studebaker's Erskine Six: the Little Aristocrat of Motordom - Page 3
Part 1: Studebaker's Erskine Six: the Little Aristocrat of Motordom - Page 4
Part 2: Marketing and Model Changes of the Erskine - Page 1
Part 2: Marketing and Model Changes of the Erskine - Page 2
Part 2: Marketing and Model Changes of the Erskine - Page 3
Part 2: Marketing and Model Changes of the Erskine - Page 4
Part 2: Marketing and Model Changes of the Erskine - Page 5
In 1930, beset by falling sales precipitated by the Wall Street crash of the previous year, and the onset of the Great Depression, Studebaker brought out the Dynamic Erskine, bearing the coat of arms of company President Albert Russel Erskine. Several Erskine models are exhibited, and the vehicle emblem is positioned on a display wall.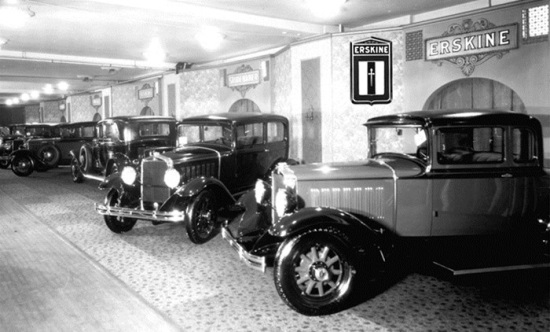 It's hard to believe that this marketing manoeuvre to infuse the marque's image with a suggestion of his Scottish ancestry – heather, haggis and malt whisky – would have cut much ice with a public impoverished by stock market losses, fearful for their jobs, and bereft of their daily snifters by Prohibition. Also, with its undertones of inherited status and wealth (though Erskine himself had risen by sheer ability from humble origins) I'd expect it to have had little resonance with the predominant egalitarianism of the American public.
Meanwhile, however, the Erskines were superbly made, in the tradition of Studebaker engineering excellence, and lovely to look at, still treasured by enthusiasts. Click here to view a gallery of pictures produced for marketing purposes.
The intricacies of Albert Russel Erskine's immediate family background, and their descent from the Scottish Erskines and Earls of Mar took somewhat longer to establish.
The initial breakthrough was achieved via
after which the following webpages were particularly helpful
Invaluable additional information also came from
And of course it all connected up with this website!
The common forebear of Albert Russel Erskine and myself was Ralph Erskine (1560 – 16 Feb 1645), a grandson of Sir John Erskine, the 17th Earl of Mar (ca 1487 – 11 Jul 1555) who had been born about five years before Columbus sailed the ocean blue in Fourteen hundred and Ninety-two, unlocking new opportunities in due course for Studebeckers and Erskines alike.
The immediate descendants of Ralph's youngest son John sought their fortunes in the New World during the second half of the seventeenth century, whilst John's elder brother Henry and nephews Ebenezer and Ralph, the Secessionist Trio, became instrumental in shaping the course of Scottish Presbyterianism.
#
Individual
Spouse / Partner
Family
‑12
Sir John Erskine
17th Earl of Mar
10th Lord Garioch
5th Lord Erskine
(b ca 1487)
(d 11 Jul 1555)
Lady Margaret Campbell
(1485 –
5 Nov 1555)

daughter of Archibald Campbell 2nd Earl of Argyll
Katherine (Erskine) Elphinstone

Janet (Erskine) Murray

Margaret Erskine

John Erskine
18th Earl of Mar

Arthur Erskine

Thomas Erskine



Alexander Erskine


of Shielfield
(~1504 –
20 Jan 1559)
‑11
Alexander Erskine
of Shielfield
(~1504 –
20 Jan 1559)
Elizabeth Halliburton
(m 1559)
Anabel Erskine



Ralph Erskine


(1560 –
16 Feb 1645)
‑10
Ralph Erskine
(1560 –
16 Feb 1645)
Isabella Cairncross
(b 1565)
James Erskine
(b 1585)
Janet Wilson
(m 1611)
James 2 Erskine
(b 1620)

Rev Henry Erskine
(1624 –
10 Aug 1696)



John Erskine


(1635 –
1678)
1
John Erskine
(1635 –
1678)
Jean Hutchinson
(1638 –
1682)
(m 1778)

Jonas Erskine


(1659 –
1725)
2
Jonas Erskine
(1659 –
1725)
Jane Glassford
(b 1665)
Elizabeth Erskine
(b 1707)

Margaret Erskine
(b 1708)



Michael Erskine


(1710 –
1758)

John Erskine
(b 1714)
3
Michael Erskine
(1710 –
1758)
Jane Thompson
(4 Jan 1719 –
8 Aug 1809)
(m 1740)
Henry Erskine
(1741 –
Jul 1873)

Mary Jane Erskine
(1743 –
1810)

Flora (Erskine) Smith
(1745 –
7 Aug 1842)

Isabella (Erskine) Alexander
(1748 –
16 Nov 1834)

Elizabeth (Erskine) Ramsey
(1750 –
16 Jul 1826)



Michael Erskine Jr


(23 Sep 1752 –
31 Aug 1812)

Alexander Erskine
(b 1759)
4
Michael Erskine Jr
(23 Sep 1752 –
31 Aug 1812)
Margaret Handley
(Paulee, m 21 Oct 1777)
(18 or 28 Feb 1753 –
3 Jun 1842)
(m 1784)

adoptive daughter of Shawnee chief White Bark.



Margaret Handley was born in Pennsylvania.

In 1777 she married John Paulee. On 23 Sep 1779, John, Margaret and their daughter were traveling from Monroe Co. to Kentucky. Shawnee Indians killed John and the baby.

Margaret was captured and taken to a camp outside Cincinnati. She was held for 4 years [as an adoptive daughter of the chief] and was ransomed. She walked back to Monroe County. Later married Michael Erskine. Her son, born in captivity, was subsequently killed in a trading dispute with Indians.

Jane (Erskine) Caperton
(2 Aug 1786 –
20 May 1831)

Henry Erskine
(1787 –
26 Sep 1847)

William Erskine
(4 May 1789 –
25 Aug 1863)



Dr Alexander Erskine


(11 Apr 1791 –
5 Jul 1857)

Michael Erskine
(9 Jan 1794 –
12 May 1862)
5
Dr Alexander Erskine
(11 Apr 1791 –
5 July 1857)
Susan Catherine Russel
(14 Feb 1805 –
17 Apr 1892)
(m 28 Jun 1820)
Margaret Ann Erskine
(27 May 1821 –
29 Oct 1825)

Margaret J (Erskine) Miller
(1824 –
1855)

Alexander Erskine (twin?)
(12 Jan 1824 –
17 Sep 1827)

Dr Albert Russel Erskine
(17 Jan 1827 –
24 Mar 1903)

Mary Jane (Erskine) Mastin
(1829 –
23 Nov 1909)

Laura E (Erskine) Wilkinson
(1830 –
22 Dec 1864)

Thomas Fearn Erskine
(15 Aug 1830 –
6 Oct 1889)

Dr Alexander O Erskine
(1832 –
13 Dec 1913)

Dr John H Erskine
(1834 –
17 Sep 1878)

James Arthur Erskine
(28 Apr 1836 –
27 Feb 1889)

Catherine Ann Erskine
(1839 –
10 Jul 1903)



William Michael Erskine


(1847 –
1895)
or
(18 Jun 1850 –
11 Sep 1897)
6
Dr Albert Russel Erskine
(17 Jan 1827 –
24 Mar 1903)
Maria Dance Matthews (29 Nov 1835 –
1 Oct 1920)
(m 5 Oct 1854)

Albert Russel Erskine


(18 Oct 1857 –
1934)

Luke Matthew Erskine
(2 Mar 1866 –
1946
or 15 Aug 1921)

Mary Janet Erskine
(14 Dec 1873 –
22 Jun 1959)
6
William Michael Erskine
(1847 –
1895)
or
(18 Jun 1850 –
11 Sep 1897)
Ursula (Sue) Dudley Ragland
(1850 –
1915)
(m 1869)
Susan Ragland (Erskine)
1. Adams
2. Newman
3. Edholmes
(b 1869)



Albert Russel Erskine


(24 Jan 1871 –
30 Jun 1933)

Orville Mercer Erskine
(20 Jun 1872 –
8 Mar 1881)
7
Albert Russel Erskine
(18 Oct 1857 –
1934)
Rosa Belle Warren
(27 Jan 1865 –
5 Feb 1949)

Albert Russel Erskine


(b 4 Mar 1886)
Mattie Bell Taylor
(1858 –
1881)
8

Albert Russel Erskine

1, 2
(24 Jan 1871 –
30 Jun 1933 suicide)

Studebaker president
(1915 –
1933)
Annie Garland Lyell
(b ca 1876)
(m 25 Nov 1903 age 27)
Albert Russel (Russ) Erskine Jr
(b 1909, adopted in 1915)
9
Albert Russel Erskine
(b 4 Mar 1886)
Nell Mancrief Craig
(m 11 Apr 1907)

Albert Russel Erskine


(7 or 18 Apr 1911 –
5 Feb or 18 May 1993)
Marian Wieport Johnston
(m 6 Jun 1929)
10

Albert Russel Erskine

1, 2
(7 or 18 Apr 1911 –
5 Feb or 18 May 1993)
Katherine Anne Porter
(m 1938, div 1942)
Peggy Griffin Anthony
(m 1942, div 1951)
Marisa Bisi
(m >1951)
The Erskine lineages are difficult to research. In his article, David Byers shared a quote from John Rison Jones Jr:
"In this family there were six Albert Russel Erskines born between 1827 and 1911 ...
Dr. Albert Russel Erskine, 1827-1903.
Albert Russel Erskine, 1857-1934, the son of #1.
Albert Russel Erskine, 1871-1933, the grandson of Dr. Alexander Erskine and the subject of this article.
Albert Russel Erskine, born 1882, the nephew of #1 and the son of Alexander O. Erskine, # 1's brother.
Albert Russel Erskine, Jr., born 1909, adopted son of #3.
Albert Russel Erskine, 1911-1993, the son of #2 and the great-grandson of #1. He had a successful career as an editor for Random House publishers, working with James Michener, William Faulkner, John O'Hara, and Robert Penn Warren."
And we might add that does not include the other similar names or names including two of the three names in the list above."
www.bandy.co.uk/ff5-p/i41.htm#649
www.bandy.co.uk/ff5-p/p537.htm#i12729
These two references lead me to believe that a generation has been skipped in the conventional genealogies of this period. I suggest that #6 was not the son of #2, but of Albert Russel Erskine (18 Oct 1857 – 1934), as per rows 7 and 9 in the Generation Table.
This is all very well, you may say, but there has been little about Erskine's personal story – his early life, his rise to success, his corporate career, his philanthropy and civic generosity – an epitome of the American dream, an admired and respected financial genius and captain of industry ...
Click here to read the definitive account of this meteoric trajectory – and then the dramatic burn-out and extinguishment.
Neither this narrative nor the next one below make mention of the uncharacteristically bad decisions which led to the catastrophe – though his judgement was clearly impaired by illness, were the rest of the board of directors equally asleep at the wheel?
en.wikipedia.org/wiki/Albert_Russel_Erskine
His downfall lay in his failure to cut production and costs quickly in response to the slump of 1929 and 1930, which led to an insurmountable cashflow crisis. In 1930, he had declared a dividend of $7,800,000 which was five times the actual net profits of that year. In 1931, he paid a dividend of $3,500,000 – also out of capital – a ruinous procedure which he unsuccessfully sought to correct through a merger with White Motor Company. Working capital had fallen from $26 million in 1926 to $3.5 million in 1932 and the banks were owed $6 million, for which they demanded payment. Studebaker defaulted and went into receivership ....
One shouldn't kick a man when he's down, but ...
www.studebakerclubs.com/blackhawk/StarlinerPubs/2002/June2002/StarlinerFramepage.htm
[In 1928] Erskine authorized the company to pay out 90 percent of its $177 million profit to stockholders. In 1929, the year of the stock market crash, Studebaker's profits would plunge to $12 million. In 1930, profits further plunged to a paltry $1.5 million. Still, Erskine paid out $8 million in dividends to stockholders. In 1931... profits ... were less than $1 million but Erskine ordered $2.8 million be paid out to stockholders from corporate reserves. Studebaker lost $1 million in 1932 but Erskine ordered another $1 million be paid out in dividends. Working capital was down to $3.5 million and corporate liabilities exceeded assets by $15 million.
Reproduced from The Studebaker History Corner, Jan Young, Lulu.com, 2009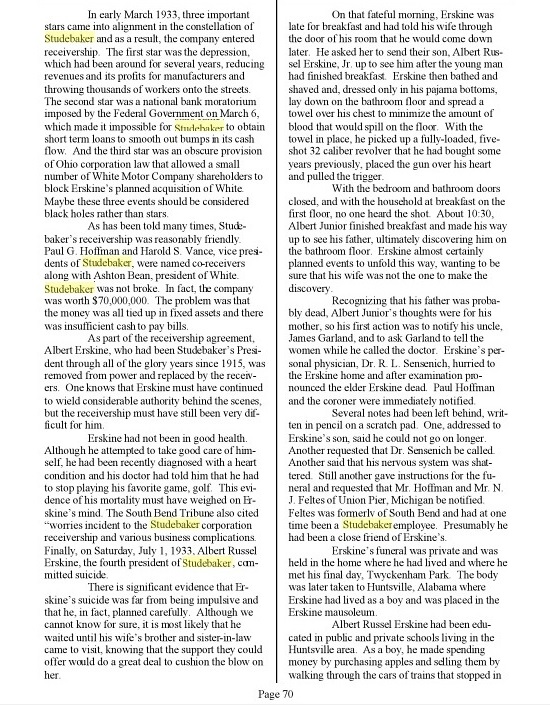 page 70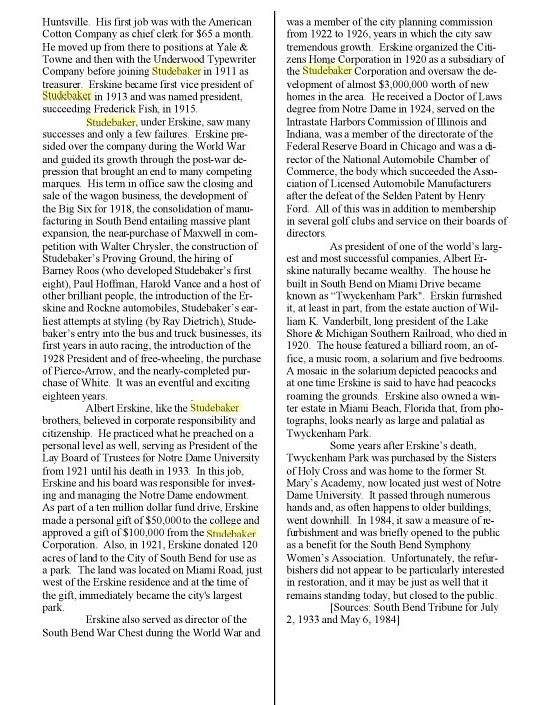 page 71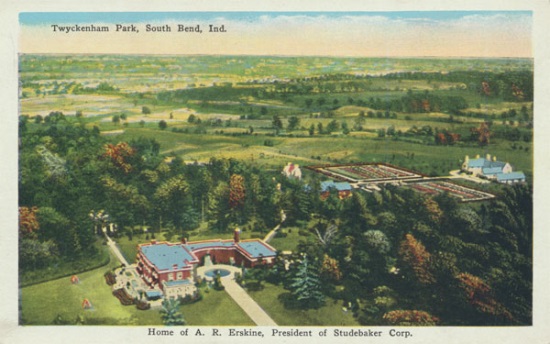 www2.sjcpl.org/historydb/browserecord.php?-action=browse&-recid=412
The house was completed in 1921 and was designed by architect Roy Shambleau in the style of an English manor house. It was located on Miami Road in South Bend, Indiana. The original manor had 12 ft. ceilings, beveled glass, a large solarium, a formal dining room with an original Byzantine light fixture. It also had a 200-year-old inlaid marble fireplace mantle that was imported from Italy. The home had four bedrooms, and a living room table that had been owned by Mussolini.
Though some features appear to have gone offline, this website contains a number of good things, such as:
A history of the Erskine family and Earldom of Mar
A brief history of the Erskine car, with numerous photographs
Brief updates on the Erskine Hotel and Twyckenham Park
fanniesyouraunt.wordpress.com/tag/albert-russel-erskine/
Posted on May 25, 2012 by Patricia Black
Without question, one of the most beautiful cemeteries I have visited. It is located off California street in the historic district. Rich in history, Maple Hill Cemetery is the final resting place of thirty-eight famous interments.
One of the most notable, Albert Russel Erskine, president of the Studebaker corporation. His tomb is the most beautifully landscaped.