George Ernest Blunt

(1885 – 1956)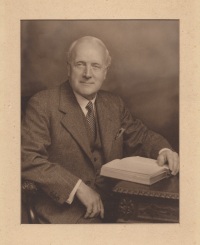 George Ernest Blunt (GEB, a much-loved Grandpa Blunt to us of Generation 0) had worked as a fully trained binder first with De La Rue in Guernsey and then in Chelsea or Chiswick before widening his experience with the printers Spottiswood & Ballantyne at their Eton branch, specialising in the printing, binding and supply of books for the College. Many of his bindings are doubtless still to be found in the college library.
During the First World War (or Great War, as it was then thought of), he had served in the Middle East – Palestine and Egypt – with the 3rd County of London Yeomanry as a mounted infantryman (he was a superb horseman) and saddler, in the fierce conflict with the Ottoman Empire.
After the war he returned to Spottiswood & Ballantyne, but in 1922 resigned his position as Bindery Manager and joined his father and brothers at the rapidly expanding family firm of G Blunt & Sons, where he became Works Manager and ultimately (I think, but this needs verification) the Managing Director.
I first remember Grandpa and Grandma Blunt from when I was about eight. By that time he had retired and they lived for a number of years in a large apartment on the top floor of Marine Court, a very pleasant private hotel on the seafront at Bexhill in Sussex. For the last year of so of his life, they moved to a self-contained suite in 2 Basil Mansions, the Knightsbridge apartment to which my parents had moved in the first flush of my father's temporary prosperity.
For some years past, Grandma had needed sustained care and attention, to which Grandpa devoted himself, and he looked after her single-handedly until his death, after which she spent her remaining years in a nursing home. I remain deeply impressed by his unswerving loyalty to her even during the final decline of his own health.
Laura Blunt née Girling

(1886 – 1961)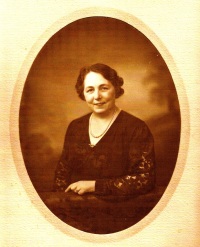 GEB met his future wife Laura Girling at the Congregational Church in Queen's Park, London, where he and his four brothers and three sisters were in the choir. Dr Butler, the minister, was renowned for his inspiring preaching. Laura had grown up in Norwich and had then moved to London. She was known to have a brother William and sister Gladys, though little else has now survived about her family.
Laura was a fine needlewoman, employed as Chief Fitter for a Court dressmakers' establishment in Hanover Square, and after her marriage to GEB on 1 January 1914 she ultimately ran a high-class dress-making business in Windsor with several seamstresses and her own shop.
Their three children George Francis (GFB), Kathleen and Marjorie were born in 1914, 1916 and 1920 respectively.
They all moved to Kensal Rise, NW London, in about 1921, when GEB joined his father George and several brothers as the family bookbinding and library supply business expanded. They moved again, to Ascalon, (20) Rosslyn Crescent, Wembley, in 1920.
At some point, possibly soon after the Second World War, when GEB would have been approaching the age of retirement, he and Laura moved again to Brookhurst, (3) Paines Lane in Pinner, Middlesex, a lovely sunny house of which I have very distant, but happy, memories during a slightly later period after their subsequent move to Bexhill, at which time my Aunt Marjorie and Uncle Eric (Cornes) would have become the new residents and I was often taken down by my mother to stay for quite lengthy periods.
Uncle Eric was a bluff, no-nonsense individual who had been awarded the Military Cross during the war. He had played (rugby) for the Wasps and was a frequent guest in the Directors' Box at the Arsenal FC stadium at Highbury. He was also very successful in business, having founded a thriving insurance brokerage.
Uncle George (GFHB) and Aunt Margaret lived just up the hill at Permargan, (27) Paines Lane, and they too were always extremely kind to me – I particularly loved playing Cowboys and Indians in their garden whenever my older cousins were around, and I must really have been a bit of a nuisance!