The Balquhatstone Connection
of the First Line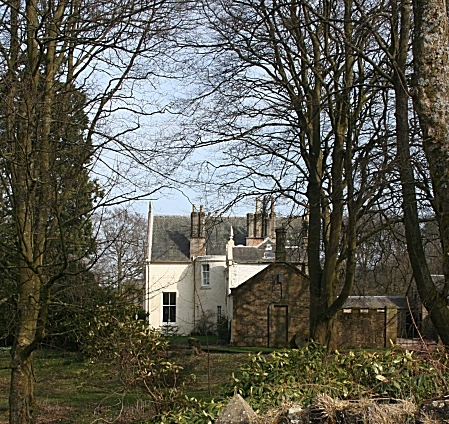 Balquhatstone House, Slammannan, Stirlingshire
© Photograph by Anne Burgess, whom I gratefully acknowledge
The last member of the original Waddell line to be born in this ancestral property, originally granted by King James IV of Scotland to one James Waddell in the early sixteenth century, was Peter Hately Waddell in 1816. The property was sold by his father James soon afterwards, and the family moved to Glasgow. The link and title to Balquhatstone (pronounced, I believe, as Balwhatstone1) was irrevocably severed2, 3, at least as far as Balquhatstone of the First Line was concerned. (The fortunes of Balquhatstone of the Second Line can be followed-up in the Balquhatstone Connection of the Second Line.)
Ideally, it should be possible to create a Generation Table from start to finish of this lineage, based on the hand-drawn family tree meticulously draughted by my late Uncle Alexander (Sandy) Waddell. For reasons already expressed, however, considerable doubts have arisen in my own mind, and in the minds of far more expert family genealogists than myself, as to the accuracy of this tree throughout the 17th century (1600-1700).
For the moment, therefore, I'm starting with James Waddell 6th Laird of the First Line (b 1695), taking in James Waddell 9th (and last) Laird of the First Line (b 1767), and then continuing down to James Waddell (b 1846), my great grandfather, with whom the Generation Table begins in the Waddell Connection.
I am very grateful to Anne Burgess for the precise dates given below for Peter Hately Waddell's family, and to Gavin Main Waddell (both via his book A History of the Waddells in Scotland, 2013 and indirectly via www.stirnet.com) in roughly equal measure for a good number of the precise dates given for earlier rows in this section of the table. By precise date I mean, of course, the day and month as well as the BMD year.
#
Individual
Spouse / Partner
Family
‑7
James Waddell
6th of Balquhatstone
(13 Jun 1695 –
1770)
Elizabeth Colt of Garturk
(1701 –
1780)
(m 15 Jul 1727)
Elizabeth Waddell
(b 2 Nov 1729)

Jean Waddell
(b 3 Aug 1731)

Lil(l)ias Waddell
(b 25 May 1732)

James Waddell
(1733 –
1773)

George Waddell
(18 Oct 1734 –
1813)

Mary Waddell
(b 15 Mar 1737)

Mary 2 Waddell
(b 23 Jul 1739)

Margaret Waddell
(1 Nov 1741)

Agnes Waddell
(b 15 Dec 1742)

William Waddell
(b 26 Apr 1744)

Agnes 2
(b 6 Jul 1746)
‑6
James Waddell
7th of Balquhatstone
(1733 –
1773)
Unmarried
‑6
George Waddell
8th of Balquhatstone
(18 Oct 1734 –
1813)
Margaret Scott
of Jawcraig
(b 1734)
(m Oct 1764)
Ellis
(b 4 Jan 1765)

James Waddell
(1 Sep 1767 –
26 Dec 1850)

Jean Waddell
(17 Sep 1769)

Lil(l)y
(b 10 Nov 1771)

Margaret
(b 2 Sep 1774)

Agnes
(b 2 Sep 1777)

George
(b 18 Feb 1780)
‑5
James Waddell
9th of Balquhatstone
(1 Sep 1767 –
26 Dec 1850)

Gravestone at Girvan

On 19 Dec 1818, he sold the house and estate to his 3½th cousin Geo Waddell of Ballochney.
Christian Cowborough
(1776 –
1806)
(m 6 Oct 1792)

her children arrived with clockwork regularity, 8 in 13 years, but nothing known about them subsequently

AHOTWOS p54 says she died 'soon after arrival of last child'
(See also)

George Waddell
(3 Sep 1793 –
1859)

Jean Waddell
(b 6 Feb 1795)

James Waddell
(b 14 Sep 1796)

Margaret Waddell
(b 28 Apr 1798)

Christian Waddell
(b 1 Mar 1800, Alloa)

Elizabeth Waddell
(b 24 Mar 1802)

William Waddell
(b 29 Jul 1804)

John Waddell
(b 5 Nov 1806)
Alice Hately
(b 1790)
(m 17 Jun 1815)

daughter of John Hately, Aberdeen cooper
(See also)



Peter Hately Waddell


(19 May 1816 –
3 May 1891)

Alice Hately Waddell
(b 21 May 1817 –
d<1904)

Jeffreys Hately Waddell
(b 23 Dec 1818 –
d<1875 or 1904)

Agnes Waddell
(d unm 1906)

Alexander Waddell
(d<1875 or 1904)

Robert Waddell
(d<1875 or 1904)
‑5
George Waddell
of Binniehill
(b 18 Feb 1780)
Agnes Cowborough
(m 26 Jun 1802)
George Waddell
(18 Sep 1803 –
1870)

James Waddell
(b 30 Jan 1806)
‑4
George Waddell
(3 or 23 Sep 1793 –
1859)

Surgeon in Falkirk,
and Univ of Glasqow, drowned in Forth & Clyde canal
Jean Aitken
(m 1818)
Elizabeth Gardner
(b ca 1791)
(m 1828)
Elizabeth Waddell
(b ca 1831)

Christina Waddell
(b ca 1833)

Jean Waddell
(b ca 1835)

John Waddell
(b ca 1837)
‑4
Peter Hately Waddell
(19 May 1816 –
3 May 1891)
Helen Halcro Wardlaw
(20 Mar 1812 –
25 Sep 1895)
(m 12 Aug 1845)
James Waddell
(26 Dec 1846 –
5 Jul 1907)

William Wardlaw Waddell
(25 Mar 1848 –
22 Mar 1903)

Janet Grindlay Waddell
(28 Apr 1850 –
4 Nov 1917)

Alice John Hately Waddell
(15 Feb 1852 –
22 Nov 1872)

Peter Hately Waddell
(15 Jun 1854 –
22 Nov 1922)

Walter Wardlaw Waddell
(4 Sep 1856 –
29 Mar 1882)
1:
As per Dictionary of Proverbs, Linda and Roger Flavell, Kyle Cathie Ltd, 2008, p 180, referring to a conspiratorial message from King James I of England & VI of Scotland to Sir Geo Moore, Lieutenant of the Tower of London, using the words "quhich" and "quhat" for "which" and "what".
2:
Well, that's what I thought until early December 2012. But a casual google then revealed that the current owners were in fact collateral descendants of 'Unlucky James', last of

Balquhatstone of the First Line

. Their line of descent therefore constituted

Balquhatstone of the Second Line

. But not for much longer, however, as it was at that time all up for sale, (apart from the 300 acres of farmland also gifted by the grateful monarch), as per the estate agent's website.

I can assure you that had I possessed the asking price in loose change I would have hastened to buy the whole place lock stock and barrel, relocate there and live out my declining years in the ancestral atmosphere of squally rain and occasional sunny spells.

But meanwhile you might care to admire Messrs Savills' sales brochure – it is guaranteed to make one sit up and take serious note of the house itself and the surrounding estate, which is all indeed extremely handsome. And perhaps a sequence of exterior and interior views snapshotted from the website.

Indeed, Slamannan itself has also a most interesting historical story to tell.

3:

And not in one other respect either. For whatever services the Waddells may have rendered the Scottish monarchy, they had also been granted a coat of arms, several versions of which I discovered during routine squirreling into the lower strata of the Web. There's a flourishing Internet trade in vanity armigerophilia, of course, but of the various possibilities this one seems the most likely. The lion's head and the motto are recognisable, as they featured on a signet my father came by in the 1950's, and the rest is heraldic fluff, really, these days. All the pomp of yesteryear is one with Nineveh and Tyre, they say, and of course, warming to their theme, the rank is but the guinea stamp, a man's a man for a' that.

But it is undeniably impressive. Perhaps the helmet signifies military prowess – ironic, really, as the Waddells have never since shown any martial tendencies whatsoever.

Click here to see a brief summary of heraldic terminology and a more detailed account of this coat of arms. To be absolutely honest, I'm not sure whether it goes with the original family (via the first-born son in each generation), or with the property (and therefore passed to the Second Line in 1818).
The Rude Forefathers
But what of the earlier members of Balquhatstone of the First Line? After all, they've been delineated in Uncle Sandy's family tree, and surely it's high time for them to be collated into an orderly Generation Table too?
It now becomes imperative to close the loop on the various troubling inconsistencies in Sandy's pioneering presentation, discussed earlier. At that stage, however, there were no other primary sources to consult, and no deus ex machina on whom one could rely to clear up confusions in this family narrative, beset by will-o'-the-wisps, shapeshifters, banshees and bogles.
As Ecclesiastes (reputed nom de plume of King Solomon) remarked with characteristic pith "... of making many books there is no end, and much study is a weariness of the flesh". He might easily have been talking about pedigrees, as most scrolls in those far-off days were simply a catalogue of begettings. And although we family chroniclers do not bemoan this, as we want to get things right, it does become very dispiriting and discouraging to feel that our begatitudes are but platitudes.
And so we are immensely appreciative of the research and scholarship of those – such as my distinguished Cousin Gavin, who has taken such care over a good many years to investigate, evaluate and transcribe the primary ancestral Waddell family records of every kind and description – from whom the rest of us can quote with confidence.
Thusly, with his most kind permission, I am going public on a restructuring of those three or four preceding generations, subjoined to a complete roll-call of the early patriarchs. Chapter and verse (there's Ecclesiastes again) are provided in Gavin's magnum opus, A History of the Waddells of Scotland, Gavin Main Waddell, published privately, 2013.
George 5th of Balquhatstone was offsprung from George Waddell 4th of Balquhatstone and his wife Margaret Syme.
William 1st of Easter Moffat was offsprung from George 5th of Balquhatstone and his (first) wife Elizabeth Arthur.
Christian Salmond was actually the (second) wife of George 5th of Balquhatstone.
James (b 1625), the eldest son of George 5th of Balquhatstone, was married to Helen Ewing.
His heir was James (b 1662), married to Lillias Watt and father of James 6th of Balquhatstone. There were no such persons as George and wife Robina Laing.
#
Individual
Spouse / Partner
Family
‑14
James Waddell
1st of Balquhatstone
(b 1470)
Unknown wife
George Waddell
(1500 –
1581)
‑13
George Waddell
2nd of Balquhatstone
(1500 –
1581)
Janet Russell
(b 1510)
James Waddell
(b 1532)

John Waddell
(b 1535)

Alexander Waddell
(b 1540)
‑12
James Waddell
3rd of Balquhatstone
(b 1532)
Unknown wife
(b 1550)
George Waddell
(ca 1570 –
1629)

James Waddell
‑11
George Waddell
4th of Balquhatstone
(ca 1570 –
1611 or 1629)
Margaret Syme
George Waddell
(1596 –
1701 sic)

Jonet Waddell
(b 1606)
‑10
George Waddell
5th of Balquhatstone
(1596 –
1701 sic)

Also said to have lived to 107 or 109.
Elizabeth Arthur
(d Feb 1657)
(m 1632)
James Waddell
(b 1625)

George Waddell
of Lochend
(1630 –
1726)

William Waddell
1st of Easter Moffat
(b 1635)

Alexander Waddell
of Rashiehill
(b 1638)

Robert Waddell
of Bridge-end
(b 1640)

Patrick Waddell
of Bogo
(b 1646)

Jean Waddell
(d 24 Nov 1678)
Christian Salmond
(m Jul 1661)
Patrick Waddell

Christian Waddell
(d 1663)
‑9
James Waddell
(b 1625)
(d before Jul 1693)
Helen Ewing
James Waddell
(1662 –
1707 or, much more probably, before 1700)
‑8
James Waddell
(b 1662)
(d before 1700)
Lillias Watt
(remarried in Dec 1700)
James Waddell
(13 Jun 1695 –
1770)
By far the greatest casualties of this restructuring of Uncle Sandy's pedigree are the evidently mythical Robina Laing and her equally imaginary spouse, from whose younger offspring all the collateral lineages were supposed to have descended, including Balquhatstone of the Second Line. We shall see in the Balquhatstone Connection of the Second Line how Gavin Waddell's researches now account for the origins of George Waddell 2nd of Balmuzier & Ballochney and 1st of Balquhatstone of the Second Line.