The Townend Connection
As per the genealogical tree depicted on pp 68-69 of
The Kaulbacks, Lt Col R J A (Bill) Kaulback DSO MA FRGS, published privately, 1979
with appropriate amendments and extensions as supplied by my wife Sonia. Please note that familiar names are used rather than given names, where appropriate – but in some cases it isn't clear whether a name is given or familiar anyway!
I have also made extensive use of the Townend family history compiled by Sir Harry Townend in 1961, and the accompanying family tree which was evidently extended to the mid-1990's by other members of the family following his death in 1976.
Please note also that I've (temporarily at least) included dates of birth and death, where available from Sir Harry's history and/or tree, and that I've only included the bare minimum of Kaulback information, which is compiled exhaustively in the Kaulback Connection.
I'd also like to acknowledge Helen Thornton's deeply impressive ongoing archive of Townend family correspondence, from which I've corrected a number of embarrassing mistakes on my part in the table below, and continue to enjoy such a fascinating insight into family life during the pre-war colonial era in India.
#
Individual
Spouse / Partner
Family
Julia Bradshaw
‑3
Alfred Townend

Portrait

Portrait 2

Portrait 3

Bout-de-Ville Times

Townend Residences
Margaret Stairs

Portraits
William (Willie, Bill)

Alfred (Barney, Parp)

Alice (Arla)

Francis (Fanter, Frank)

Herbert

Roy

Margaret (Susie)

Harry

Gerald
‑2
Bill Townend
Irene (Rene) Ellam
—
‑2
Barney Townend
Grace Bevington
Peggy
(1913 –
1995)

Joyce
(b 1915)

Gavin
(1919 –
2010)
‑2
Alice Townend
Henry Kaulback
Ronald (Ron)

Roy (Bill)
‑2
Frank Townend
May
‑2
Herbert Townend
Joan Bevington

Richard F Townend

1, 2
(1917 –
9 Aug 1942)

Annette
(b 1919)

Rosemary (Romey)
(b 1923)
‑2
Roy Townend
Eleanor West
Francis (Pip)

Helen

Hugh
‑2
Susie Townend
Billy Green
George
(b 1923)

John
(b 1926)
‑2
Harry Townend

Portrait
Winsome Edwards
John
(1929 –
1959)

Charlotte
(b 1933)
‑2
Gerald Townend
Joyce Buchanan
—
‑1
Peggy Townend
Mike Pringle
Kate
(b 1945)

Harriet
(b 1948)
‑1
Joyce Townend
Frank Marmoy
Josephine (Jo)
(b 1941)

Gavin
(13 Sep 1945 –
8 Dec 2008)

Portrait
‑1
Gavin Townend
Elspeth Cottle
(d 2000)
Julia
(b 1958)
Elizabeth Still
(d 2007)
‑1
Ronald Kaulback
Audrey Howard
Sonia

Susan (Susie)

Bryan

Peter
‑1
Bill Kaulback
Violet Pears
Carolyn (Canni)

William (Willie)
Fenja Beltsikov
Jalik

Roy
‑1
Annette Townend
Leonard Arculus
Helen
(b 1947)

Richard
(b 1949)

Margaret
(b 1951)
‑1
Romey Townend
Ogden Turner
James
(1954 –
1983)

Joan
(b 1950)
Otto —
—
‑1
Pip Townend
Meg Cross
William
(b 1959)

Mary
(b 1960)

Alice
(b 1962)

Peter
(b 1964)
‑1
Hugh Townend
Marion Tulloch
John
(b 12 Dec 1972)

Thomas
(b 20 Jan 1976)

Andrew
(b 19 Sep 1978)

Oliver
(b 1 Dec 1982)
‑1
George Green
Marian Richards
Andrew
(b 1956)

Ruth
(b 1959)
‑1
John Green
Ninette Swan
Susan (Susie)
(b 1953)

Christopher
(b 1956)
‑1
Charlotte
Baron Georges de Serdici
Simonna
0
Kate Pringle
Brian Thorogood
Lisa
(b 1975)

Hannah
(b 1978)
0
Harriet Pringle
Richard Cripps
Thomas
(b 1979)

Oliver
(b 1982)

Joanna
(b 1985)
0
Julia Townend
Eric Booth
Theo

Sophie
0
Helen Arculus
Alan Thornton
Rosie

Thomas

Daisy
0
Richard Arculus
Patricia Morton
Stephen

Jennifer
0
Margaret Arculus
Lloyd Yu
0
Joan Turner
Brian Hutton
Kirk

Christopher

Brian
0
William Townend
Deborah Stevensen
Alice
(stillborn, 1994)

Nellie, Anna, Laura
(triplets 23 Jun 1996)
0
Mary Townend
Maurice O'Brien
Ben
(b 13 Jun 1985)

Charlotte
(b 16 May 1987)

James
(b 1 Jan 1989)

Julia
(b 21 May 1990)

Elizabeth
(b 1993)
0
Alice Townend
Jeff Comber
Emma
(b 13 Jun 1988)

Matthew
(b 25 Sep 1990)
0
Peter Townend
Treffery Barnett
Briannah
(1 Jan 1994)

Bryn
(1997)
0
Andrew Green
Melody Woods
0
Ruth Green
Mike Bartlett
0
Susie Green
Donald Cruikshank
Daniel
(b 1990)

Jonathan
(b 1990?)
0
Christopher Green
Sarah Hayes
Tom
(b 1979)

Stephanie
(b 1981)

Matthew
(b 1983)

Philip
(b 1988)
For biographical profiles of the Rev Alfred Townend and his seven sons, taken from The Kaulbacks please click pp 70-71 and 72-73.
Of greatest immediate interest amongst these distinguished offspring were
Sons receive a much greater degree of attention throughout The Kaulbacks than do daughters or indeed wives or sisters, and of course this can be understood in terms of the genealogical process itself and indeed the whole tenor of pre-feminist thinking. This is no reflection on Bill Kaulback himself, as we are all imbued with the zeitgeist into which we are born.
Lord Kitchener regrets
This excerpt is taken from the first chapter of
By Request of Uvani, A M Kaulback, privately published, 1965 or later
Early in the First World War I received a telegram
FROM H.M. WAR OFFICE, 31ST MARCH, 1915.

DEEPLY REGRET TO INFORM YOU
THAT CAPTAIN F.W.TOWNEND R.E.
DIED 3.5 A.M 29TH MARCH.
LORD KITCHENER EXPRESSES HIS
REGRETS, SECRETARY, WAR OFFICE.
A few days later, I gazed, horror stricken, at a long paragraph in the Morning Post. It was headed "An Officer's Heroism", and read as follows
"A motor-ambulance driver, at the front, sends his mother a thrilling account of the fortitude and cheerfulness of an officer under the most distressing conditions. The driver says 'After dinner I commenced a letter, but was interrupted by a shell bursting in the vicinity and a man yelling for bandages. Of course I rushed to see if I could be of any use, and found that the shell had burst at the side of the road about forty yards away, right in the midst of a party of Indian engineers who were inspecting the telegraph wires. T and I grabbed stretchers from our car and, with some others, rushed for the Indians. I was late in starting and all the Indians were being attended to when I arrived on the scene. However I saw someone in the shell-hole where the men had been hit, and so had escaped notice. It was a man, the white officer of the Indians, who appeared to have his legs half buried in the debris of the hole. He told us to attend to the others first; he was all right. And then, as we moved him, we saw that he was standing on the stumps of his legs. Both had been shot off at the knees. (I'm telling you this story because of the extraordinary courage the man showed – such courage as I've never seen before and hardly imagined. It's worthwhile hearing the horror of it to realise that we are officered by such men.)
'He was perfectly conscious and calm, and spoke as though he were a medical officer and someone else the victim. He looked at his legs as we moved him on to the stretcher and asked me quietly (he was not in the least excited, and his handsome face showed no pain), to tie something tight round his legs to stop the bleeding. I did what I could with my handkerchief and another I requisitioned, and we took him to our billet. We had to move hurriedly, of course, as a second shell followed, and we wanted cover in case any more arrived.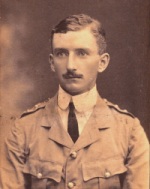 'There were two R.A.M.C. men with us, and they attended to the subsequent first-aid. They discovered another horrible wound in his arm, and while they were dressing it he told them he thought he would give up football next year. We then took him to the nearest hospital. He was still conscious and perfectly collected, and laughed quietly and talked, apologising for the trouble he was causing, while on the way to hospital. And I came back thinking of that tag in some book or other, I have seen a man. The poor fellow died in hospital'"
The following day the Morning Post said they had learnt that this officer was Captain Francis Whitchurch Townend, Royal Engineers, one of my brothers.