The Findlay of Boturich Connection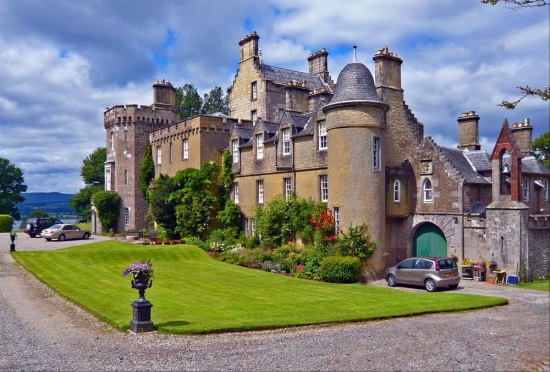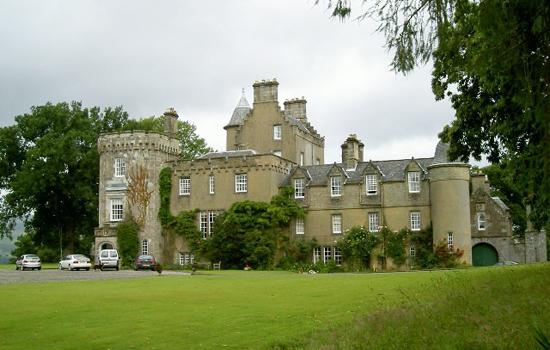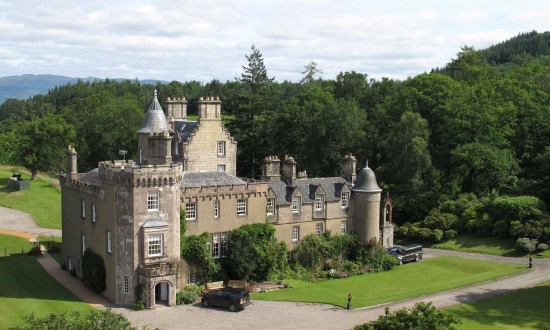 Boturich, built ca 1832 on site of earlier castle
This is currently a rather speculative effort. There is certainly a connection, but whether it is by descent, or marriage, or purely commercial association, is yet (Apr 2014) to be established. But there is also a very remarkable twist to the tale, as we shall see presently.
Most of the following information is extracted from, or derived indirectly from, three principal sources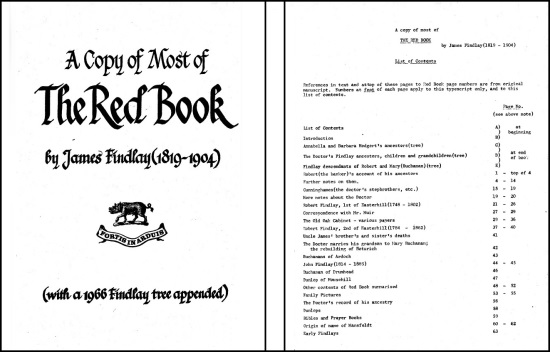 (Click here for module directory)
though plain straightforward googling has come up with a great deal of ancillary material (for the good Professor Robert Findlay, and the heroic Captain Charles Findlay, for example).
I'm not entirely sure about the detailed back-history of the castle itself, but that can be fine-tuned in due course if necessary.
#
Individual
Spouse / Partner
Family
‑9
John Findlay
(ca 1635 – 1697)
Margaret Smith
(m May 1668)
Robert Findlay
(d 1695)

William Findlay
(15 Apr 1686 – 17 Dec 1725)

Margaret, Mary, Agnes
‑8
William Findlay
(15 Apr 1686 – 17 Dec 1725)

Waxford, Ayrshire
Barbara Hodgert
(m Fri 27 May 1715)
Rev Dr Robert Findlay
(Wed 22 Mar 1721 – 15 Jun 1814)
‑7

Rev Dr Robert Findlay

1, 2, 3, 4
(23 Mar or Nov 1721 – 15 Jun 1814)

Professor of Divinity
University of Glasgow
(1782 - )
Annabella Paterson
(m 1745)
Robert Findlay
(d 1802)
‑6
Robert Findlay
(d 1802)

Merchant
Purchased Easterhill 1784
Dorothea Dunlop
(b 28 Sep 1759)
(m 21 Jul 1781)

daughter of Robert Dunlop & Janet Buchanan
Robert Findlay
(19 Jun 1784 – 27 Jun 1862)
‑5
Robert Findlay
(19 Jun 1784 – 27 Jun 1862)

Easterhill, 2nd of Boturich

Willed Boturich to his son John Findlay
Mary Buchanan
(ca 1791 – 1869)
(m 23 Apr 1810)

d of John Buchanan
(8 Jan 1761 – 26 Jun 1839), MP, hat manufacturer, sold Balloch 1830,

bought Boturich

(from whom?)
Elizabeth Findlay
(25 May 1811 – 1881+)

Robert Findlay
(26 Sep 1812 – 17 Sep 1850)

3rd of Boturich

John Findlay
(1814 – 26 Nov 1885)

Dorothea Findlay
(3 Jun 1815 – 30 Sep 1900)

Mary Findlay
(12 October 1816 – 21 Apr 1906)

Anne Findlay (b 1818)

James Findlay
(15 Jul 1819 – 23 Dec 1904)

Charles Bannantyne Findlay
(1 Jun 1821 – 9 Aug 1877)

Margaret Findlay
(b 1823)

Thomas Dunlop Findlay
(8 Jan 1825 – 30 Apr 1891)

Lilias Findlay
(b 1829)
‑4
Robert Findlay
(26 Sep 1812 – 17 Sep 1850)

1st of Boturich

Bought Boturich from estate of his maternal g'father, John Buchanan MP, willed it to his father
‑4
James Findlay
(15 Jul 1819 – 23 Dec 1904)

Author of The Red Book
Eleanor Sarah Sandford
(m 1851)
Cecilia Mary Louisa Findlay
Lucy Anna de Cardonnel Elmsall
(m 25 Apr 1867)
Robert de Cardonnel Elmsall
(26 Apr 1868 – KIA 12 Mar 1915)
‑4
Charles Bannantyne Findlay
(1 Jun 1821 – 9 Aug 1877)

4th of Boturich

Purchased Boturich 1872 from his brother John Findlay
Georgiana de Cardonnel Elmsall
(1829 – 9 Jan 1892)
(m 12 Aug 1852)
Mary Georgiana de Cardonnel Findlay
(14 Oct 1853 – 2 Jul 1856)

Robert Elmsall Findlay
(25 April 1855

Manila

– 19 Nov 1928)

Mansfeldt de Cardonnel Findlay
(7 Apr 1861 – 31 Dec 1932)



Charles Findlay


(28 Jul 1864 – 6 Apr 1898 KIA)

Francis Richard Sandford Findlay
(3 Aug 1866 – 15 Feb 1877)
‑4
Thomas Dunlop Findlay
(8 Jan 1825 – 30 Apr 1891)
Hamilton Douglas
(m 16 Jul 1855)
Neil Douglas Findlay
(7 May 1859 – 9 Sep 1914)

George Douglas Findlay
(11 Mar 1861 – 12 Mar 1941)

Robert Findlay
(8 Dec 1868 – 9 Mar 1924)
Sarah Maria Clothilde Buchanan
(m 24 Mar 1870)
sp
‑3
Robert Elmsall Findlay
(25 April 1855

Manila

– 19 Nov 1928)

5th of Boturich
Jane Cecilia Louise Scott
(m 1882)
Charles Bannantyne Findlay
(19 Oct 1883 – 1965)

Jane Cecilia Hope Findlay
(9 Nov 1885 – 17 Nov 1965)

Robert Scott Findlay
(17 Apr 1887 – 22 May 1915)

George de Cardonell Elmsall Findlay
(20 Aug 1889 – 26 Jun 1967)

James Buchanan Findlay
(b 7 Jan 1895)
‑3
Charles Findlay
(28 Jul 1864 – 8 Apr 1898 KIA)
Lilian Vaughan Barron
(1878 – 1949 Acre, Palestine)
(m 28 Sep 1897)

daughter of Col Sir Harry Barron KCMG CVO (1847-1921)
& Lady Clara Kelly

Remarried (1)
Lt Col Francis Edward de Carteret Chevallier (1901)

Remarried (2)
Angus John McNeill
(8 Jul 1907)
Victor Alexander Charles Findlay
(10 Sep 1898 – 1946)
‑3
Robert Findlay
(8 Dec 1868 – 9 Mar 1924)

East India merchant
Helen Maitland
(m 15 Dec 1896)
Helen Douglas Findlay
(10 Nov 1888 – 23 Jul 1892)

Jean Hamilton Findlay
(b 8 Jun 1890)

Thomas Dunlop Findlay
(31 Oct 1895 – 24 Jan 1950)
‑2
Brig Charles Bannantyne Findlay CBE MC
(19 Oct 1883 – 1965)

6th of Boturich
Violet Alice Gunter
(m 30 Jul 1914)
Jean Frances Findlay
(16 Jun 1915 – 2003)

Robert Bannantyne Findlay
(6 Nov 1919 – 24 Jan 1921)
Mary Helen Paterson
(m 22 Jan 1921)
Mary Buchanan Findlay

Nan Margaret Findlay

John de Cardonell Elmsall Findlay

Barbara Findlay
‑2
Victor Alexander Charles Findlay
(10 Sep 1898 – 1946)
Joan Gilbert Casson
(m 1920)
Charles de Cardonnel Findlay
(16 Apr 1921 – 1942 KIA)



Anthony Gilbert Findlay

‑2
Thomas Dunlop Findlay
(31 Oct 1895 – 24 Jan 1950)

7th of Boturich

Bought Boturich from Brig Charles Bannantyne Findlay in 1930
Evelyn Emily Hog
(m 1 Jun 1922)

Died when Robert was 5

Robert Findlay


(8 Mar 1923 – 29 Mar 2011)

James Steuart Findlay
Nancy Newbigging
David Newbigging Findlay

William Findlay
(b ca 1933)

Archibald Charles Findlay
‑1
Anthony Gilbert Findlay
Erica Muriel Peel-Ritchie
Lucinda Mary Findlay

Jonathon (sic) Charles de Cardonnel Findlay
‑1
Robert Findlay
(8 Mar 1923 – 29 Mar 2011)

8th & last of Boturich

Sold the house in 1984, but retained most of the 1000 acre estate, renamed as Knockour
Liisa Tuulikki Ahtalia
(m 1964)
Robert Buchanan Findlay

Alex, Anne
0
Anne Findlay
Niall Jenkins
(m Jun 2000)
0
Robert Buchanan Findlay
Aoife
(m Dec 2000)
The Battle of Atbara, 8 Apr 1898
en.wikipedia.org/wiki/Battle_of_Atbara
The Battle of Atbara took place during the Second Sudan War. Anglo-Egyptian forces defeated 15,000 Sudanese rebels, called Mahdists or Dervishes. The battle proved to be the turning point in the conquest of Sudan by a British and Egyptian coalition.
By 1898, the combined British and Egyptian army was advancing down the Nile river into Sudan. The Sudanese Mahdist leader, the Khalifa Abdallahi ibn Muhammad ordered the Emir Mahmud Ahmad and his 10,000 strong army of western Sudan northward towards the junction of the Nile and Atbara rivers to engage the British and Egyptian army led by Herbert Kitchener. Encamping on the banks of the Atbara river by March 20, Mahmud, with Osman Digna's group of Dervish warriors were within 20 miles (32 km) of the British camp outpost at Fort Atbara at the confluence of the Atbara with the Nile. On April 4, after seeing that the Mahdists were unwilling to attack, Kitchener quietly advanced with the British and Egyptian army towards the Mahdist fortified camp just outside the town of Nakheila.
The British attack began at 06:20 on April 8, 1898; two brigades, the British Brigade led by William Gatacre, and the Egyptian Brigade led by Archibald Hunter, led the attack. After a brief artillery bombardment of the Mahdist camp, the combined British and Egyptian brigades attacked. Soon, the British and Egyptian troops were in the Mahdist camp, often fighting hand-to-hand with the Mahdist warriors. After 45 minutes, the battle was over as Osman Digna led a few thousand warriors on a retreat to the south, while most of the remainder were killed or captured, including Mahmud who was captured by loyal Sudanese troops of the Egyptian Brigade.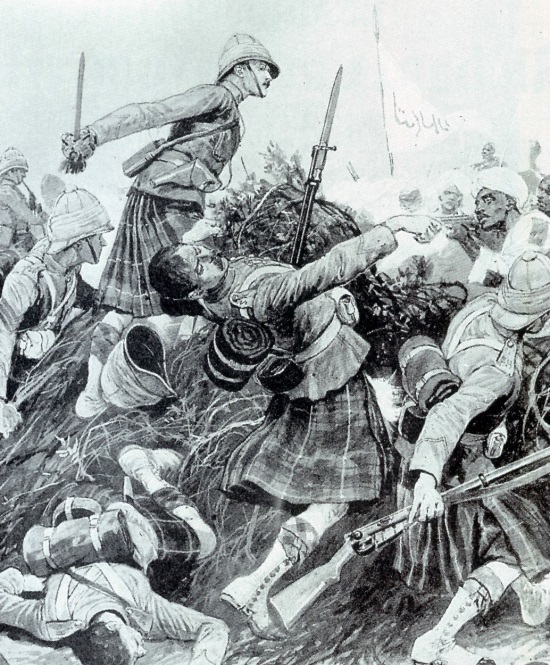 The Battle of Atbara, by Richard Caton Woodville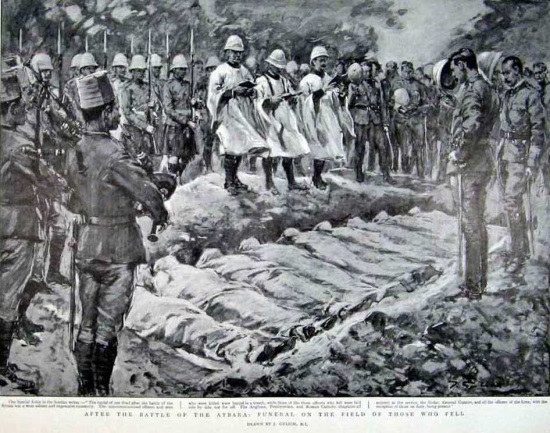 After the Battle of Atbara, Funeral on the Field of those who fell
The Graphic, 14 May 1898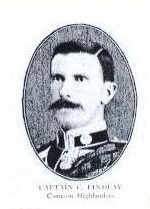 Capt Charles Findlay
Cameron Highlanders
(1864 – 8 Apr 1898)
warmemscot.s4.bizhat.com/warmemscot-post-52816.html
St Augustines Dumbarton War Memorial
Episcopal Church
High Street Dumbarton, West Dunbartonshire G82 1LL
01389 734514
OSGB36: NS 3969 7522 [10m precision]
WGS84: 55:56.5924N 4:34.1072W
It is brass. The form is of a gothic arched window. Approximately 60cm high. It is hung adjacent to the main wooden WM on the left interior wall of the church.
The upper part of the arch has various insignia and decorations. A central crown with thistle leaves below. rossed flags on standards. One is a Union Jack. The other is the Kings Colours of Queens Own Cameron Highlanders. A Sphinx with the word EGYPT below the flags. This was a battle honour for the regiment.
The font is gothic in black with certain words or initials picked out in red. The Findlay Coat of Arms with the motto Fortis in Arduis, is at the top left.
Sacred to the Memory of
CHARLES FINDLAY
Captain in the First Battalion,
Queen's Own Cameron Highlanders [79th Regt]
And third surviving son of the late
CHARLES BANNATYNE FINDLAY OF BOTURICH,
Born 28th July 1864,
Killed in Action on Good Friday 8th April 1898,
While gallantly leading his men over the dervish
Entrenchments at the Battle of the ATBARA.
He joined the Regiment in March 1884, served throughout the
Nile Campaign, 1884-85 [for which he received the Medal with
Clasp and the Khedive's star] with the Soudan Frontier
Field Force 1889, and in the Soudan Campaign 1898.
At the storming of the Dervish entrenched Camp on the Atbara, the
Camerons in line led the attack of the British Brigade, and to Captain
Findlay's Company was assigned the duty of tearing a gap in the
Zareba, this was carried out under a deadly fire from an inner
stockade and numerous trenches. Captain Findlay was one of
the first to reach the stockade where he fell mortally wounded.
This Tablet is erected to his memory by the Congregation of
St. Augustine's Church of which he was a member, and by other
friends, to record their appreciation of his upright and manly character,
and of his dedication to duty both in life and death.
"Whatsoever thy hand findeth to do, do it with thy might" Eccles IX. 10.
alex maclennan
The photographs aren't terribly professional, but I do appreciate from personal experience just how difficult it is to capture brass plaques satisfactorily in situ indoors. I wouldn't do nearly as well as Alex MacLennan has.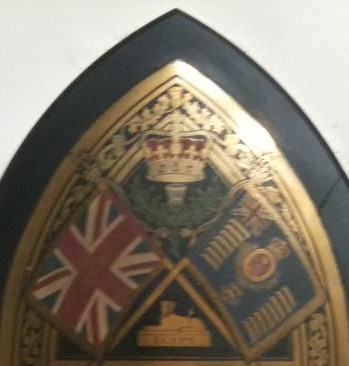 And there, so to speak, the matter rested. Charles Findlay's young wife Lilian, pregnant with their first and only child, was of course grief-stricken, but after a suitable period of mourning, strictly observed in those days, she moved on with her life and remarried a few years later. The Findlay family fortunes waxed and waned (ever so slightly), as entertainingly recounted in the narrative previously referenced. Boturich Castle was sold. Charles Findlay, and his heroic destiny pro patria mori, were inevitably forgotten.
Until now.
A mysterious email
Lt Col R J A Kaulback, or Uncle Bill as many of us preferred to address him, died in 1996. Not only a much-decorated man of action, but also a wise and most erudite savant, he had been deeply interested in military history (as well as his family researches without which much of this website could not have been attempted), and had amassed a considerable library relating to the campaigns of yesteryear. This library, and indeed his desk and study themselves, remained untouched by his widow or younger son during the increasingly Gormenghastly neglect, decline and indeed insanity into which the household thereafter sank.
After their deaths, within weeks of one another, last year (2013), a clearout of Augean proportions had to be undertaken, in which a kindly and longsuffering neighbour, Lt Col Trevor Veitch, was immensely helpful, and indeed it was to Trevor that Uncle Bill's elder son entrusted interim custody of the military material, with carte blanche, needless to say, to peruse anything he found of interest.
And in mid March 2014 Trevor contacted me with a mysterious and intriguing enquiry:
I've been scanning the 3 volumes on the Nile Expedition in 1898, comprising newspaper cuttings, illustrations and many extracts from the diary of Captain Charles Findlay of the 79th Queen's Own Cameron Highlanders. Reference is made to the original diaries, which must exist somewhere, perhaps in the National Army Museum or a Regimental Museum. I'm thinking of searching these areas, particularly as the cuttings look as if they might form part of the hugely important Regimental War Diaries ......
The Imperial War Museum could not take them, saying NAM was the rightful place for them. What interests me is: Is Captain Findlay an ancestor of the Kaulbacks? Who is Lilian McNeill, whose book-plate is shown in each of the volumes?
and in a follow-up:
These are three large leather-bound volumes. There is no mention of the relationship of the author with Findlay, but your response that this is the wife he married a year or so back in Gibraltar fits. Lilian McNeill has extracted and beautifully hand-copied pages of Findlay's diaries, then added extracts from his letters to her (all dated and referenced) together with enormous numbers of newspaper scraps and illustrations. She takes the record past Atbara and Findlay's death to Omdurman.
It must be emphasised that these volumes, though leather-bound, are not in published form – they are scrapbooks, assembled from newspaper cuttings, photographs perhaps, letters, and of course the diary excerpts, beautifully transcribed in longhand. They might not have been heirlooms, but they were certainly invaluable family mementos, and were most unlikely to have found their way into an auction room or the second-hand book market. Given that Bill had in fact no Findlay DNA whatsoever, how on earth had he acquired them?
And who was (or had been) Lilian McNeill?
The first question remains unanswered, but it didn't take more than an hour or two of searching on the internet to illuminate the other areas of enquiry:
A Google search on "Captain Charles Findlay, Nile Expedition 1898" found an immediate hit on Alex MacLennan's webpage as above.

The name of Charles Findlay's father, "Charles Bannantyne Findlay", on the memorial inscription rang an immediate bell. I was at that time still researching details of the Little Connection, and recollected that a Charles Bannantyne Findlay had been the Manila-based business partner of Robert McEwen, a close friend and relative of my great great grandfather Dr Robert Little out in Singapore in the mid nineteenth century.

Googling "Charles Bannantyne Findlay" found an immediate hit on Andrew N Clarke's website as above, from which the Boturich Findlay family lineage became accessible. And lo! The second son of Charles Bannantyne Findlay had been born in Manila at precisely the right date to tie-in.

Furthermore, the entry for Lilian Barron revealed her (second) re-marriage, to Angus John McNeill in 1907. So the bookplates were hers, and it is almost certainly she who compiled the journals in the first place (possibly, who knows, maybe, in conjunction with her mother-in-law).

And to cap it all, another of my great great grandfathers in that same era was Charles Farquharson Findlay. It is all stacking up, though by no means yet proven, that he and Charles Findlay of Boturich had common origin in Findla Mhor aka Great Findla (The Big Yin), on account of his great size and strength, who was killed at the Battle of Pinkie, 10 Sep 1547, while bearing the Royal Standard of Scotland.
Kohlrausch, the eminent German physical chemist, remarked of Faraday 'Er riecht die Wahrheit'. And in our modest way, we family chroniclers likewise develop a nose for the elusive reality, the quiddity, that underlies the fragmentary and often deceptive, almost invariably contradictory, documentary evidence that is all we have to go by. But even when we know what we want to prove, we do not deceive ourselves that it necessarily must be so – our noses won't let the rest of us get carried away!