The Findlay and Gueritz Connections
As per the links below to the hand-drawn family tree meticulously draughted by my late Uncle Alexander (Sandy) Waddell, and the various biographies (for which I'm extremely grateful to my brother Simon) that Sandy put together from various sources. Unfortunately, no information subsequent to this is available at the moment.
Please note in the table below that familiar names are used rather than given forenames, where appropriate. These may be diminutives, alternative names (ekenames or nicknames) or simply subsidiary forenames, and I've tried to indicate these various possibilities in italicised parentheses. In every case only the first distinguishing name is given.
#
Individual
Spouse / Partner
Family
‑3
Charles Findlay
Annie Cosby
Valentine(3, Val)

Hannah(3)
‑2
Val Findlay
Elton Gueritz
John

Lucy

Eleanor

Edward (Teddy)
‑2
Hannah Findlay
Robert Waddell
Walter (Wardlaw, William)

Robert (Robin)

Alexander (Sandy)

Frances

Jane
‑1
John Gueritz
Mary Gardner
Caroline(2)

Antonia

Joanna

Andrew
‑1
Lucy Gueritz
Gerard(2) Burton
Clare

Eleanor

Edmund

Felicia
‑1
Eleanor Gueritz
Richard(2) Feaver
Richard
‑1
Teddy Gueritz
Pamela Jeans
Amanda

Guy
0
Clare Burton
Stephen Pallis (?)
Timothy

Alexander

Lucinda
0
Eleanor Burton
John Hawse (?)
James

Sarah
0
Edmund Burton
Angela Partington
Edward
0
Amanda Gueritz
Richard Hawkins
The Charlie Findlay Mystery
At some point in their early childhood, Val and Hannah Findlay were put into the care of their Aunt Jessie, known in the family as Dannie¶.
Whether this was before or after their father Charles Findlay's death in 1883 I don't yet know. But it was around that time that he was written-out of the family script, and ceased even to be mentioned within the Findlay family. He was treated as though he had never existed.
His wife Annie (Cosby) Findlay effectively dropped out of the story too. It is possible that she too may have died, in 1886, as public records suggest, but it was also averred by my Aunt Jane that my father Walter was taken to visit Annie in his early childhood some thirty years later. In fact it is now known that she lived on until 1920.
What dreadful thing had Charles Findlay committed, and why were his children so swiftly removed from Annie's care (despite the fact that she had at least three brothers and a sister who could have come to her support)?
These issues were first aired by my grandfather Robert, with the possibly reluctant acquiescence of Hannah, on learning about this dreadful conspiracy of silence, and thereby incurring the bitter hostility of Hannah's elder sister Val. But there the trail goes cold for another four generations. I only heard of it quite by chance a few months ago (mid 2012), and was immediately intrigued.
Maybe Charles Findlay was a bad 'un, but maybe he was the victim of character assassination, a not infrequent pastime within the families concerned.
Empowered by the internet, I've already let some daylight and fresh air into this entire scenario, but further progress remains to be made...
¶ This was probably Jessie Smith Findlay, a natural aunt, or might possibly have been Jessie (Black) Findlay, married to Daniel Smith Findlay – hence perhaps the familiar Dannie – had these latter not emigrated instead to Australia (where Daniel went bankrupt) and thence hastily to Canada.
Highgate Cemetery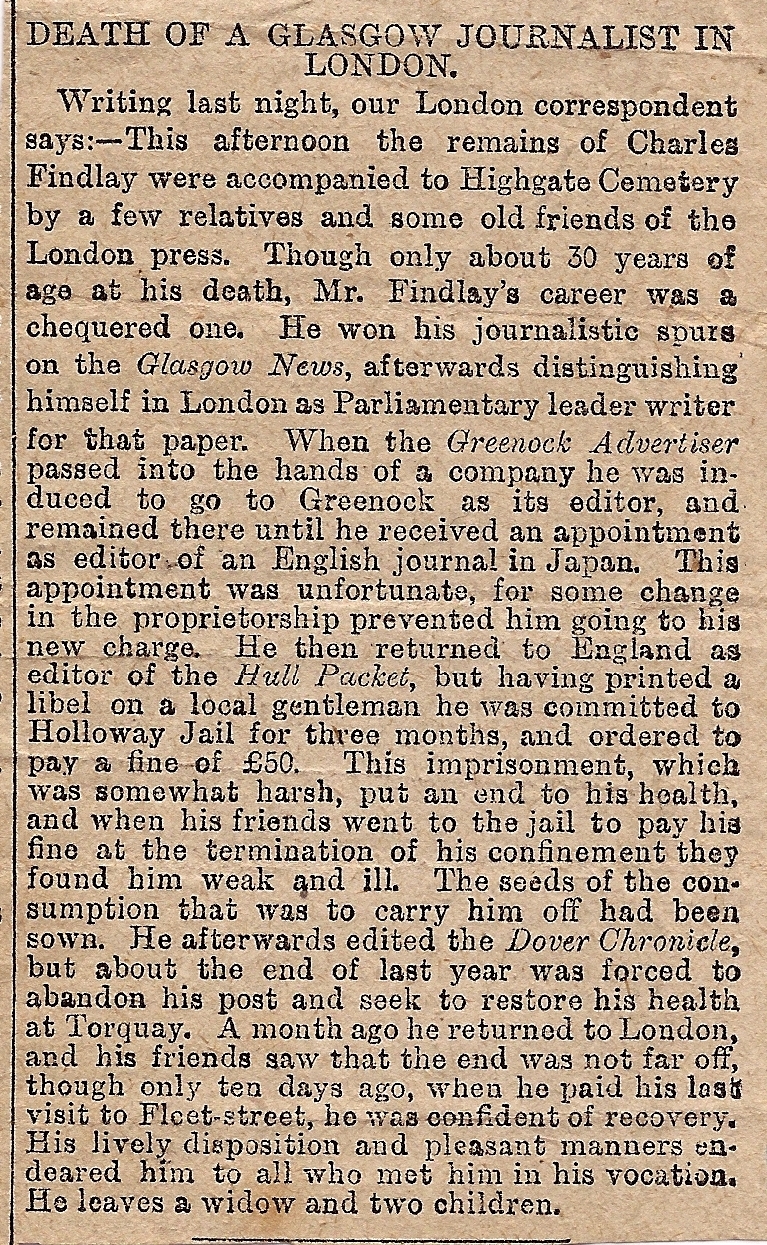 This account of Findlay's removal to the cemetery was clearly written at some point between his death on 15 Sep 1883 and his interment on 20 Sep 1883 as per the letter reproduced below.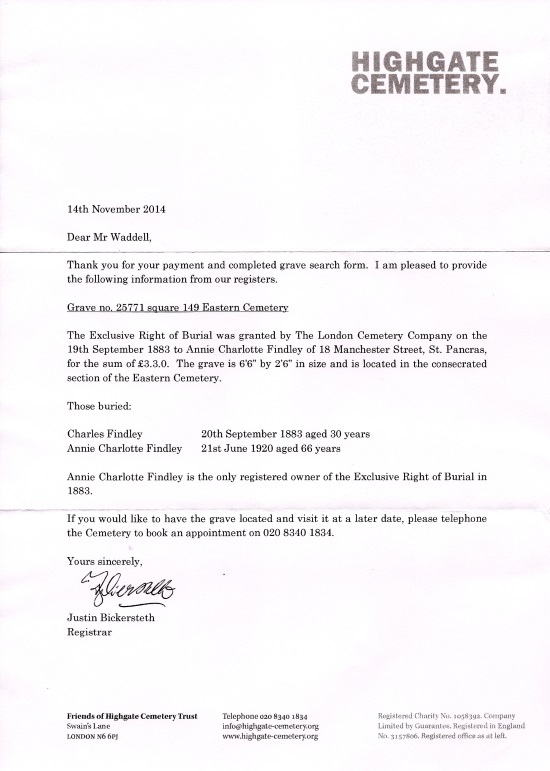 This (in addition to telling us where we can go to pay our respects) also implies that Annie Findlay was still in "in the frame" at the time of her husband's death, as she was making the arrangements for his inhumation. She was also planning ahead so that in the fullness of time she would be buried with him (as per the box below, no pun intended) – although, strictly speaking, the grave is dug "double depth" anyway, so that somebody else completely unrelated could be buried above the lower coffin when the original 100 year lease has expired.
www.oxford.gov.uk/Direct/BereavementCemeteriesFAQs.pdf
Graves have to be dug to a sufficient depth to allow for future burials to take place. Therefore the grave needs to be deep enough to allow not only for the depth of coffins/caskets that will be buried but also to accommodate the legal requirements of undisturbed earth to be between each coffin and the amount of earth that must cover the last interment. In some older parts of our cemeteries graves used to be dug to 9 foot and even to 12 foot depth. Nowadays the deepest graves are dug to 6-7 foot depth to allow a second burial at a later date at the 4-5 foot depth. The actual plot size of a full size grave is 8-foot by 4-foot although this is not the size of the grave that is dug. The standard grave size that is actually excavated is 7' 2" by 32" in a coffin shape. This size will always be dug unless it is a child's grave which will be 4' by 24" by 4 foot deep or we are made aware of any dimensions that exceed the standard size.
Anyway, she did want to be buried with him, and she was – so much for all the stuff about her having deserted him. BTW, the dates given in the letter are of burial rather than death.
Some time in the new year (2015), if anno domini doesn't get me first, I shall go and visit Chas. and Annie and hopefully return with a nice photograph of their plot.

But our own (purely geographical) removal intervened in early 2015, and that plan was shelved. However, a very capable researcher has now (Aug 2018) completed the mission on my behalf.
Highgate Cemetery
East main entrance driveway
Justin Bickersteth advises that the cemetery registers give no indication that there was ever a headstone, or ledger stone, to memorialise the occupants of the grave. Indeed, Annie would probably not have had sufficient funds on Charles' behalf, and following decades of counter-briefing and character-assassination it's unlikely that his family stepped in to pay for a joint memorial to them both, or even just to him, after her death 37 years later.
The Rude Forefathers (Part 1)
The earlier Gueritz lineage is very intriguing, and equally distinguished. I'm indebted to the website www.thepeerage.com for the details of the Elton family displayed in this next table:
#
Individual
Spouse / Partner
Family
‑5
Sir Charles Abraham Elton, 6th Bt
(31 Oct 1778 – 1 Jun 1853)

son of Rev. Sir Abraham Elton, 5th Bt. and Elizabeth Durbin
Sarah Smith
(m 27 Feb 1804)
Julia Elizabeth Elton
(d 27 Apr 1881)

Lucy Caroline Elton
(1810 – 30 Apr 1885)

Mary Elizabeth Elton
(d 26 Sep 1840)

Abraham Elton
(d 20 Sep 1819)

Charles Elton
(twin? d 20 Sep 1819)

Caroline Lucy Elton
(d 16 Apr 1882)

Laura Mary Elton
(d 24 Mar 1848)

Katherine Maria Elton
(d 3 Jul 1876)

Maria Katherine Elton
(d 24 Dec 1899)

Jane Octavia Elton
(d 27 Nov 1896)

Sir Arthur Hallam Elton, 7th Bt.
(19 Apr 1818 – 14 Oct 1883)

Edmond William Elton
(14 Dec 1822 – 2 Dec 1859)

Rev Henry George Tierney Elton
(6 May 1825 – 12 Oct 1905)
‑4
Lucy Caroline Elton
(1810 – 30 Apr 1885)
Rev William Tierney Elton
(1803 – 30 Aug 1874)
(m 2 Jan 1828)

son of Isaac Elton and Catherine Bayard
Lt Col Frederick Cockayne Elton VC

Frances Matilda Elton
(d May 1908)

Louisa Elton

Lucy Octavia Elton
(1847 – 13 Sep 1915)

Henrietta Sophia Elton
(d 10 Dec 1922)

Commander William Hallam Elton
(1837 – 25 Nov 1910)

Maj Gen Henry Strachan Elton
(30 Dec 1841 – 25 Aug 1934)

Charles Tierney Elton
(1852 – 11 May 1919)
‑3
Lucy Octavia Elton
(1847 – 13 Sep 1915)
Rev José Fortescue Lawrence Gueritz
(Oct 1851 – 18 Oct 1945)
(m 20 Jun 1882)
Elton Lawrence Gueritz
(1884 – 11 Jul 1931),

Charles Mamerto Gueritz
(1887 – 1892)
‑2
Elton Lawrence Gueritz
(1884 – 11 Jul 1931)
Eleanor Dixon Valentine Findlay
(Jan 1881 – 12 Apr 1960)
(m 17 Jul 1910)
John Elton Fortescue Gueritz
(8 May 1911 – 1975)

Lucy Valentine Gueritz
(12 Aug 1915 – 1993)

Eleanor Elton Gueritz
(7 Nov 1916 – 1990)

Edward Findlay Gueritz
(8 Sep 1919 – 21 Dec 2008)
The Rude Forefathers (Part 2)
But where did the family name originate? Rather like that of Michael Portillo, the best Prime Minister Britain never had, it was Spanish in origin. I'm indebted to the website www.familylink.com for most of the details of the Gueritz family displayed in this final table:
#
Individual
Spouse / Partner
Family
‑5
José Gueritz
(1798 – 1832)

Born in San Felipé, Valencia, Spain.
Buried in Plymouth
Antonia Josepha Hermogenes Moxica Iparagheri
(1797 – 1879)
Mamerto Gueritz
(1823 – 1912)

and two siblings
‑4
Rev Mamerto Gueritz
(1823 – 1912)

Born in Spain, naturalised British.
Ann Derby Lawrence
(1820 – 1902)

Born in Devon, SW England

All children born thereabouts
Mamerto George Gueritz
(b 1850)

José Fortescue Lawrence Gueritz
(Oct 1851 – 18 Oct 1945)

Mary Louisa Gueritz
(b 1854),

Edward Peregrine Gueritz
(b 1855)

? Henry Francis Gueritz
(b 1856)

Antonia Anne Gueritz
(b 1860)
‑3
Rev José Fortescue Lawrence Gueritz
(Oct 1851 – 18 Oct 1945)
Lucy Octavia Elton
(1847 – 13 Sep 1915)
(m 20 Jun 1882)
Elton Lawrence Gueritz
(1884 – 11 Jul 1931),

Charles Mamerto Gueritz
(1887 – 1892)
‑3
Mary Louisa Gueritz
(b 1854)
Rev Reginald Arthur Mortimer
(1851 – 2 Jul 1904)
John Lawrence Mortimer
(28 Aug 1880 – 23 Mar 1920)
‑2
Rev John Lawrence Mortimer
28 Aug 1880 – 23 Mar 1920)
Helen Ida Burton
(b 1892)
(m 31 Dec 1913)
But these are deep waters, Watson. The dates all dovetail neatly, but the circumstantial details (such as are available) are mutually conflicting. For example, one José Fortescue Gueritz is said1, 2 to have been rector of St Margaret's church in Templeton from 1879–87 and subsequently (at the 1881 Census) vicar of St James' church in Swimbridge (the first vicar of which had been the famous sporting parson, the Reverend John (Jack) Russell (1795–1883)). However, the website www.thepeerage.com confidently asserts that José Fortescue Lawrence Gueritz, at the time of his marriage to Lucy Octavia Elton, on 20 June 1882, was the Rector at St. Mary's church, Montrose, belonging to the episcopal Church of Scotland.
It's even suggested that the Rev José Fortescue Gueritz was in fact Mamerto's brother, quite distinct from Mamerto's son the Rev José Fortescue Lawrence Gueritz! The jury's got to remain out on that – but it would at least be consistent with the assertion1, 2 that Mamerto was in fact the second son of José and Antonia (and that José Fortescue Lawrence Gueritz was a priest in the Anglo-Catholic (ie Episcopal) church of Scotland).
Also of interest is the origin of the forename Fortescue – when and why did it first appear in the family? An obvious, but not totally convincing, link is with the Fortescue1, 2 family themselves, who occupy to this very day their ancestral home at Castle Hill House just north of the village of Filleigh and about 6 miles ESE of Barnstaple – just a mile or two further than Swimbridge itself. Wow – a considerable coincidence, but it doesn't close the loop for me.
A link has to be sought much earlier, between the Fortescues (ie Hugh Fortescue the 2nd Earl) and the Rev Mamerto Gueritz's parish – wherever that was at that time – in the very early 1850's, when names were being considered for Mamerto's second son prior to baptism. Hugh Fortescue was notedly philanthropic, so perhaps he had just paid for the church roof to be repaired, or for a new stained glass window to be installed! Perhaps the noble lord had agreed to be godfather to the little lad, even. There's plenty of scope for further investigation.
But meanwhile, a rather curious coincidence has elbowed its way to the front of my field of inner vision, and successfully jostled for attention. My father was introduced to his future second wife Jane Hoste by his cousins John and Mary Gueritz back in the mid 1960's. But the connection went much further back that that, certainly unbeknownst to any of them. For in 1891, Dorothy Augusta Hoste, grand-daughter of Capt Sir William Hoste RN, married John Bevill Fortescue, son of the Hon George Matthew Fortescue, himself son of Hugh Fortescue 1st Earl Fortescue. George's elder brother was Hugh, 2nd Earl Fortescue, of whom we've just been hearing, and his younger brother was Rev John Fortescue – a possibly even likelier protonym for José Fortescue Lawrence Gueritz!
It's things like this that enliven the family chronicler's day, apart of course from watching Countdown.